Original: "Apple MR headset may be launched, what are the relevant concept coins in the Crypto market?"
Author: 0x711, FYJ, BlockBeats
On May 23, according to Bloomberg's Mark Gurman, Apple will release its first MR headset "Reality" and introduce its system "xrOS" at WWDC2023 on June 6th, Beijing time. Mark Gurman believes that this product may become a symbol of the Cook era, and Apple will once again ignite MR headset products.
Many people believe that if Apple can successfully launch a new MR product this time, it will have a milestone significance for the industry. Some predict that the media trial version will be released at this year's conference, and mass production will still take some time. However, some people in the industry believe that Apple MR is likely to be delayed this year. But no matter what Cook finally brings us on June 6, the hearts of the global market have been moved by this MR device.
As the centralized area of the "fruit chain" enterprise, A-share related companies have recently been investigated. The crypto market Render Network (RNDR) has quietly risen more than 30%, reaching a recent high. This article will sort out the concept coins related to AR/MR in the crypto market.
Render Network (RNDR)
Render Network raised $30 million in financing led by Multicoin at the end of 2021. It is positioned as a decentralized GPU rendering solution provider, and VR is one of its sub-concepts. Render was working with Apple in 2022 to introduce some of its products (such as the Octane application) into iBlockingd, allowing each iBlockingd to become a node in Tender Network, enabling users from all over the world to render designs that their single device cannot handle.
Among the many speculative coins in the pure topic speculation market, the real "cooperation with Apple" can be considered a unique occurrence, but the direction of cooperation has nothing to do with VR, which is a flaw in RNDR's attempt to become a concept leader. The new topic speculation in the shrinking market has some logic but is not hard enough. The market value of nearly $1 billion also lacks room for speculation, and RNDR can support the capacity of speculation, but not the emotional aspect of the topic. It can be counted as one of the leaders in the industry.
Market data shows that at the time of publication, RNDR was priced at $2.63 with a weekly increase of 34.9%.
Wilder World (WILD)
Although the popularity of the project in the Chinese community seems to be not high, its official Twitter account has 131,000 followers. Wilder World is a decentralized NFT trading platform initiated by 3D artist Frank Wilder and governed by a decentralized autonomous organization DAO. Artists and collectors on the platform can all mint, collect, and sell rare NFT works.
In May 2021, Wilder World announced that it had completed a $3 million financing round, led by Spartan Group, with participation from DCG, Animoca Brands, Republic Realm, Genesis Block Ventures (GBV), and Signum Capital. The funds from this round of financing will be used to collaborate with Zero.Space and use Epic Games' Unreal Engine to create an Ethereum-based immersive 5D metaverse managed by decentralized autonomous organizations. The project is currently under development.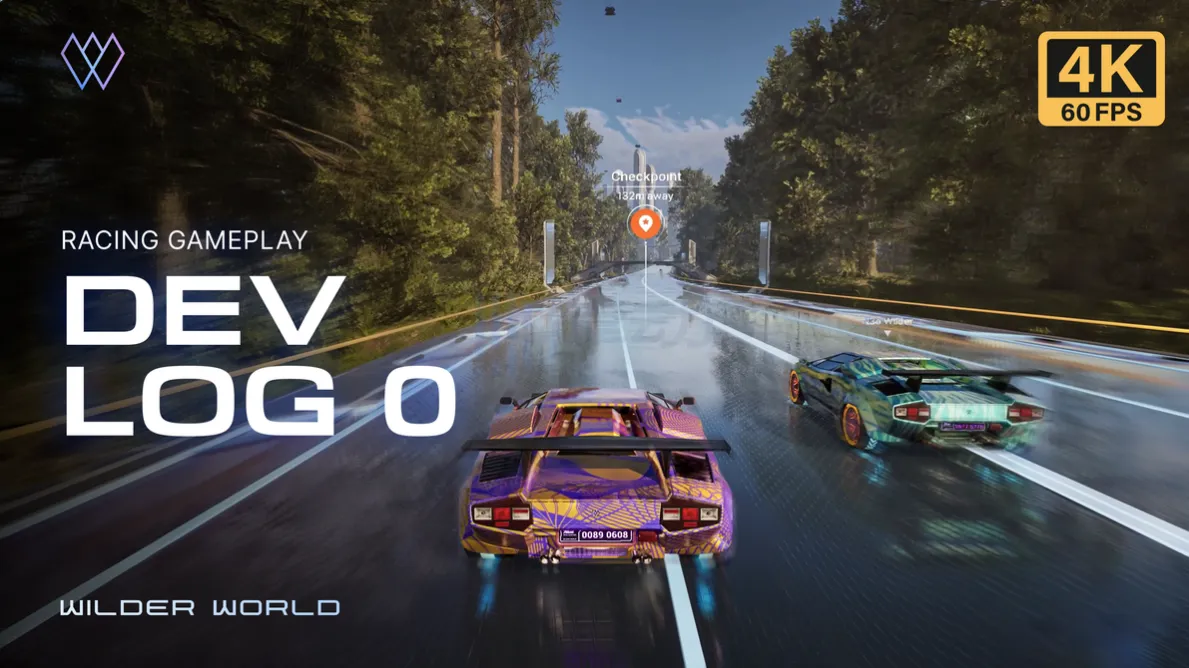 Wilder World Metaverse Chain Game Development Display
The project's utility token, WILD, can provide identity verification, trading, resource generation, and governance functions within the project's ecosystem. According to CoinMarketCap, at the time of writing, WILD has dropped by 1.71% in the last 24 hours and is currently priced at $0.3595, ranking 273rd in terms of market capitalization.
Highstreet (HIGH)
Highstreet (HIGH) is the 28th project on Binance Launchpool and was launched in November 2021.
Highstreet is a VR digital commercial center metaverse that aims to reimagine e-commerce and retail in the Metaverse and Web3 era. Not only native crypto brands but also various traditional brands can join the Highstreet metaverse world and provide users with a subversive shopping experience in the metaverse by tokenizing products as "virtual" items and integrating traditional brands into the chain world.
According to CoinMarketCap, at the time of writing, HIGH has risen by 15.95% in the last 24 hours and is currently priced at $1.92, ranking 319th in terms of market capitalization.
CEEK VR (CEEK)
CEEK is building an AI-based metaverse platform that connects content creators, landowners, and users through virtual land. Content creators can share resources on the platform based on the blockchain platform carried by CEEK wearable devices, or they can use CEEK to establish VR/AR studios and create brand content that audiences love. Based on the ETH smart contract, users can flexibly tip, vote, participate in events, and buy and sell virtual items on the platform. The project supports the use of VR devices such as Oculus to experience VR content on the platform, including sports broadcasts, NFTs, blockchain streaming, and more.
The platform has signed cooperation agreements with celebrities such as Lady Gaga, U2, Sting, and Bon Jovi, and users can also find related works from these celebrities on the platform.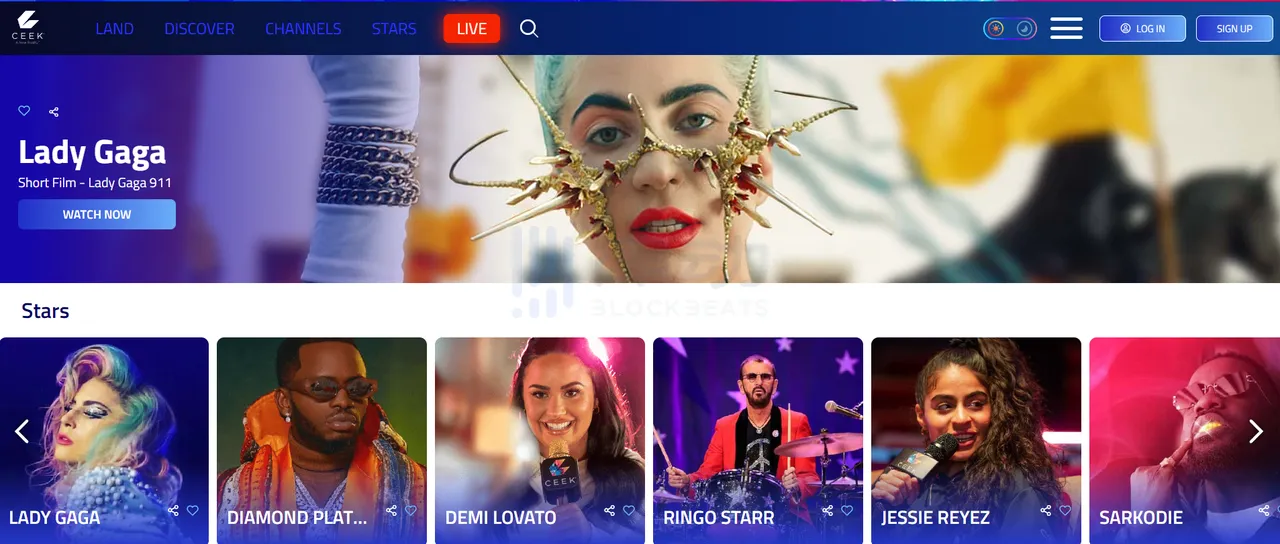 CEEK platform content display
According to CoinMarketCap market information, as of the time of writing, CEEK has risen by 3.65% in the past 24 hours, with a current price of 0.07611 U.S. dollars and a current market value ranking of 343.
Over the Reality (OVR)
Over the Reality is an augmented reality metaverse project that has recently gained popularity. The project aims to combine the real world with the virtual world.
The project ecosystem currently includes AR metaverse real estate, mapping to earn OVR (Map2earn), AI avatars, and domains. According to its official website, Over the Reality has more than 930,000 registered users and is committed to the development of decentralized AR ecology for Web3. Its token OVR is deployed on the Ethereum mainnet and the Polygon network as a content monetization medium for creators and brands in the project ecosystem.
According to CoinMarketCap market information, as of the time of writing, OVR has fallen by 22.33% in the past 24 hours, with a current price of 0.5641 U.S. dollars and a current market value ranking of 757.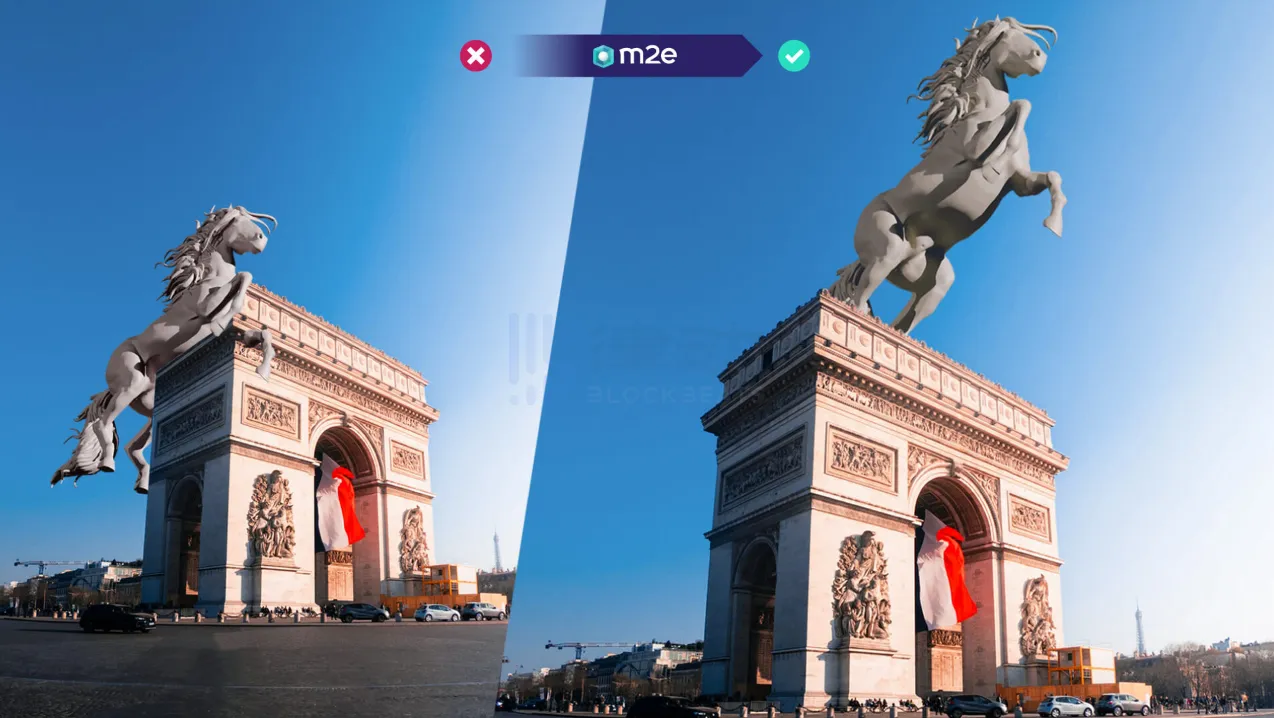 Over the Reality's Map2earn combines virtual and real
In summary, whether the Apple press conference can once again stir up the enthusiasm of the market for token in the metaverse field remains to be seen, but there are indeed a group of projects actively cultivating this field. Although from a product perspective, the maturity of the above-mentioned projects still needs to be polished, the scale of its community seems to be not to be underestimated. When the metaverse field will erupt and which project will stand out, it seems to only await market recognition.
Like what you're reading? Subscribe to our top stories.
We will continue to update Gambling Chain; if you have any questions or suggestions, please contact us!