The organizer can also introduce professional DJs and live-action rap anchors to play discs and sing offline as backing vocals.
If you want to ask fashionistas where they can dance freely today, Metaverse has become the answer to the contribution of technology companies.
On September 1, the World Artificial Intelligence Conference officially opened in Shanghai, and many metaverse scenes were unlocked in the exhibition. Jiemian journalists saw at the NetEase Fuxi booth that on a virtual dance floor, a large number of "handsome men and beautiful women" virtual people were dancing online.
According to the on-site staff, users can create their own virtual human images online, and then join the virtual dance floor, and select the movements they want to present by pressing the buttons, including running, jumping and even various dance movements for dancing.
In order to "ignite" the atmosphere, the organizer simulated and decorated the dance floor into an offline real disco scene, and can set off fireworks on the dance floor to make the visual effect more "exploded". Different from the form of pure live broadcast, the organizer can also introduce professional DJs and live rap anchors to play discs and sing offline as backing vocals.
Online, dancers can conduct multi-person dance competitions, multi-person cooperative modeling, etc. for many-to-many interaction and social interaction. The system also has dozens of stage performance-related functions such as screen sharing, lottery interaction, multi-role identities, single-point global social networking, etc., and supports offline linkage gameplay.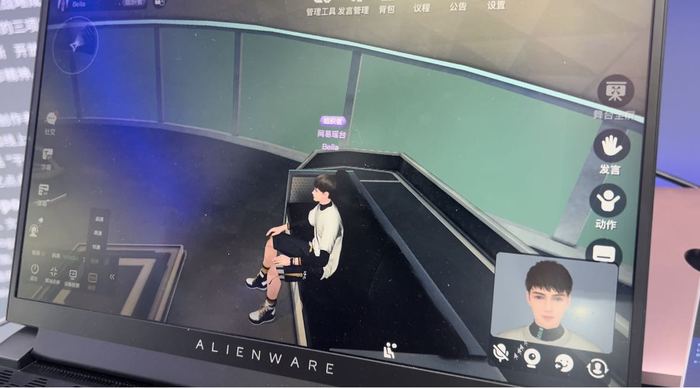 According to reports, the cloud dance scene was built by NetEase Yaotai, an immersive activity platform under NetEase Fuxi, mainly based on 3D game engine, AI, cloud computing and other technologies. With the three major elements of virtual scenes, virtual characters and virtual items, NetEase Yaotai claims that it can reproduce real offline scenes in the Metaverse, helping users create virtual images and provide various interesting forms of interaction.
Cloud dance is just one of the scenarios that NetEase Yaotai can provide. The staff in the exhibition area told Jiemian News that at present, international academic conferences, industry summits, product launches, company annual meetings, large-scale exhibitions, art exhibitions and other scenarios have already been implemented in the Metaverse.
As of August 2022, NetEase Yaotai has been successfully used in more than 100 events such as the 2022 China International Big Data Industry Expo, NetEase Cloud Music IPO Conference, and the 2nd International Conference on Distributed Artificial Intelligence. Users from all walks of life, including the School of Management, Alibaba Cloud, and Naixue's Tea, provide immersive activity support.
Like what you're reading? Subscribe to our top stories.
We will continue to update Gambling Chain; if you have any questions or suggestions, please contact us!