Introduction
Decentralized games have always been a frequent topic of discussion in the crypto market. Recently, the explosion of Magic, a decentralized game platform on Arbitrum, has also sparked a lot of discussion in the market, with some comparing it to the "Nintendo" of the crypto world, while the "Web3 version of the Steam platform" called Gala games is its counterpart.
However, these are two completely different models, which raises a question: which development path is suitable for decentralized game platforms?
The Development of Traditional Game Platforms
Before discussing the development of decentralized game platforms, it is necessary to understand the development process of traditional game industry platforms. Here, we divide game platforms into three types: studio mode, development engine mode, and distribution platform mode.
Studio mode starts with a game studio and gradually develops into a large company with multiple game IPs. These companies often attract players by constantly releasing new games or sequels and make corresponding adjustments and improvements based on the performance of the games. There are many examples of studio mode, the most representative of which is Blizzard Entertainment. Founded in 1991, Blizzard was initially a computer game development studio, and its first game was Warcraft. With the release of World of Warcraft, Blizzard has become one of the industry leaders in the gaming industry. Today, Blizzard is a part of the American game company Activision Blizzard and has many well-known game IPs such as World of Warcraft, StarCraft, and Diablo.
| | |
| --- | --- |
| Game Company | Representative Works |
| Nintendo | Super Mario series, The Legend of Zelda series, Pokémon series, Animal Crossing series |
| Sony Interactive Entertainment | The Elder Scrolls series, God of War series, Marvel's Spider-Man, Captain Marvel, Uncharted series, The Last of Us series |
| Microsoft Studios | Halo series, Gears of War series, Forza series, State of Decay series, Sea of Thieves series |
| Electronic Arts | FIFA series, Battlefield series, Need for Speed series, Star Wars series, The Sims series, Mass Effect series |
| Ubisoft | Assassin's Creed series, Far Cry series, For Honor series, Watch Dogs series, Rainbow Six Siege series |
| Blizzard Entertainment | World of Warcraft, Diablo series, StarCraft series, Hearthstone, Overwatch, Heroes of the Storm |
| Zynga | FarmVille, CityVille, Zynga Poker, Bubble Safari, Sudoku, Bejeweled |
| Konami | Resident Evil series, Metal Gear series, Galaxian series, Mario Kart Arcade GP series |
| Square Enix | Final Fantasy series, Kingdom Hearts series, Dragon Quest series, Escape Game series |
| Capcom | Resident Evil series, Devil May Cry series, Mega Man series, Monster Hunter series, Street Fighter series |
World's leading game companies and their representative works
The studio model is one of the most common models in the traditional game industry. Today, world-renowned game studios are born from a hit game and gradually gain their own industry influence.
The development engine model is a relatively new game platform model, with Roblox being one of the most famous examples. Roblox is a community-based virtual world game platform that allows users to design and create their own games and share and play them on the platform. It provides an ecosystem for creating and sharing games, including game development tools, virtual currency systems, and commercial features.
Roblox's user data shows that it is a very popular game platform, especially among young audiences. As of March 2021, Roblox has more than 180 million active users and has added nearly 40 million users in the past year. In addition, according to Sensor Tower's data, Roblox's revenue reached $2.96 billion in 2020, an 82% increase from 2019. This indicates that game platforms based on the development engine model have very strong growth potential, especially among young users.
One of the advantages of the Roblox platform is that it provides an open set of tools and engines that allow developers to create their own games relatively easily and share their games with other developers. This openness and interactivity stimulate innovation and collaboration, and encourage more people to participate in game development. On the Roblox platform, users can use the Lua programming language to write their own games and use visual development tools on the platform to design game elements such as scenes, characters, and props. This open creative approach makes games on the Roblox platform diverse and very creative.
However, a disadvantage of the development engine model is the difficulty in ensuring consistency and standardization in game quality. Because games on the Roblox platform are created by developers in the community, their skill levels and design styles may vary greatly. This can lead to games of varying quality appearing on the platform, which could affect the overall reputation and user experience of the platform.
The distribution platform model, using Steam as an example, started with its flagship products (such as DOTA2 and CSGO) and gradually developed into a game distribution platform. The Steam platform provides players with a convenient channel for purchasing and downloading games, and also provides a wide-ranging promotion and distribution platform for game developers.
Nowadays, any game released on PC can be found on Steam, making them the monopolist in this field.
As a distribution platform, Steam helps game developers with game release and distribution, allowing them to focus on game development itself without worrying about sales and distribution. At the same time, Steam provides players with a convenient way to purchase and manage games, as well as communicate and interact with other players through the Steam community. Steam also supports online multiplayer games and user-generated content, which increases player interaction and participation. We also see that other game development teams will release their own game distribution platforms, such as Blizzard's Battle.net, EA's Origin, Ubisoft's Uplay, etc. For excellent development companies that continue to produce good works, they prefer to hold the power of distribution in their own hands, rather than sharing with pure distribution platforms.
The Development Path of Blockchain Game Platforms
Now, we will explore the relationship between these three types and decentralized game platforms, as well as the corresponding product development in the decentralized world.
Game Studio Model and Public Chain Ecology
Studios usually have their own game engine and R&D team to produce their own games. This model will produce many intermediate links in the game development process, involving many teams and individuals, so the cost is high and it is a capital-intensive approach, but it may create very successful game IPs.
This path is gradually developing in the encrypted world as first making a hit game, and then releasing a public chain. Representatives include the Flow public chain issued by Dapper, the maker of Cryptokitties, Ronin issued by Axie Infinity, and ImmutableX issued by God Unchained. In the case of the increasingly mature "one-click chain" technology, products with traffic will release their own Appchain or L2, or become a development path for future blockchain games.
In new products, many projects have begun to adopt this approach. For example, Fusionist has launched their own mainnet Endurance, and by storing the behavior and achievements of all users on the chain, they improve the user binding, transparency, privacy, and security of the entire system. In Fusionist's plan, they already have three games that will be released on this new chain, Colonize, Conquer, Unite, to build a decentralized game public chain ecology around Endurance.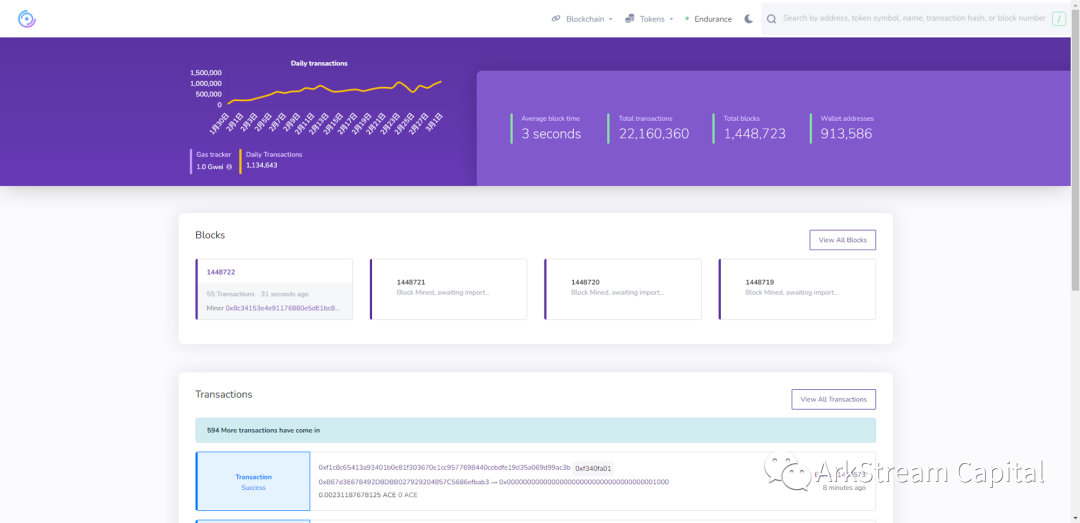 Endurance Block Explorer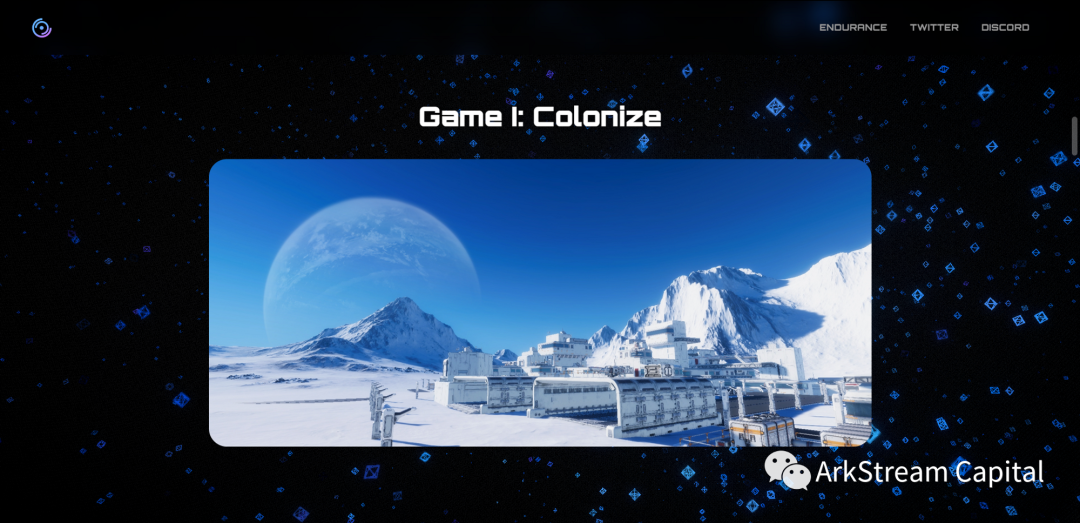 Colonize, a game under Fusionist
This idea is based on the influence of a single game, requiring the studio's first product to be a hit upon release. This raises a question: if the goal is to create a public chain, the uncertainty of a game's popularity may lead to long-term difficulty in finding users for the product. If the game is unsuccessful, the value of the public chain will also decrease. The core of the studio model may still be about making a fun game, rather than telling a grand story.
Additionally, transitioning from a single game to a public chain may become a "shackle" for the studio, as there are varying degrees of security risks associated with public chain nodes, cross-chain bridges, and wallets. Skymavis, the studio behind Axie, is a prime example of this. After Ronin was hacked, users lost trust in the public chain, forcing other game developers to stay away from the ecosystem that Axie relied on. For the development team behind them, this was a significant blow.
Development Engine Model
Roblox has concretized the concept of the "metaverse" through a game development engine, but unlike centralized development engines like Roblox, decentralized development engines are built on blockchain technology, providing more freedom and creativity for game developers and players. Fragnova (Fragcolor) and Cocos-CBX are two representative decentralized development engines that are constantly advancing the development of decentralized game engines.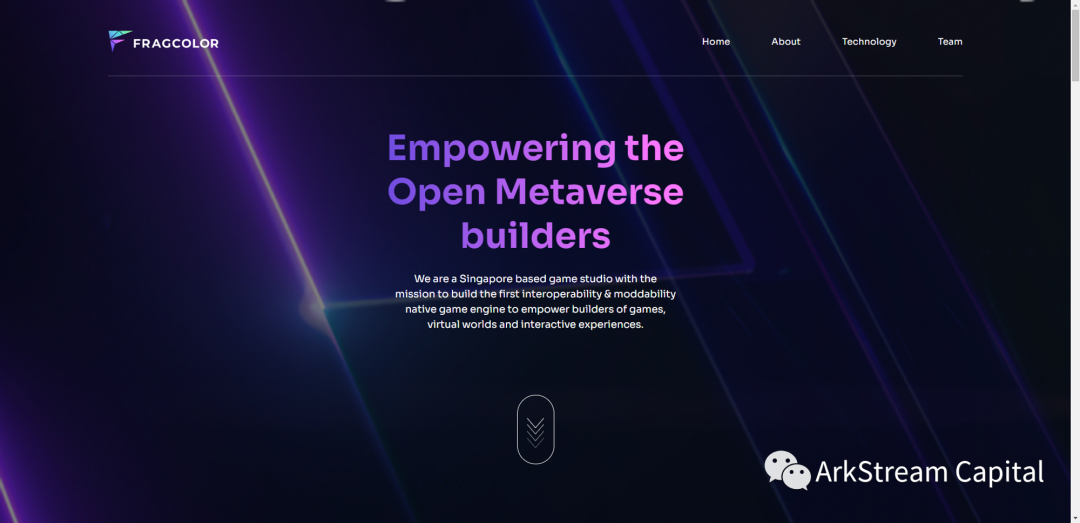 Fragcolor
Fragnova's game engine provides a secure environment for game developers to freely create, build, and share their game works. Developers can create their own games on the Fragnova Network and distribute them through the platform, similar to traditional centralized game engines, but Fragnova Network places more emphasis on decentralization, providing developers with more control and flexibility. For example, developers can freely choose their own game economy model and decide on which public chain to run their game. Meanwhile, by running all games on the blockchain, Fragnova Network ensures the security and fairness of game data, as well as the authenticity and transferability of user digital assets.
Decentralized game development engines have many advantages over centralized game engines. First of all, decentralized game engines can better protect game data and users' digital assets. Secondly, decentralized game engines provide developers with more freedom and control, which can better meet the needs of different games. Finally, by storing game data on the chain, decentralized game engines can achieve a more fair and transparent game ecology, attracting more users and developers to join.
However, this does not mean that decentralized game engines have no disadvantages. On the contrary, this is the most difficult of the three paths, because traditional game development engines are already good enough, and their competitors are not only Roblox, but also UE, Unity and other development engines. Large engines such as UE and Unity have taken an important position in the market. They provide more complete tools and technical support and have a more stable and mature ecosystem. Therefore, they are still the first choice for mainstream game developers. The ecosystem and community of decentralized platforms are relatively small, and compared with large engines, they may lack some important resources such as tools, materials and plugins. Therefore, compared with centralized platforms, decentralized game development engines still need to be improved and perfected in terms of technology.
Distribution Platform Model
From large platforms like Steam to small ones like 4399, due to their light assets and heavy operations, the distribution platform model has become a popular entrepreneurial model for decentralized game platforms. Taking TreasureDAO as an example, from the first revenue protocol Magic in the Loot ecosystem to the largest decentralized game platform on Arbitrum, after many twists and turns, TreasureDAO has shown a magic of web3 and has now become a representative of the distribution platform model.

TreasureDAO user data, source: Dune
In terms of profit model, traditional game platforms usually rely on game sales, virtual item sales, and other methods to make a profit. Decentralized game platforms can make a profit through token rewards, NFT transactions, platform fees, and other methods. In terms of user protection, traditional game platforms usually rely on intellectual property protection and other methods to protect users' rights and interests, while decentralized game platforms can protect users' rights and interests through technical means such as smart contracts.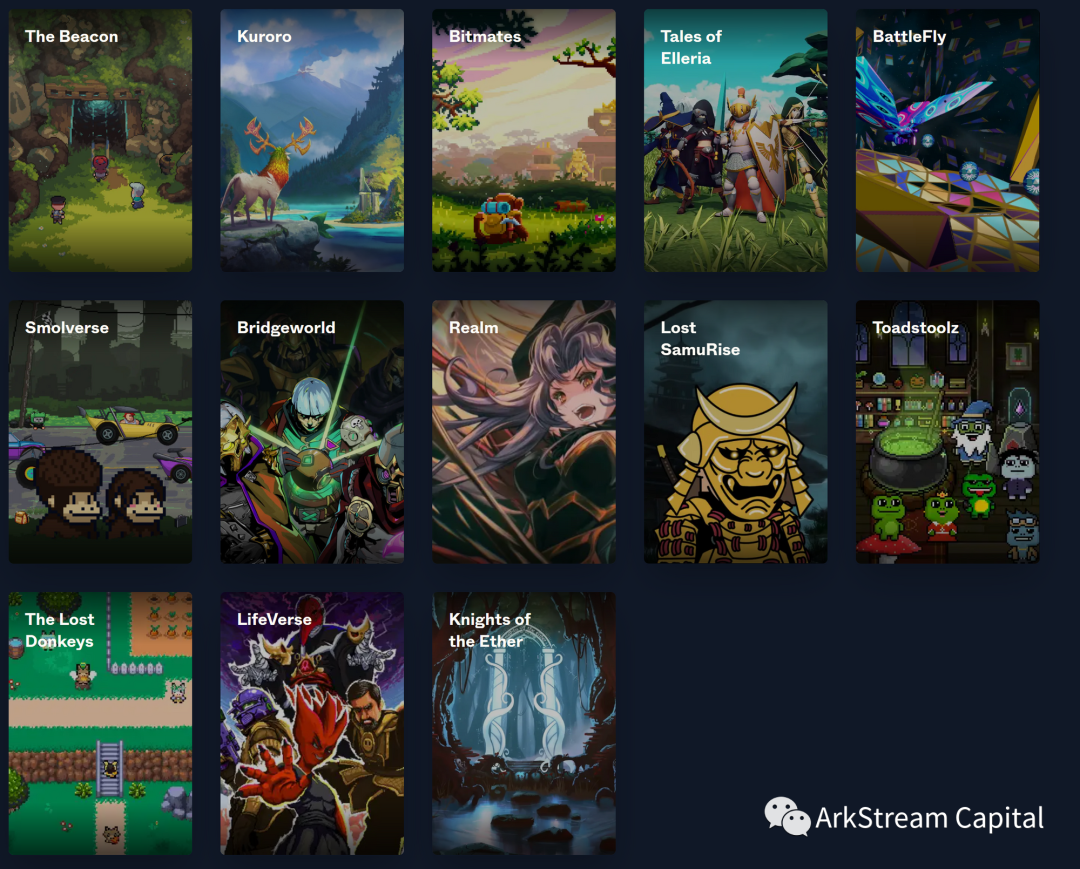 Games on TreasureDAO platform
However, the reality is different from the narrative. There are 100 Marios between Nintendo and 4399. Looking at the 18-game list released by TreasureDAO, most games are still at the level of "casual games". Compared with prominent games such as Zelda and Animal Crossing, there is a decades-long industrial gap which cannot be filled by quantity alone, not to mention top IP such as Pokemon and Mario.
However, from another perspective, frequent low-cost trial and error is beneficial to digging out "blockbusters". Since the development path of blockchain games is not clear, small game platforms can release multiple games to test players' preferences and then conduct in-depth development after finding players' needs. Compared with investing heavily in building 3A-level games at the beginning but encountering no response after release, this method is more capital-efficient. The Beacon on Treasure has sparked a significant response from the community after its launch, and they can use this as a starting point to further expand the universe of TreasureDAO.
Gala Games, on the other hand, chose a different distribution platform operation mode. Compared with the asset chaining and interconnection of decentralized games, they pay more attention to how to use tokens to motivate the community and conduct governance, and the decentralized node network is the uniqueness of Gala. According to official data from Gala Games, at its peak in 2021, its monthly active users exceeded 1.3 million, and more than 26,000 NFTs were sold. However, with the cold GameFi market, the GALA token price gradually fell starting in November 2021 after reaching a new high.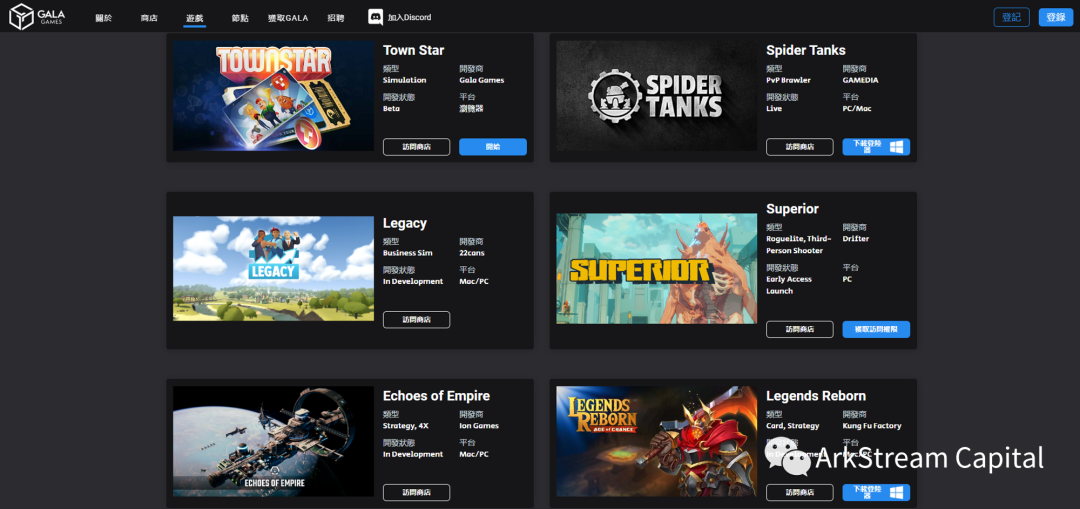 Games on Gala Games platform
From Gala Games' official website, it can be seen that they have now launched 15 games from multiple game developers, covering multiple platforms such as PC/WEB/mobile, but only 3 of these games are truly online, and the playability of the games that have been launched is still relatively low.
Comparison of game distribution platforms and their representative works, data source: Bing
If we make a comparison, we will find that decentralized game platforms, relative to the mainstream game platforms currently on the market, have a large gap in both the number and quality of games. However, it is fortunate that with the emergence of several hit games such as Axie Infinity, the number of blockchain games has increased exponentially in the past two years. From the projects recorded by our ArkStream Capital in the past year, the gaming category accounts for 20% of the total, with as many as 800 games, and on Footprint, which focuses on Gamefi data, we can see that the number of decentralized games has exceeded 2,000. Although most games still cannot escape the category of "small games," with further increases in quantity, quantitative changes will lead to qualitative changes, and decentralized game distribution platforms will become the gathering place for these games' traffic based on their advantages.
We believe that as a decentralized distribution platform, whether it can list enough game products will be a reflection of its strong or weak competitiveness, and the number of games is precisely what is easiest for decentralized distribution platforms to catch up with compared to centralized platforms. Establishing effective incentive mechanisms, opening up upstream and downstream channels, and providing diversified peripheral services will all improve the competitiveness of these distribution platforms.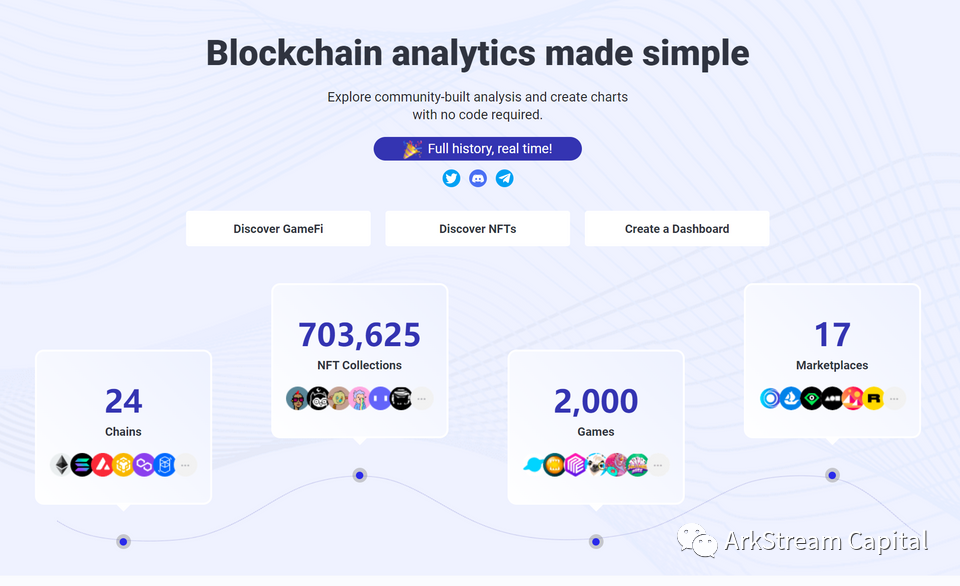 ArkStream internal database, Footprint.network
In addition, after aggregating traffic, blockchain projects can also create unique functional points, such as NFT marketplaces or launch blockers, which will bring significant profits to the platform and also lead more players to the platform through token economics.
Development Space
In the three types of traditional game platforms, we can find corresponding decentralized platforms to bring more innovation in a Web3 way. Whether it is a studio model or a distribution platform, the core is to have hit games to attract traffic. Therefore, how to create hit games or attract hit games to be released on the platform is the most critical issue.
We are optimistic about the development of future vertical public chains, especially after modular blockchain and Layer3 architectures are sufficiently mature, building a dedicated Appchain for a single game can further improve the performance of decentralized games and leverage the network security of L1 such as Ethereum. However, for teams dedicated to developing game public chains, building a popular game may have a much higher priority than building an empty castle in the air, and priorities should not be confused.
For decentralized gaming platforms that develop engines and distribution platforms, the immediate priority is to attract more game developers and studios, and to win by "quantity."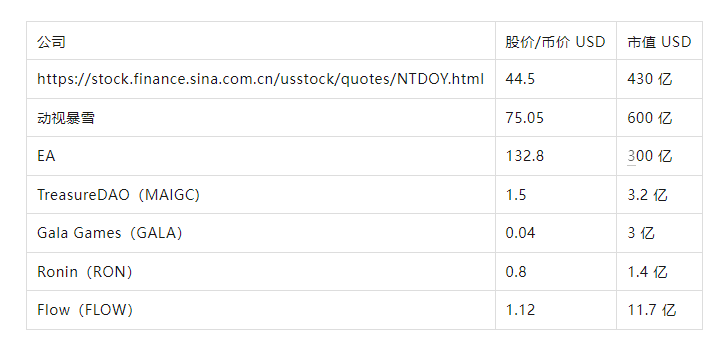 Comparison of market capitalization between traditional gaming companies and decentralized gaming platforms (March 9, 2023)
When we compare the top game development companies with the top game public chains, we can see that decentralized gaming platforms still have dozens or even hundreds of times growth potential. If the following issues can be addressed, decentralized gaming platforms will be able to compete with centralized platforms:
How to better protect user rights with blockchain technology
How to attract more players and developers to join decentralized gaming platforms and further improve the quality and quantity of games
How to compete with traditional gaming platforms in blockbuster games and attract more traffic and users
Decentralized platforms are to centralized platforms what decentralized finance is to centralized finance, not a supplement but a subversion. When decentralized products have good user experience and security, their advantages in production relations will completely replace centralized platforms, giving more rights to users and developers. We have the opportunity to see the coming of this day.
Conclusion
In the next few years, the development of decentralized gaming platforms will face many challenges and opportunities. In terms of technology, decentralized game engines still need to be improved and perfected to meet the changing needs of developers and players. In the market, decentralized gaming platforms need to create more blockbuster games and attract more users and developers to join. In addition, decentralized gaming platforms need to compete with traditional gaming platforms to gain more traffic and users. Therefore, decentralized gaming platforms need to constantly innovate and develop in order to achieve greater success in the fierce market competition.
Like what you're reading? Subscribe to our top stories.
We will continue to update Gambling Chain; if you have any questions or suggestions, please contact us!