At 0:00 a.m. on November 9th, SBF tweeted on his social media account:
"Hello everyone, I have a few things to announce.
Things went round and round, we've reached a strategic deal with FTX's first investor and last Binance (pending due diligence). Our team is clearing the withdrawal backlog as it stands, which will remove the liquidity crunch; all assets will be covered 1:1. This is one of the main reasons we asked Binance to join. This may take some time to fully resolve, and we apologize for this.
Big thanks to CZ, Binance and all our supporters. This is a user-centric development that benefits the industry as a whole. CZ has done an incredible job building a global crypto ecosystem and creating a freer economic world and will continue to do so in the future. I know that there have been rumors in the media of a conflict between our two exchanges, but Binance has repeatedly shown that they are committed to a more decentralized global economy while working to improve their relationship with regulators. He'll get everything sorted. (Please note that FTX.us and Binance.us, two separate companies, are not currently affected by this. Withdrawals from FTX.us are always available, assets fully support 1:1 coverage and are functioning normally.)"
10 minutes later, CZ immediately posted:
"This afternoon, FTX approached us for help with a severe liquidity crunch. To protect users, we signed a non-binding letter of intent that (Binance) intends to acquire (FTX). There is a lot to cover and it will take some time. This is a highly dynamic situation and we are assessing it in real-time. Binance reserves the right to withdraw from trading at any time. As the situation develops, we anticipate the next few The price of FTT will fluctuate significantly today."
This unprecedented, multi-billion-dollar, industry-shaking, industry-shaking showdown ended abruptly in less than 48 hours with one or two understated tweets. After 1 year and 3 months, FTX is back in the arms of Binance. As soon as the news was announced, FTT and BNB skyrocketed in a short time, with the largest increase of over 40% within 15 minutes.
In fact, the grievances between FTX and Binance have been around for a long time. After the two officially announced their parting ways in July 2021, there has been constant friction (BlockBeats Note, for details, see " FTX and Binance War Escalation, From Hooking Up to tit-for-tat "). From the launch of leveraged Token, to the acquisition battle of crypto institutions such as Voyager, to the recent events such as CZ's response to its own identity and nationality, there are all hints of the tug-of-war and confrontation between the two crypto giants. Today's head-to-head confrontation, which ended with Binance's acquisition of FTX and SBF's return to Zhao, drew another "Lehman break" for the crypto industry.
Cry 48 hours
The incident started with an article published by CoinDesk on November 2nd. The article, titled " Divisions in Sam Bankman-Fried's Crypto Empire Blur on His Trading Titan Alameda's Balance Sheet ", discloses a private financial document pointing out the possible current liabilities of SBF's crypto trading giant, Alameda Research.
The article pointed out that most of Alameda's balance sheet assets are the FTX platform Token FTT. As of June 30, Alameda's assets reached $14.6 billion, of which the largest single asset was FTT worth $3.66 billion, and other important assets included $3.37 billion in SOL and Solana Ecological Tokens. Liabilities were $8 billion, mainly $7.4 billion in loans.
Once the article was published, it began to ferment in the community, and FUD sentiment continued to accumulate. In the early morning of the 6th, a Twitter user named Autism Capital posted that FTX's "enemy" Binance had transferred the remaining 23 million FTT in its account to the trading platform. After the news came out, the community reflected again, and the price of FTT fell.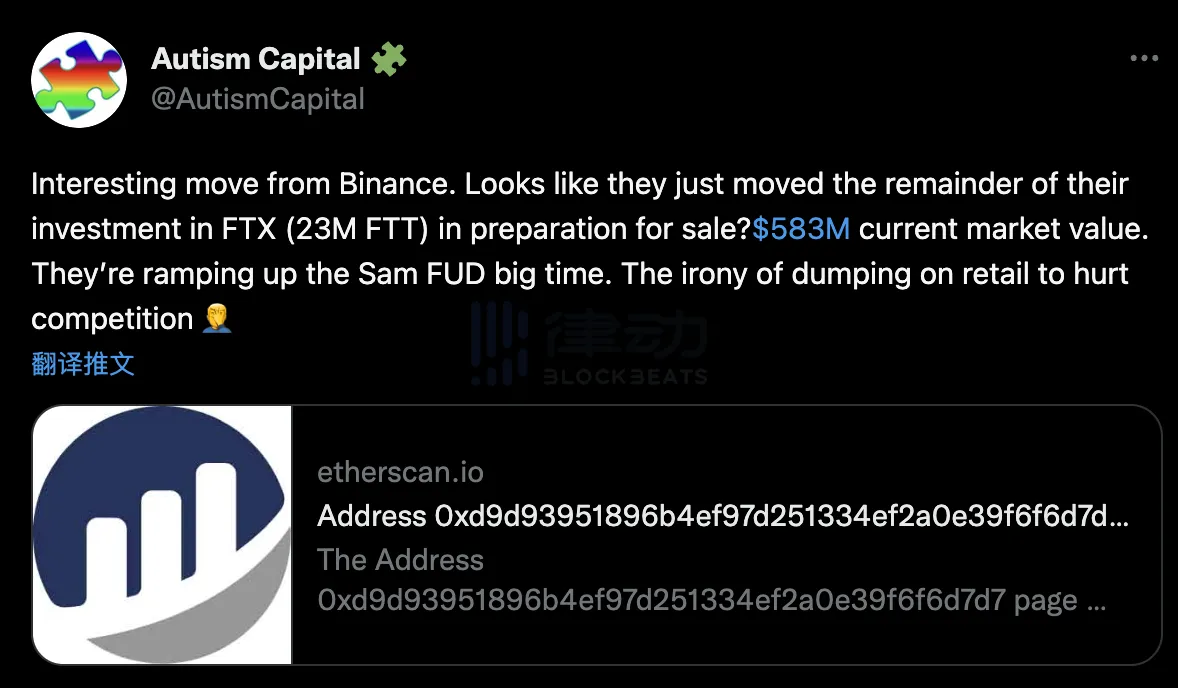 On the evening of the 6th, Alameda responded positively. CEO Caroline Ellison responded to the recent rumors that "Alameda/FTX may be insolvent" on social media, saying that the balance sheet of the online version actually only lists some of Alameda's assets. Alameda has more than $10 billion in funds that are not listed on the balance sheet.
Caroline added that the online version of the balance sheet lists only a few of Alameda's largest long positions, but Alameda clearly has other hedging assets. Given the tightening of the crypto credit space this year, Alameda has now repaid most of its loans. Following the tweet, FTT prices recovered to around $24.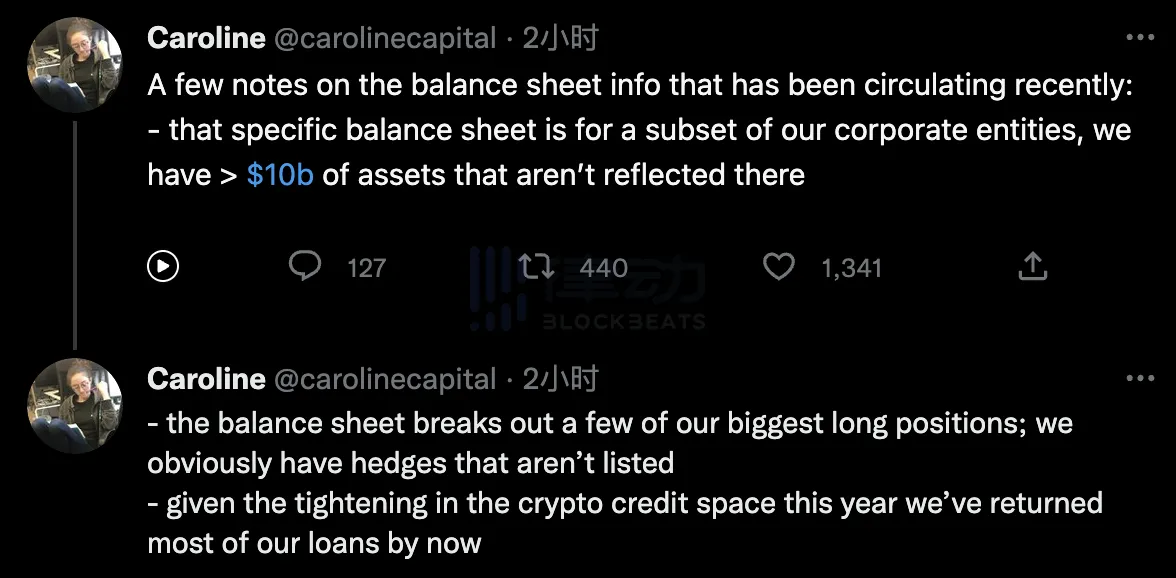 Shortly after, CZ posted that Binance received approximately $2.1 billion in cash (consisting of BUSD and FTT) after withdrawing from its FTX stake last year. Due to the recent revelations, Binance decided to liquidate all remaining FTT on its books. Binance will try to do so in a way that minimizes market impact. The sell-off is expected to take several months to complete due to market conditions and limited liquidity. Binance has always encouraged cooperation among industry players, and this sell-off has nothing to do with "targeting competitors". After CZ's tweet, FTT prices quickly fell from around $24 to around $21.

Immediately afterwards, Alameda CEO Caroline Ellison responded to "Binance Clearance FTT" on social media. She said that if Binance founder CZ wanted to minimize the impact of clearance on the secondary market, Alameda is now very willing to earn at a price of $22. After the tweet, FTT prices recovered to $22.

In just one day, due to the chain effect caused by community information and Binance's sale of FTT, nearly $1 billion in assets has flowed out of FTX and Alameda's related wallet addresses. SBF responded on the afternoon of the 8th, accusing competitors of deliberately smearing, and emphasizing the platform's ability to cover all users' assets in an attempt to appease the market and FTX users. However, SBF's response did not play a big role. There are still a large number of customers on the platform transferring funds. The stablecoins on FTX are rapidly depleting, and even the stablecoins that have just entered the platform are almost immediately exhausted (Figure 2). , Figure 3).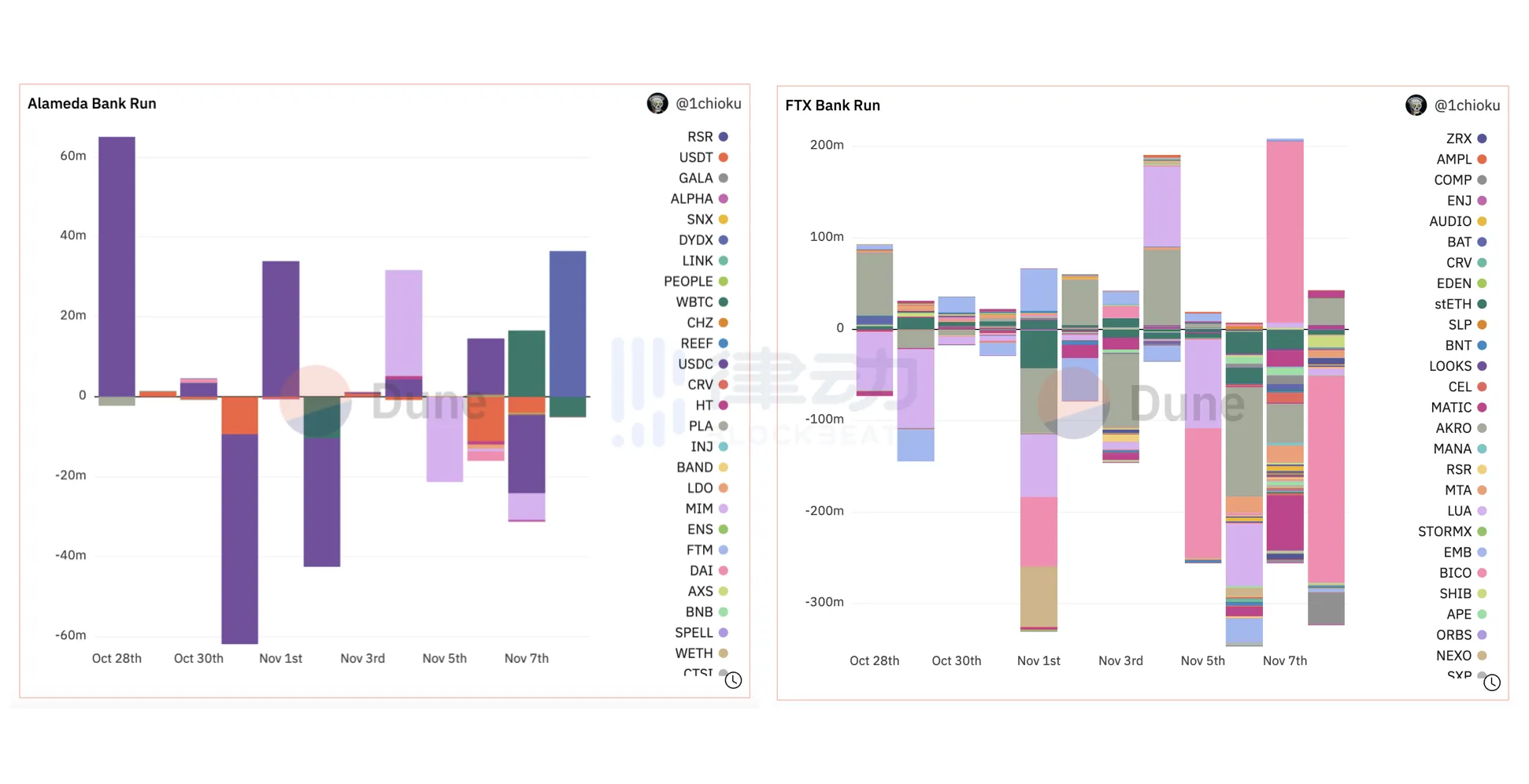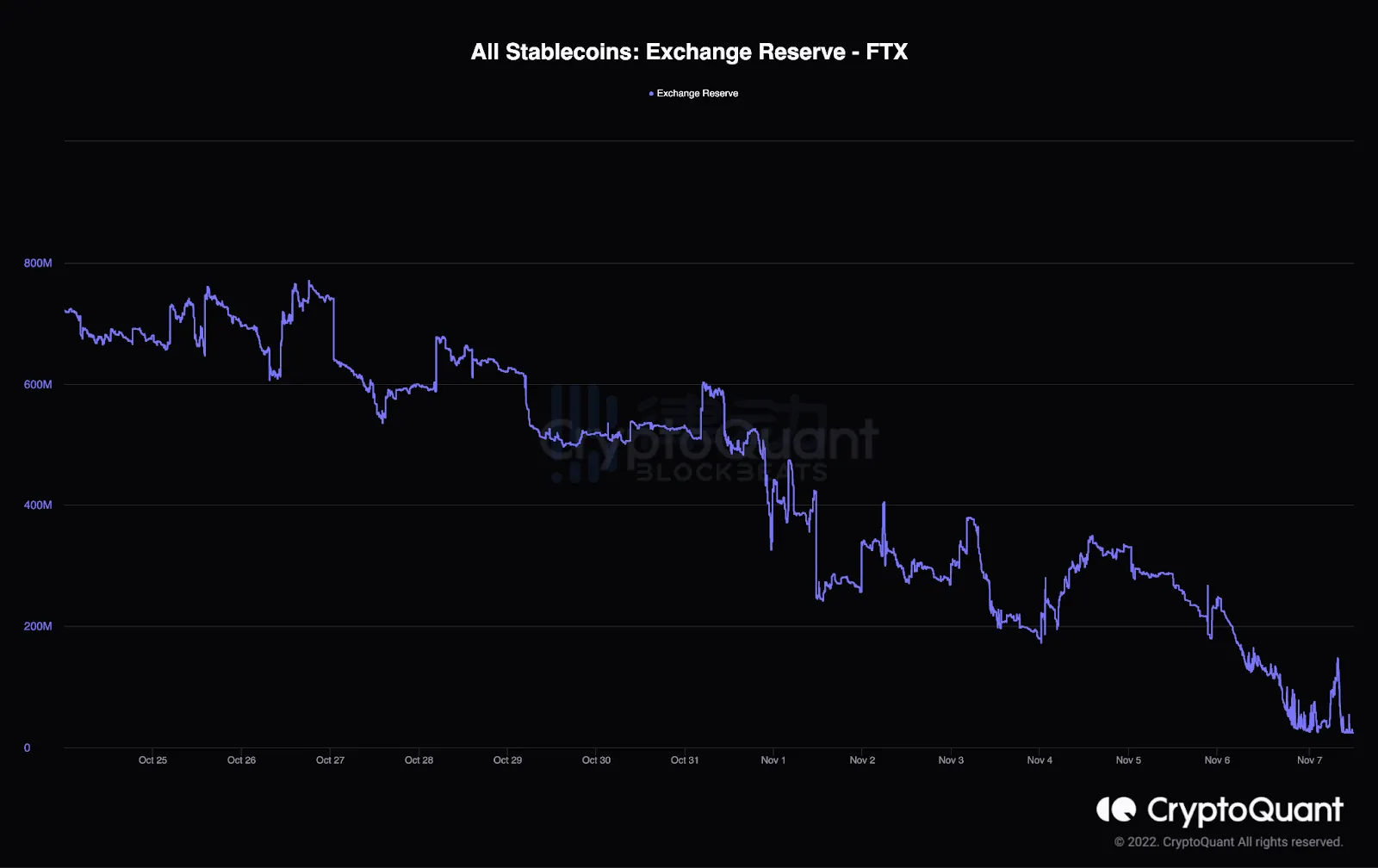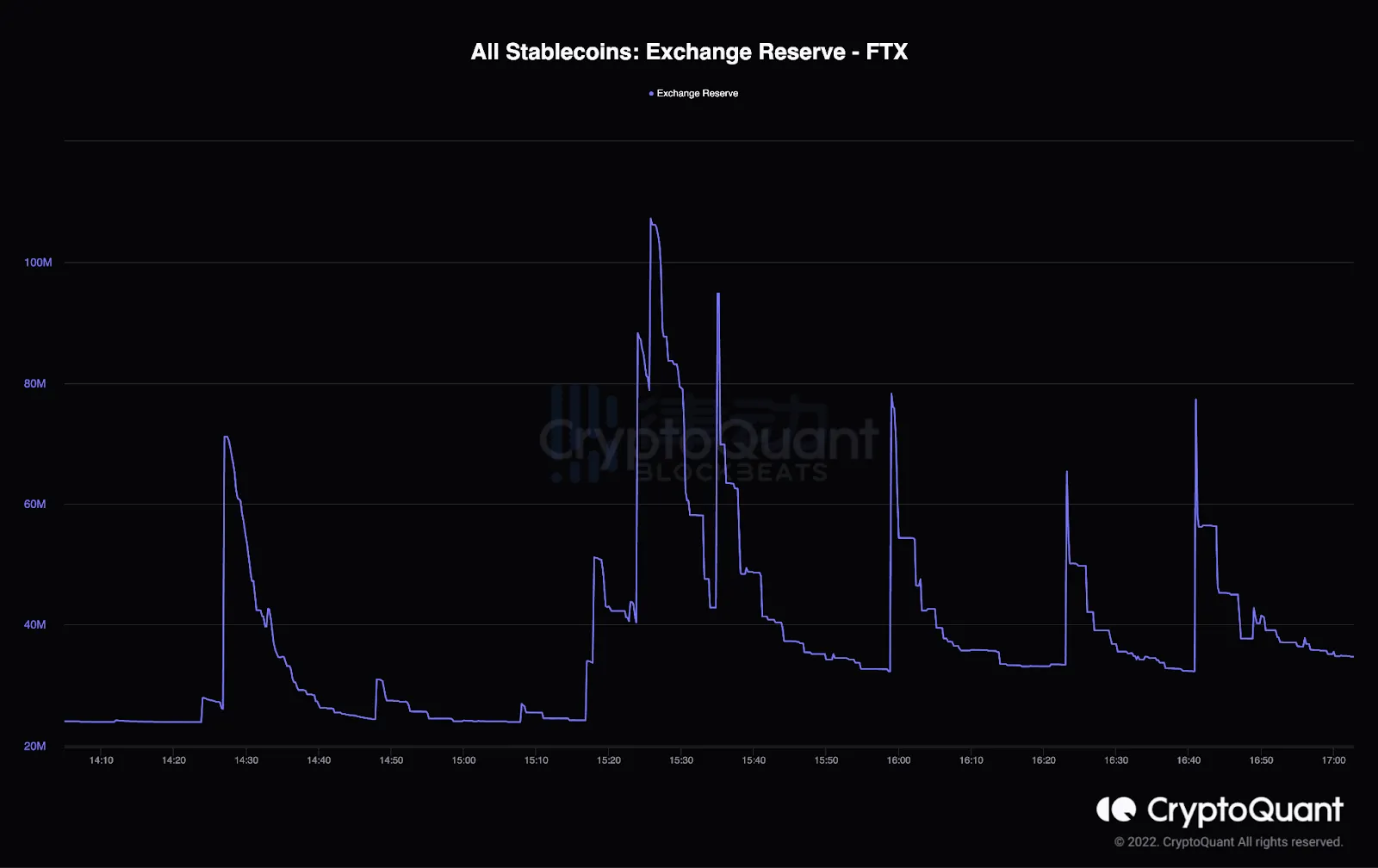 Now, FTX and Alameda not only need to pay for user withdrawals, but also deploy capital to defend the value of FTT. Alameda's relevant wallet addresses have also begun to frequently transfer assets from major exchanges into FTX. Meanwhile, CZ added fuel to the fire, replying with a shrug emoji under a tweet questioning Alameda's $22 buyback commitment. This also directly angered FTX Digital Market CEO Ryan Salame, who directly quoted CZ's tweet on Twitter, expressing his dissatisfaction with his sell-off of FTT in the open market.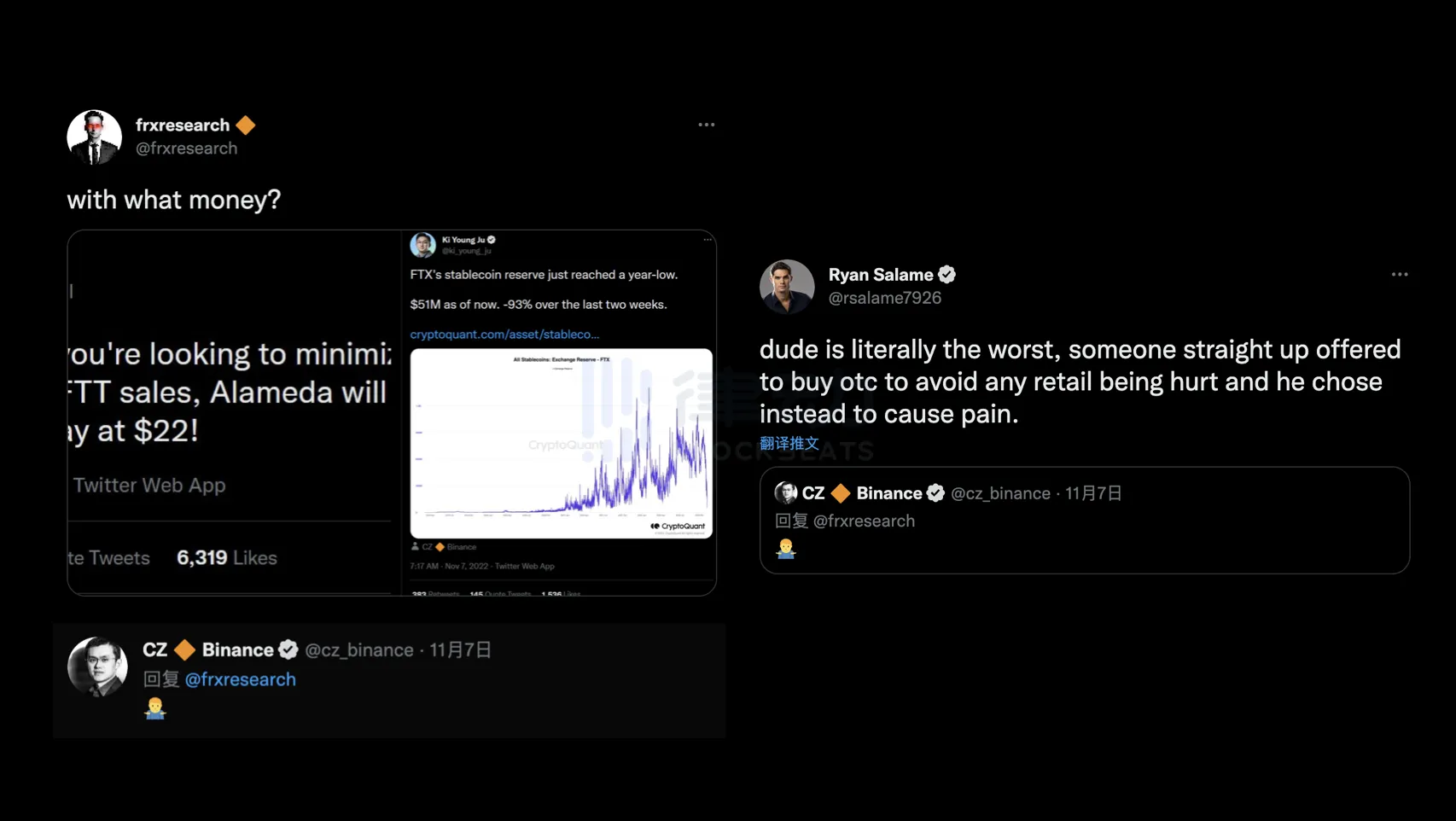 With the accumulation of panic, a large number of speculators began to pour in through the contract market. Within a few hours, the trading volume of FTTUSDT perpetual contracts on Binance surged from $20 million to around $40 million, with fierce competition between long and short positions. And Alameda also tried to defend FTT, and the exchange rate difference between Token price between FTX and Binance also pushed to an all-time high. After several rounds of sawing, FTT fell below the $22 mark and fell all the way to around $15.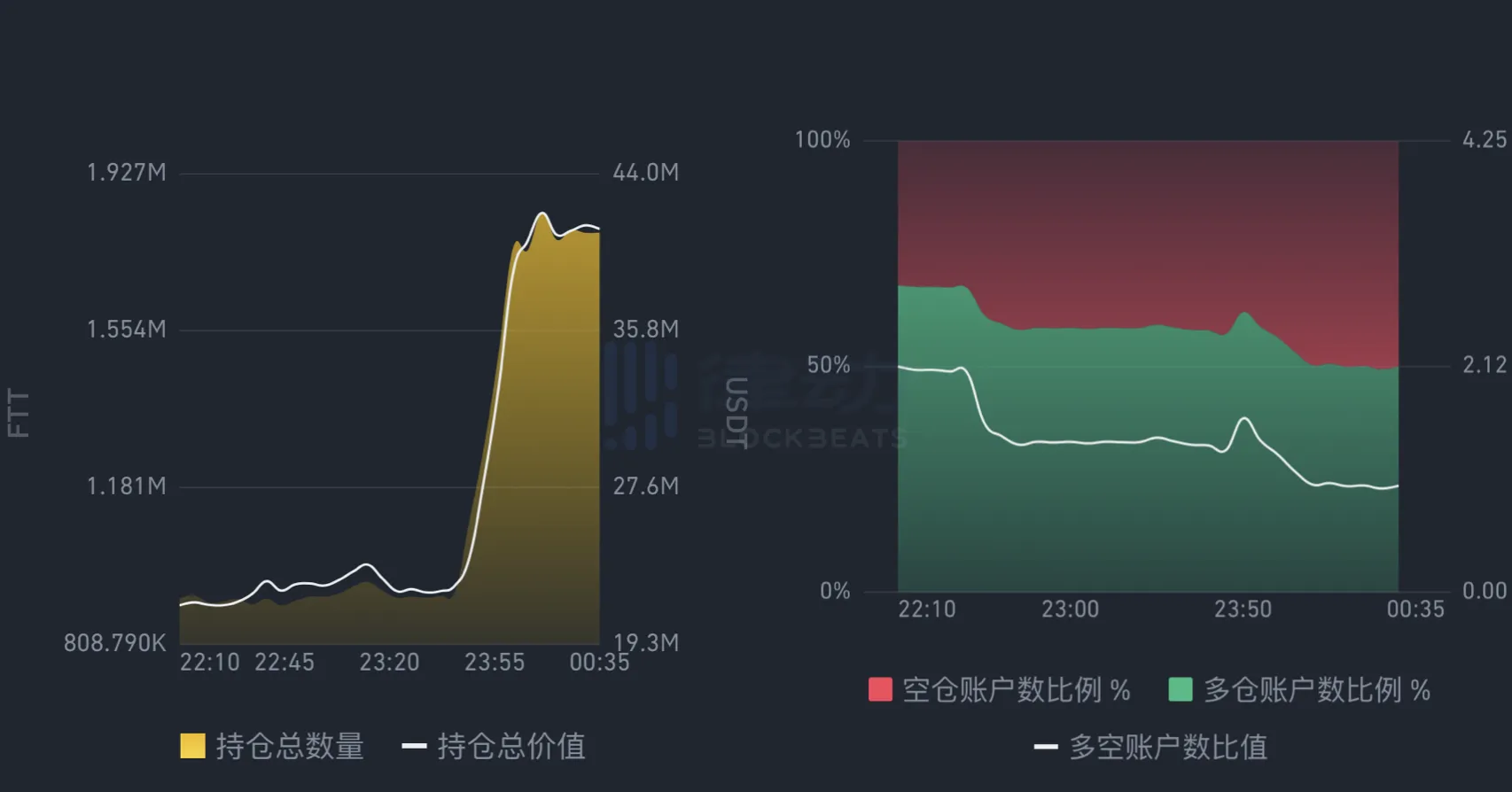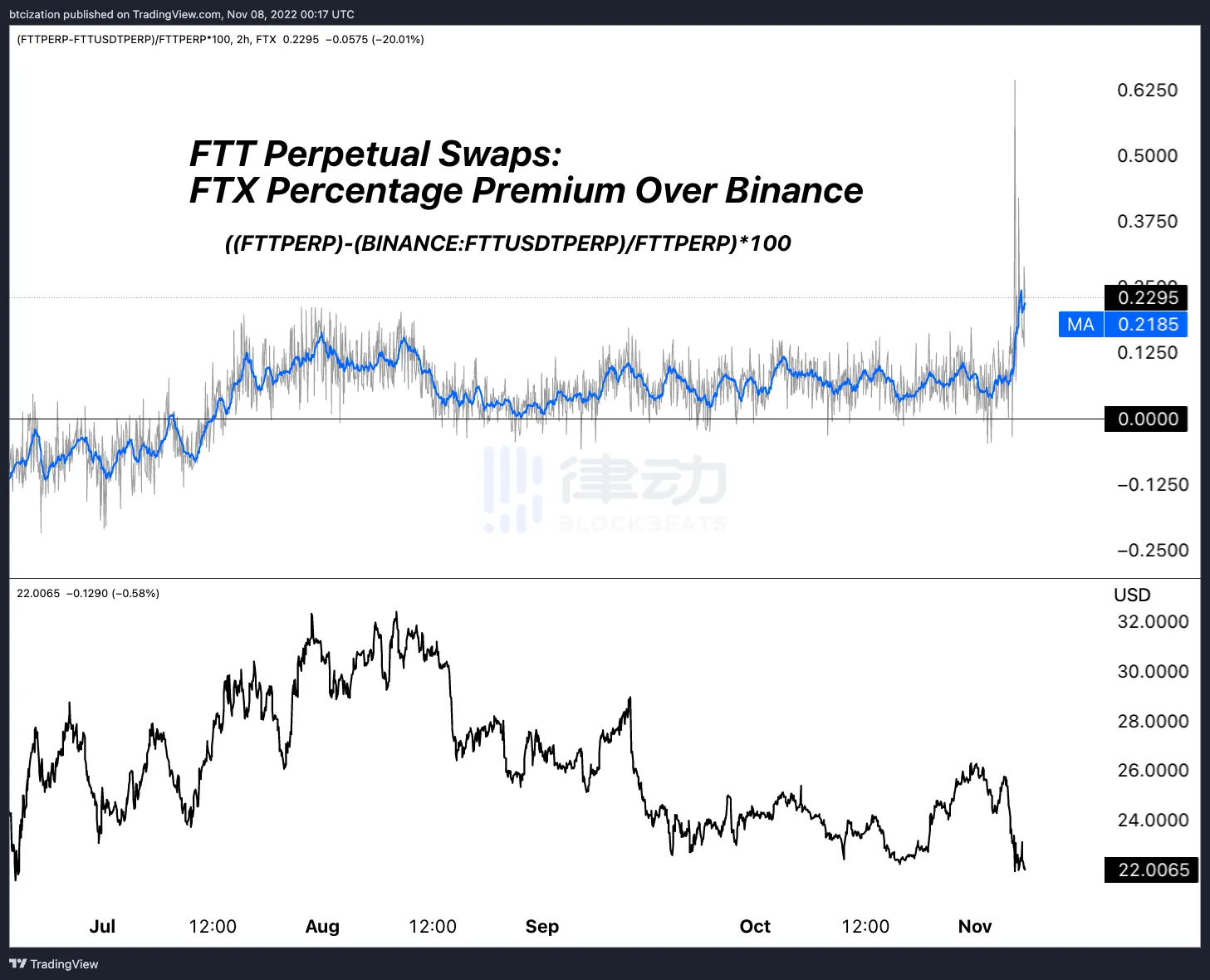 Seeing that the two giants were shaking the ground, many people began to realize the hidden dangers this life-and-death duel may bring to the entire encryption industry. On the afternoon of the 8th, Xu Xingxing, founder of OKGroup, posted on social media: "If FTX unfortunately becomes another LUNA, then no one including Binance will benefit from this accident. Both customers and regulators will lose the entire industry. Some confidence. I hope CZ can consider stopping the sale of FTT and reach a new agreement with SBF."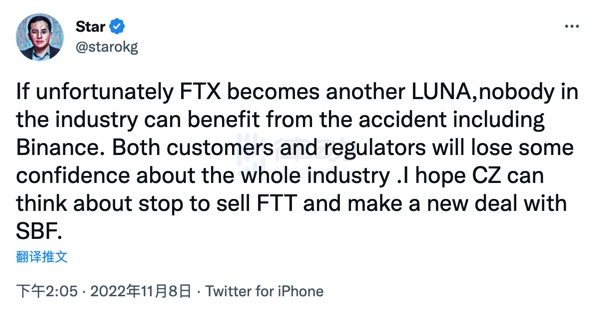 On the evening of the 8th, FTX suspended withdrawal requests on Ethereum, Solana and Tron. According to 0xscope, in the past two hours, no assets flowed out of FTX except that FTX sent 0.12 ETH to the deposit address. Just 1 hour later, SBF and CZ announced the news of Binance's acquisition of FTX.
Total collapse after collective excitement
After the announcement of the acquisition, the Tokens of the two trading platforms skyrocketed instantly, FTT rebounded and exceeded $20, and BNB exceeded $370. The community is even more lively, Meme pictures and texts have been swiped, and CZ has been praised as the "Encryption Emperor" in an instant.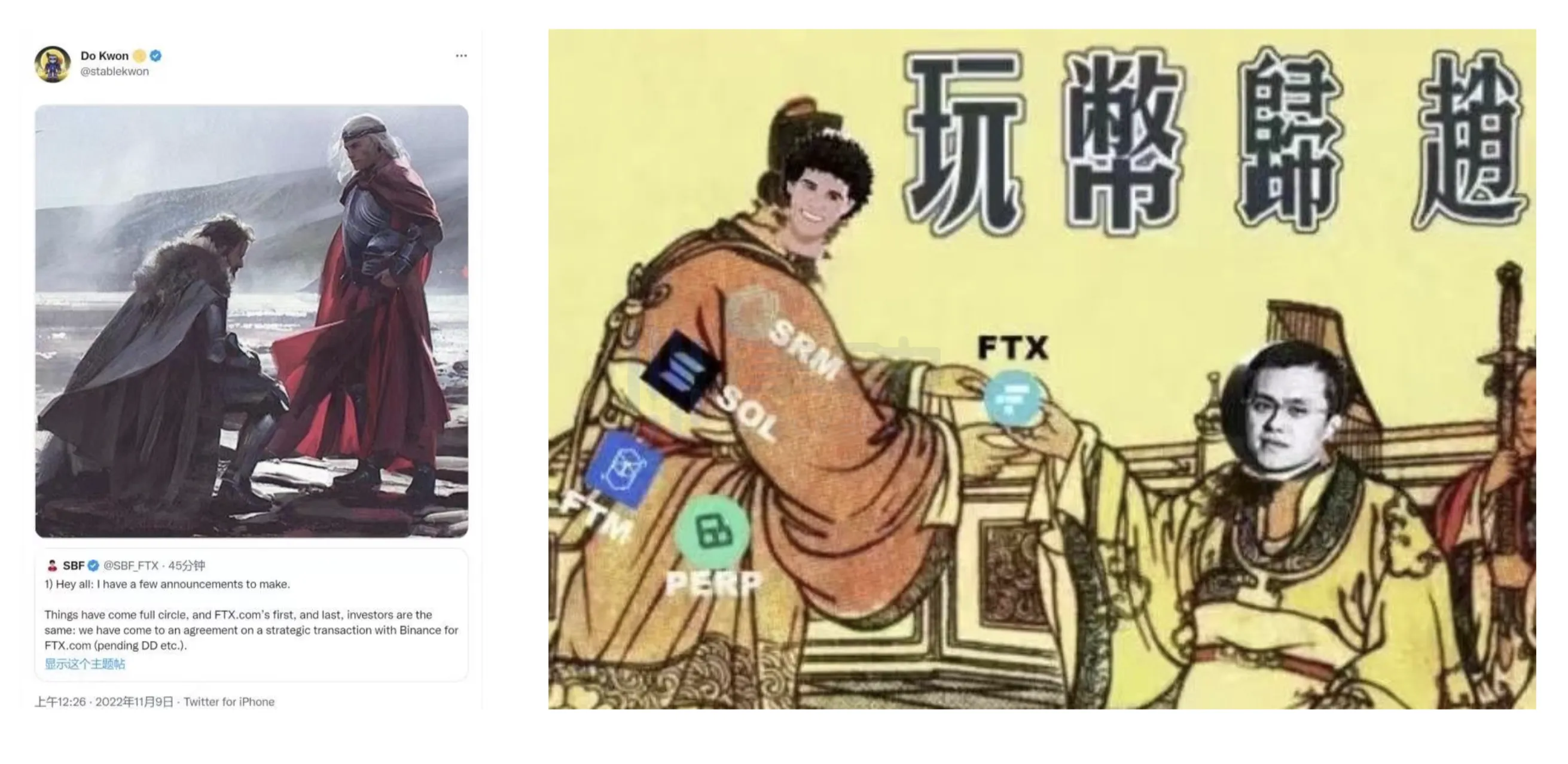 But on the night of the blood moon, God obviously felt that the reversal of things was not enough. The spiritual carnival of the community was less than half an hour, and FUD from the acquisition agreement itself and external supervision immediately killed a carbine.
According to media reports, SBF turned to Wall Street and Silicon Valley billionaires for help before reaching an acquisition agreement with Binance to get $1 billion in aid. But by noon on Tuesday, FTX's funding gap had rapidly risen to $5 billion to $6 billion. Everyone suddenly realized the potential huge hole in FTX. CZ then tweeted that all cryptocurrency exchanges should do Merkle tree proof of reserves. Banks operate on fractional reserves. This should not be the case with cryptocurrency trading platforms. Binance will soon begin proof-of-reserve with full transparency.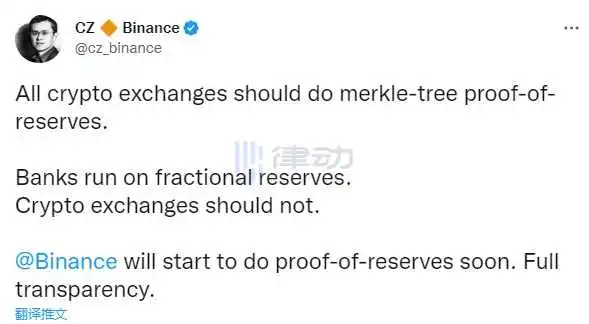 Then, the acquisition of FTX by Binance attracted the attention of antitrust regulators everywhere. According to the CoinDesk article, if local regulators are concerned that the acquisition will limit free market choice, they have the power to block the major merger, and there are also strict laws against anti-competitive behavior.
Like what you're reading? Subscribe to our top stories.
We will continue to update Gambling Chain; if you have any questions or suggestions, please contact us!