Author: LianGuaiBitpushNews Mary Liu
Around 5:30 AM Beijing time on Friday, Bitcoin suddenly plummeted by more than 8%, dropping to a low of $25,409. The Bitcoin price on the Bitfinex cryptocurrency exchange even dropped lower, touching a low of $24,715 at one point, before rebounding to above $26,000. This decline caused Bitcoin's market value to fall below $500 billion for the first time since June 16th, and hit the lowest point since June 20th.
According to CoinGlass data, as of the time of writing, the plunge resulted in a liquidation amount of over $1 billion in the past 24 hours, including $472 million in Bitcoin liquidation and $302 million in Ethereum liquidation. Most of the affected positions were long positions.

Reasons for the decline?
The crypto community attributes part of the decline to a report by The Wall Street Journal, which stated that Tesla's balance sheet wrote off $373 million worth of Bitcoin recorded between 2021 and 2022. Musk mentioned that Tesla owned Bitcoin in a speech in 2021, but since the company is private, the specific amount was not disclosed.
Musk has always been a long-term enthusiast of cryptocurrencies, and the popular Dogecoin symbol "Д is featured in his X social media profile. It is well known that any news related to Musk will impact the market.
Another piece of news that may have stimulated selling is that Chinese real estate developer Evergrande has filed for bankruptcy protection in the United States, causing concerns among investors about the potential spread of problems in the Chinese real estate market to other areas of the global economy.
In recent weeks, the price of Bitcoin has been declining, wiping out about half of the gains since BlackRock applied for a Bitcoin ETF on June 15th.
According to Bloomberg, one of the macro factors behind the sell-off is the continuous surge in global interest rates, especially in the United States, where the 30-year Treasury bond yield has risen to 4.42%, the highest level since 2011. The 10-year Treasury bond yield is 4.32%, only one basis point below the 15-year high. This not only suppresses cryptocurrency prices but also has an impact on risk assets in traditional markets.
Shiliang Tang, Chief Investment Officer of cryptocurrency investment company LedgerPrime, said: "Earlier this week, people were optimistic that the decision on the Grayscale Bitcoin ETF would be announced this week, but the decision was eventually passed without any result. In addition, the traditional market has been weak all week, with the S&P 500 index and tech stocks being sold off, 10-year yields reaching highs, the U.S. dollar rising, and weak credit and economic data from China, all of which are unfavorable for risk assets."
Derivatives market bearish on Bitcoin
A report from the Commodity Futures Trading Commission (CFTC) on Commitments of Traders (COT) shows that as of the week ending August 8th, leveraged funds – hedge funds and commodity trading advisors – increased their bearish bets on cash-settled Bitcoin futures listed on the CME.
"Two-thirds of their positions are short (displayed in red), while one-third is long (displayed in blue). This is the largest position since April 2022," said Lawrence Lewitinn, Content Director at cryptocurrency analytics firm The Tie, in his weekly newsletter.

Lewitinn believes that while the improving trend and fundamentals in the cryptocurrency space continue to maintain optimism, it is now more important to focus on the potential spillover effects from macro to broader risk assets and even cryptocurrencies.
Prior to this decline, Bitcoin had been trading in a narrow range for months. According to data compiled by Bloomberg, the indicator measuring the volatility of the original cryptocurrency has been on a downward trend, with the 90-day volatility reaching its lowest level since 2016 this week. Analysts at cryptocurrency market intelligence firm Glassnode wrote in a recent report, "The digital asset market continues to trade within historically low volatility ranges, with multiple indicators suggesting that investors are reaching extreme levels of indifference and exhaustion within the $29,000 to $30,000 range. A very boring, volatile, sideways market may still be in play."
Meanwhile, Brian D. Evans, CEO of venture capital firm BDE Ventures, said in a tweet, "I think Bitcoin is preparing for a major volatility move, all technical indicators are showing some kind of major squeeze coming in Bitcoin, either up or down. We have seen this pattern before. Bitcoin will range for a long time, volume will dry up, then a 10% bounce or pullback will happen, either causing panic or excitement in the market."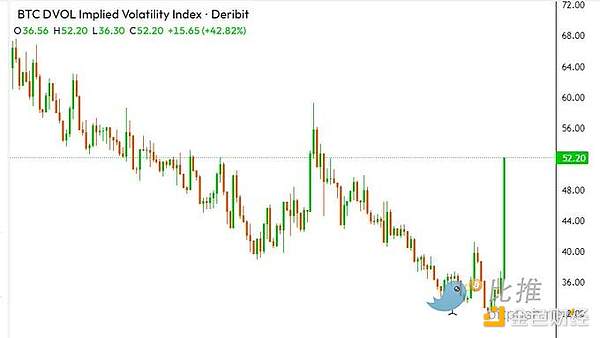 Cryptocurrency analyst Will Clemente pointed out in his tweet that Bitcoin's implied volatility has seen its largest single-day increase this year, with analysts predicting that selling pressure will intensify until support is found.
Like what you're reading? Subscribe to our top stories.
We will continue to update Gambling Chain; if you have any questions or suggestions, please contact us!