Author: Jack Inabinet, Bankless author; Translator: Blockingxiaozou
You've probably bought public cryptocurrencies at some point, but the general public can't access private cryptocurrency markets.
Many jurisdictions require investors to be accredited before investing in the private markets. In the United States, accredited investor status is largely based on income and net worth thresholds, as well as certain professional qualifications.
Although most investors can't access the private cryptocurrency markets, they are incredibly important to the industry. Without the market structure provided by the private markets, new projects would have a hard time getting the startup capital they need to develop and bring their product or service to market!
Today, we're going to take an in-depth look at the private cryptocurrency markets! We'll review the dismal state of cryptocurrency venture capital financing in 2023, learn about Q2 financing for start-ups, and find some glimmers of hope from last month's top cryptocurrency project financing.
1. Cryptocurrency VC Financing Status
Venture capital, or VC, is used to describe companies (and individuals) active in the private markets who use their capital, relationships, and industry knowledge to help start-ups succeed.
Cryptocurrencies may have crashed in 2022, but cryptocurrency venture capital still managed to attract a record $21.6 billion in new funding. While assets like ETH and BTC have seen significant recoveries in 2023, venture capitalists haven't seen much further interest from investors in investing in the industry this year. In short, financing has plummeted in a straight line this year, down 98% from last year.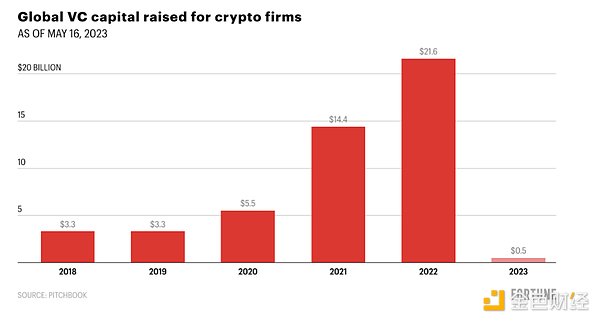 While the above chart only includes data up to mid-May, it's clearly been a tough year for cryptocurrency venture capital seeking financing. But what about cryptocurrency start-ups hoping to secure financing from venture capitalists?
It's been another tough quarter for cryptocurrency start-ups, with 382 financings totaling $2.34 billion, according to data from Pitchbook quoted by TechCrunch. Notably, this marks the fifth consecutive quarter venture capital has declined, dropping from a high of $12.14 billion pouring into cryptocurrency start-ups in Q1 2022.
This downward trend indicates that we have not yet reached the investment bottom of the cryptocurrency start-ups in this bear market cycle. Given the series of attacks by the US Securities and Exchange Commission on network-related assets launched by venture-backed start-ups, it is not surprising that the vertical industry faces regulatory resistance. The enthusiasm of regulatory agencies may threaten the economics of "token subscription warrants", which allow investors to acquire a specific amount of tokens at a predetermined price on a future date. It can be understood that compared with the past few years, venture capitalists (and their limited partners) who are involved in the illiquid and private placement areas of the cryptocurrency market are becoming more cautious!
2 The project with the most fundraising in June
Fortunately for crypto venture capitalists, they haven't lost everything. Although they didn't add a lot to their arsenal this year, they still have a lot of funds. Undoubtedly, the private placement market trading environment has slowed down significantly, but crypto projects worth financing can still get adequate funding.
Venture capitalists still have a lot of funds available for investment, and this data can attest to this. Cryptocurrency start-ups that you may have never heard of announced staggering financing last month!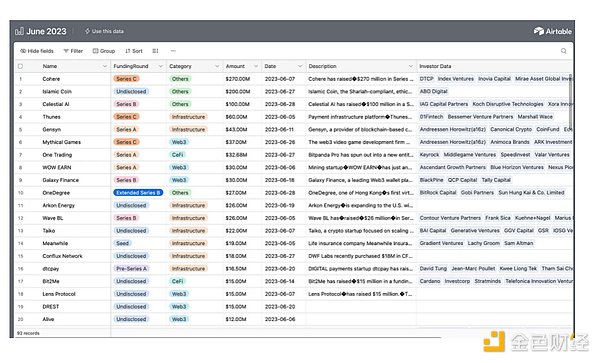 Next, let's take a look at several projects in the table above, and I will pay close attention to these projects in the next few months.
(1 )Mythical Games
Financing amount: 37 million US dollars
Field: game
Introduction:
Mythical Games is a full-service Web3 game studio that produces multiple encrypted games and develops proprietary encrypted products to provide services.
The Mythical platform integrates these games and is the encryption layer of various game-optional Web3 functions, providing transaction functions for fiat and cryptocurrency running on the authorization authority proof chain. In addition, the Mythical platform also has fraud protection, cost optimization, and buyer/seller pricing recommendations.
Reason for attention:
NFL Rivals developed by Mythical Games in cooperation with the NFL and the NFL Players Association first landed on iOS and Android platforms on April 26 and quickly topped the sports game list! Nowadays, this game still ranks 11th in the free sports game rankings on the App Store.
For a natively encrypted game, this is a solid market penetration rate and the future prospect of release is very encouraging. It only takes a breakthrough game to completely change the gaming world; it seems that Mythical Games has a great chance to be the developer of such a game.
(2) Taiko
Financing amount: $2200,000
Field: L2
Introduction:
Taiko is committed to solving Ethereum scalability issues while simulating Ethereum as much as possible from both a technical and ideological perspective.
The Taiko team is building a Type 1 zkEVM L2 rollup solution equivalent to Ethereum, with a priority given to compatibility with the Ethereum architecture rather than minimizing proof costs, which will allow protocols deployed to L1 to migrate to Taiko without changing their code or deployment environment.
The guiding approach to protocol development is a "decentralization from the start" approach. For Taiko, this means deploying decentralized proposers and attestors, allowing anyone to participate in earning fees from the infrastructure layer of the chain in an unlicensed manner.
Reason for attention:
The ultimate game of scaling Ethereum is a zero-knowledge rollup, and Taiko is trying to develop a zero-knowledge rollup, taking a road that few have taken! Being fully equivalent to Ethereum L1 will allow developers to seamlessly deploy Ethereum smart contracts onto the chain, and means that Taiko can share infrastructure with Ethereum.
While it is not certain whether strict adherence to Ethereum standards is a successful strategy – only time and the market will tell us the answer – in a rollup world where everything is far from the EVM, Taiko is going in the opposite direction and is a very unique rollup.
(3) Maverick Protocol
Financing amount: 900,000 USD
Field: DeFi
Introduction:
Maverick is an AMM (Automated Market Maker) deployed on Ethereum, zkSync, and BNB Chain, attempting to completely change the user experience while providing liquidity. The protocol comes with 4 out-of-the-box automated liquidity strategies (called "Modes"), which can intelligently shift liquidity and keep it active based on certain predefined parameters. Maverick's liquidity incentive tool, "Boosted Positions," allows anyone to incentivize a specific form of liquidity, opening the door to protocols seeking to rent ETH liquidity and pair it with the native tokens held in their treasuries.
Maverick concentrates liquidity in bins, discrete price ranges similar to the ticks concept in Uniswap v3, and offers zero slippage trades within the bin. This feature makes the DEX an attractive trading venue for whales and aggregation platforms, a point that was discovered in Delphi Digital's research analysis of Maverick.
Reason to follow:
In many decentralized exchanges, protocols seeking to provide liquidity for volatile assets face significant difficulties because traditional AMM methods can cause retail LPs to incur significant impermanent loss, and the compensation provided is negligible. Centralized liquidity architectures such as Uniswap V3 only benefit professional market makers. Meanwhile, capital efficiency is very low for comprehensive liquidity architectures like Uniswap V2.
By allowing directional price skew to affect users providing liquidity, Maverick is helping retail LPs achieve profitability. Additionally, Maverick has just launched the MAV token, meaning that if you're willing, you can get exposure to the project via the public market!
Like what you're reading? Subscribe to our top stories.
We will continue to update Gambling Chain; if you have any questions or suggestions, please contact us!