DeFi Data
1. Total market capitalization of DeFi tokens: $43.105 billion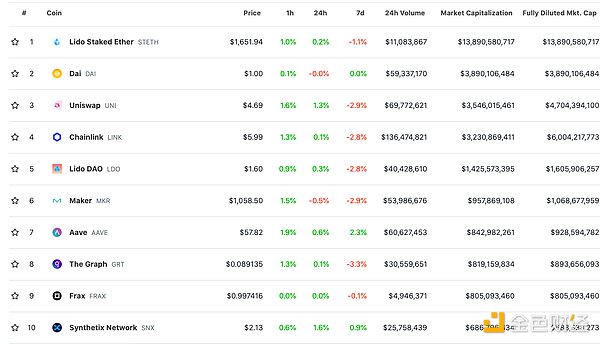 Total market capitalization of DeFi and the top ten tokens. Data source: coingecko
2. Trading volume of decentralized exchanges in the past 24 hours: $3.411 billion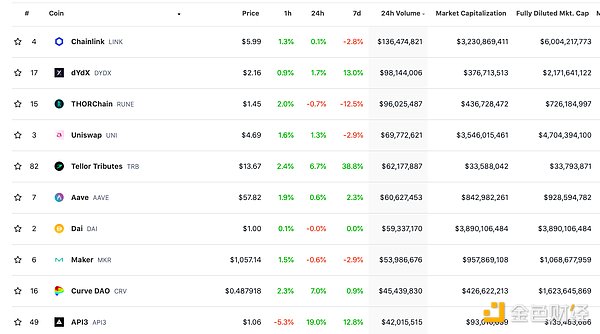 Trading volume of decentralized exchanges in the past 24 hours. Data source: coingecko
3. Locked assets in DeFi: $37.697 billion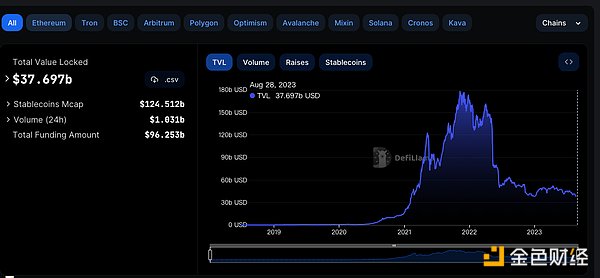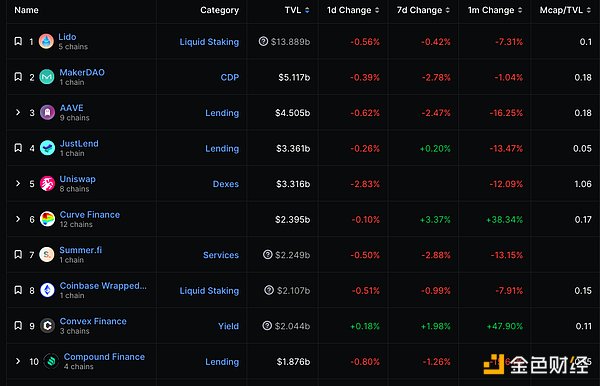 Data source: defillama
NFT Data
1. Total market capitalization of NFTs: $14.297 billion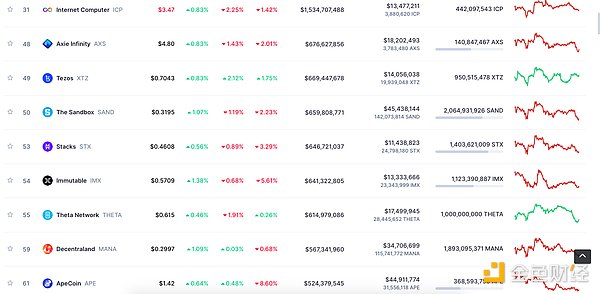 Total market capitalization of NFTs and the top ten projects. Data source: Coinmarketcap
2. 24-hour trading volume of NFTs: $860 million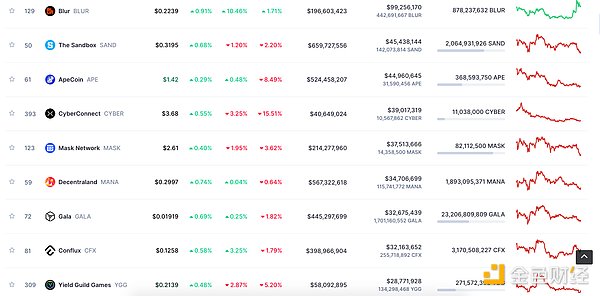 24-hour trading volume of NFTs and the top ten projects. Data source: Coinmarketcap
3. Top 10 NFTs sold in the past 24 hours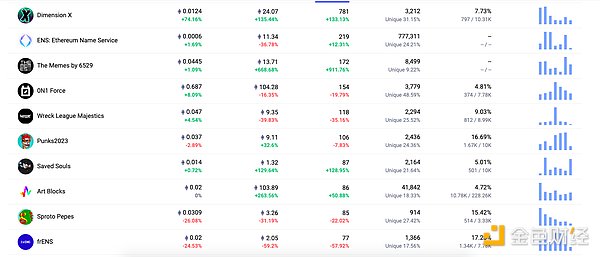 Top 10 NFTs sold in the past 24 hours. Data source: NFTGO
Headlines
MakerDAO initiates another buyback, with $55.8 million remaining in the treasury
On August 28, according to Makerburn data, MakerDAO made a profit of over $7.45 million by selling $125 million of RWA assets from Monetalis Clydesdale. There is currently $55.8 million remaining in the treasury, and $5 million (5.8 million) will be used to buy back MKR and add it to Uniswap V2 LP. MakerDAO initiated the buyback two days ago.
Note: Monetalis Clydesdale, also known as MIP65, was proposed by Allan Pedersen, the founder of Monetalis, in January 2022 and was passed and executed in October 2022. The goal is to invest a portion of MakerDAO's stablecoin holdings in highly liquid and low-risk bond ETFs. The initial debt ceiling is $500 million, and it will be increased to $1.25 billion through subsequent proposals in May 2023.
NFT/Digital Collectibles Highlights
1. Starknet: The community will issue commemorative NFTs to celebrate the Starknet mainnet Quantum Leap
On August 28, Starknet announced on social media that the Starknet community will issue commemorative NFTs to celebrate the Starknet mainnet Quantum Leap. It is understood that the commemorative NFT will be issued on August 30 at 1:00 PM Beijing time and will last for 24 hours.
2. The Blur team transferred 49.7 million BLUR tokens unlocked from the team address to Coinbase
According to Scopescan monitoring, on August 16th, the Blur team transferred 49.7 million BLUR tokens (worth $13.3 million) unlocked from the address "0x0a0d" to Coinbase. Subsequently, Wintermute extracted approximately $7 million worth of Blur from Coinbase using multiple addresses and then transferred them to OKX and Kraken.
3. The number of profitable addresses in the Ethereum NFT market in the past 30 days is 40,014
According to NFTGo data, the number of buyer addresses in the Ethereum NFT market in the past 24 hours is 3,592, and the number of seller addresses is 3,753. The number of profitable addresses in the past 30 days is 40,014, and the number of loss addresses is 456,074.
In addition, the current sentiment index of the Ethereum NFT market is 15, with a rating of "Cool". Note: The sentiment index of the NFT market is calculated based on volatility, trading volume, social media, and Google trends.
4. The NFT transaction volume last week was $91 million, with an increase in the number of buyers
According to the latest statistics, the sales volume of NFTs decreased by 14% compared to the previous week, reaching $91.86 million in the past 7 days. Interestingly, the number of buyers increased by 38%; however, the NFT transaction volume this week decreased by over 30%.
DeFi Highlights
1. Over 33,009 ETH transferred to the Linea mainnet
According to Dune data, the Linea mainnet has bridged and transferred over 33,009 ETH, with a total of 291,908 transactions and 209,570 interacting addresses.
2. Echooo AA wallet partners with Zksync, reaching a record number of users
According to official sources, through deep collaboration with Zksync, the number of users of the Echooo AA wallet has reached 10,143. Previously, the free AA wallet activities have partnered with BNB Chain, Artibrum, Polygon, and others.
Echooo wallet was officially released in March this year and is the first AA wallet to land on Zksync. The project was led by Skyview with a $15 million investment. As of now, the total number of wallets is 275,978, and the number of AA wallets is 19,347.
The founder of Echooo stated that by jointly building with strong project partners, they can accelerate the widespread application of AA wallets in the cryptocurrency industry and further protect the security of user assets.
3. HashKey Exchange and decentralized wallet imToken reach strategic cooperation
On August 28th, HashKey Exchange and decentralized wallet imToken reached a strategic cooperation. imToken will serve as the official cooperative wallet for HashKey Exchange, providing compliant and convenient services such as fiat currency deposits and withdrawals and virtual asset trading for imToken users.
4. Shiba Inu mainnet reopens cross-chain bridge withdrawals
According to LianGuai, Shytoshi Kusama, the chief developer of Shiba Inu, stated that the mainnet and cross-chain bridge withdrawals are now fully operational. Users can now complete withdrawals of various assets, including ETH, Shib, Leash, and WEHh, within 45 minutes to 4 hours. Withdrawing the native Bone token of the Shibarium network may take up to 7 days.
5. Binance: Will Support BNB Smart Chain (BEP20) Upgrade and Hard Fork
According to an official announcement from Binance, the exchange will support the upgrade and hard fork of the BNB Smart Chain (BEP20) network. The upgrade is expected to take place at block height 31,302,048, around 07:30 (UTC) on August 30, 2023. Deposits and withdrawals of BNB Smart Chain (BEP20) will be temporarily suspended at around 07:15 (UTC) on August 30, 2023. The upgrade and hard fork will not lead to the creation of new tokens, and token transactions on the BNB Smart Chain (BEP20) will not be affected.
Metaverse Highlights
1. Jay Chou Sues Landmark Mark Metaverse Platform's Affiliate for Copyright Infringement
Recently, an affiliate of the Landmark Mark Metaverse Platform, Shanghai Byron Cultural Media Co., Ltd., added a court notice to the case filed by Jay Chou. The lawsuit is related to a dispute over portrait rights and is scheduled to be heard by the People's Court of Huangpu District, Shanghai, on September 19th.
Disclaimer: LianGuai, as a blockchain information platform, provides articles for informational purposes only and does not constitute investment advice. Please form the correct investment concept and increase risk awareness.
Like what you're reading? Subscribe to our top stories.
We will continue to update Gambling Chain; if you have any questions or suggestions, please contact us!