DeFi Data
1. Total Market Cap of DeFi Tokens: $50.343 billion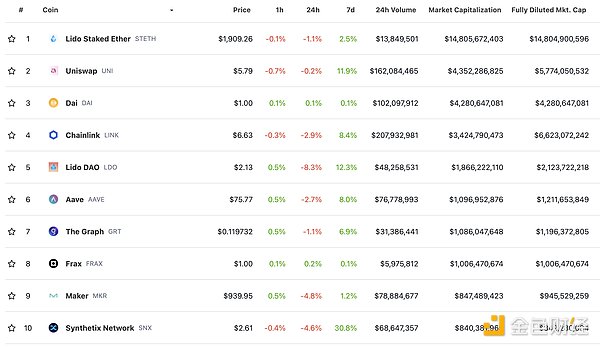 DeFi Total Market Cap and Top 10 Tokens Source: coingecko
2. Trading Volume of Decentralized Exchanges in the Past 24 Hours: $3.979 billion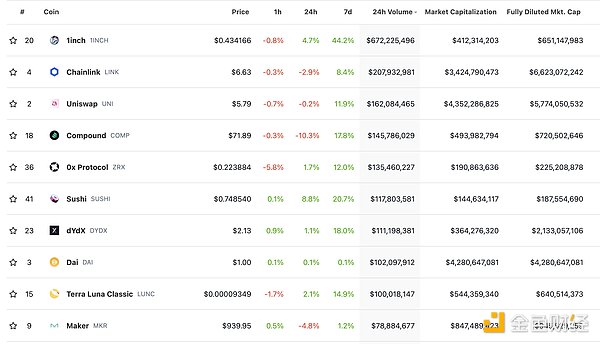 Trading Volume of Decentralized Exchanges in the Past 24 Hours Source: coingecko
3. Locked Assets in DeFi: $44.645 billion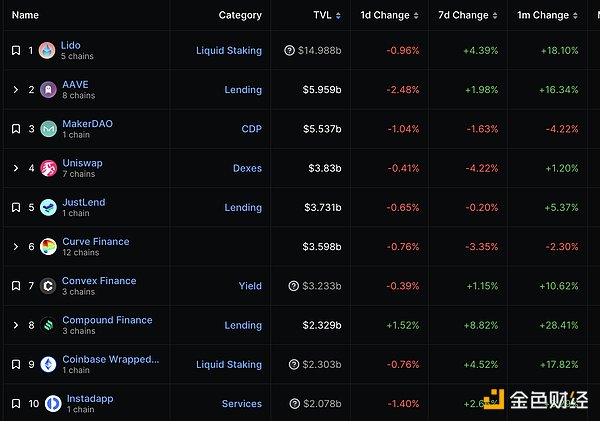 Data Source: defillama
NFT Data
1. Total Market Cap of NFTs: $17.012 billion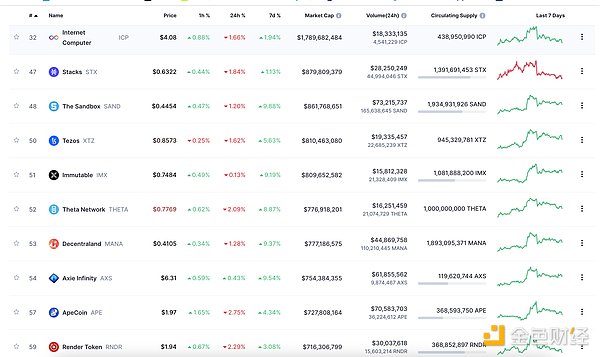 Total Market Cap and Top 10 Projects Source: Coinmarketcap
2. NFT Trading Volume in the Past 24 Hours: $1.226 billion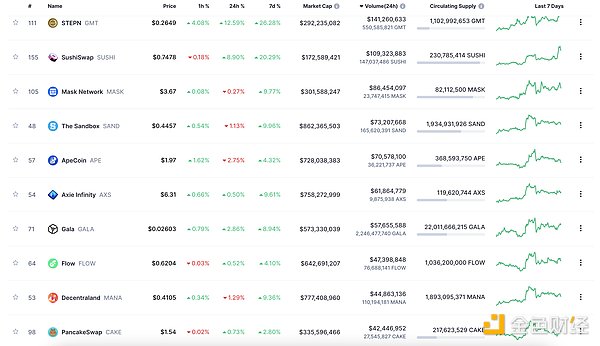 Trading Volume in the Past 24 Hours and Top 10 Projects Source: Coinmarketcap
3. Top 10 NFTs in the Past 24 Hours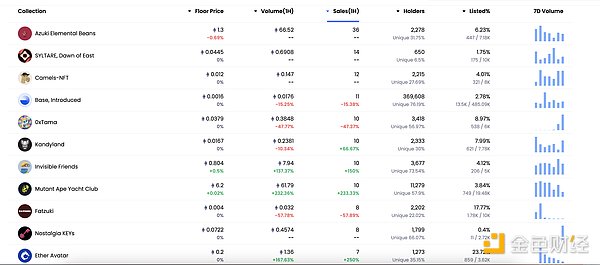 Top 10 NFTs Sold in the Past 24 Hours Source: NFTGO
Headlines
FSB Calls for Stricter Global Cryptocurrency Regulations
LianGuai reports that the Financial Stability Board (FSB), composed of regulatory bodies from over 20 jurisdictions including the United States and the European Union, has released recommendations for consistent and comprehensive regulation of the cryptocurrency industry. These recommendations build on the initial proposals made in October last year and focus on preventing alleged misconduct by companies such as FTX and Celsius.
NFT/Digital Collectibles Highlights
1. Banshees NFT Project's Discord Server Hacked
LianGuai reports that according to a tweet from CertiK, the Discord server of the Banshees NFT project has been hacked. Before the team confirmed regaining control over the server, please refrain from clicking on any links, minting, or confirming transfers.
2. Checks Founder Launches New NFT Series "Opepen Threadition" with Minting Volume Exceeding 23,240
On July 17, NFT project Checks founder Jack Butcher announced the launch of a new NFT series called "Opepen Threadition" on ZORA NETWORK. The price per NFT is 0.001 ETH, and the minting volume has already exceeded 23,240 (23,240 pieces).
3. Web3 media and NFT platform Pixel Vault announces the launch of BattlePlan player cards based on ERC-721 Soul-Bound NFTs
LianGuai reports that Web3 media and NFT platform Pixel Vault, the publisher of PUNKS Comic and MetaHero Universe, has announced on social media the launch of BattlePlan player cards based on ERC-721 Soul-Bound NFTs. The aim is to achieve a unique fusion of game profiles and wallet functionality and change the way players interact with their game platforms. Users can customize Soul-Bound ERC-721 NFTs based on their profile pictures and skins, and use player cards to store ratings, BattlePoints, and non-transferable points.
4. zkSync: LIBERTAS OMNIBUS NFT issuance to be relaunched in the coming days and weeks
On July 17th, zkSync tweeted that the eligibility criteria for the LIBERTAS OMNIBUS NFT airdrop is to have interacted with at least one of the first 100+ zkSync NFT collections. Then, all 179,365 recipients were generated programmatically based on the above eligibility criteria. The list was then sorted alphabetically in preparation for batch distribution. Due to the sorting, the addresses in the first batch all start with 0x0. Since the selection was automated, the list of 179,365 recipients is random. However, zkSync acknowledges that using the word "random" to describe the initial distribution batches is inaccurate. They apologize for the confusion and thank the community members who pointed out the issue. zkSync will relaunch the issuance of LIBERTAS OMNIBUS NFTs in the coming days and weeks and will test IRL minting at EthCC Paris.
DeFi Highlights
1. Lens Protocol officially releases V2 version
On July 17th, during the EthCC Paris conference, Web3 social protocol Lens Protocol officially released its V2 version. It focuses on openness, composability, shared interests, trust, and security. Users can now directly perform external smart contract operations within Lens publications and interact with smart contracts within social media in Lens V2.
Added third-party contract operation permissions, including whitelist functionality, NFT minting on Sound (Ethereum mainnet), and NFT minting on Opensea (Polygon). Added asset management functionality, including delegation of operations to any wallet, allowing users to use multiple wallets for operations instead of being limited to a single wallet; storing user profiles directly on hardware wallets and using them in another wallet; the new version supports storing DAO or community profiles on multi-signature wallets and allows them to be used from one or multiple addresses. This ensures the security and access control of user profiles and allows multiple addresses to be associated with them, and more.
2. Mantle Network launches mainnet Alpha version
On July 17th, BitDAO's modular Ethereum Layer2 network, Mantle Network, announced the launch of its mainnet Alpha version at EthCC. Mantle Network stated that the network underwent six months of development and testing, during which it processed over 14 million on-chain transactions.
3. zkSync Era introduces new proof system upgrade Boojum to assist in transitioning the network to a STARK-supported proof system
On July 17th, zkSync Era announced the launch of a new proof system upgrade called Boojum, which will assist the network in transitioning to a STARK-supported proof system. The team stated that Boojum is an important step for proofers to achieve decentralization, as Boojum proofers only require 16GB of RAM. Additionally, Boojum will provide performance enhancements to the zkSync Era sequencer.
4. Beefy Proposal BSP:03 Approved to Migrate BIFI from Multichain to Ethereum
According to LianGuai's report, a non-binding signal proposal BSP:03 from the core team of the multi-chain yield optimizer Beefy has been approved by the community vote. This proposal suggests quickly migrating the BIFI token from Multichain.
It is reported that according to the proposal, the core team proposes to redeploy BIFI to the Ethereum network and establish a single universal governance pool. At the same time, they will use a newly bridged solution managed by DAO to bridge the staked mooBIFI tokens.
5. Data: Ethereum Bridge TVL Reaches $6.19 Billion
According to DuneAnalytics data, the current TVL (Total Value Locked) of the Ethereum bridge has reached $6.19 billion. The top 5 bridges with the highest amount of locked assets are Polygon Bridges ($3.032 billion), Arbitrum Bridges ($2.116 billion), Optimism Bridges ($0.79 billion), NearRaibow ($0.113 billion), and xDAI Bridges ($99.52 million).
Hot Topic in Gaming
Data: Chain game "Sui 8192" boosts Sui Network's daily transaction volume to over 20 million
On July 17th, the daily average transaction volume of the chain game "Sui 8192" based on Sui surged significantly. Analytical provider Artemis recently posted an article on Twitter, even stating that this game has helped Sui Network surpass Solana in terms of daily transaction volume.
Artemis' data shows that the daily transaction volume of Sui Network recently exceeded 20 million transactions, surpassing Solana's 16 million transactions. However, the company admits that it uses different methods to calculate the daily transaction volume of Sui Network.
Disclaimer: LianGuai, as a blockchain information platform, publishes articles for informational reference only and does not serve as actual investment advice. Please establish the correct investment concept and improve risk awareness.
Like what you're reading? Subscribe to our top stories.
We will continue to update Gambling Chain; if you have any questions or suggestions, please contact us!