The former executive of the cryptocurrency exchange FTX, Ryan Salame, has pleaded guilty to criminal charges related to a massive fraud case involving FTX founder Sam Bankman-Fried (SBF). Less than a month later, on October 3rd, the court will hold the trial for FTX founder SBF, and this guilty plea will undoubtedly be detrimental to SBF.
The 30-year-old Salame was the co-CEO of FTX Digital Markets, a subsidiary of FTX located in the Bahamas. He admitted to conspiring to commit illegal campaign donation fraud with the Federal Election Commission and conspiring to operate an unlicensed money transmission business to help FTX grow faster through illegal operations.
As a major Republican donor, Salame was a secret intermediary for FTX's donations to right-wing politicians and political causes. Salame is being tried in the United States District Court for the Southern District of New York, and he admitted to the judge, Lewis Kaplan, that he made political donations in his personal capacity, with funds coming from transfers from a subsidiary of Alameda.
Each charge that Salame pleaded guilty to carries a maximum sentence of 5 years imprisonment, meaning he could face 10 years in prison for the two charges. As part of a plea agreement with the government, Salame has agreed to forfeit assets worth over $1.5 billion, which is equivalent to the funds involved in his money laundering crimes. This is even more than the $700 million that the prosecutor sought from SBF, but this money will only be recovered if Salame lies or fails to surrender a small amount of assets, including $6 million in cash and assets such as a Porsche 911 Turbo.
Salame has agreed to pay $6 million by March 6th of next year. He will also relinquish the Porsche 911 Turbo and multiple properties, including two residences in Massachusetts and ownership of East Rood Farm, a company that holds some of Salame's restaurants in Lenox. Salame was known for investing in restaurants. In 2019, Salame spent over $6 million to buy five restaurants in Berkshire County, Massachusetts.
In addition, Salame has been ordered to pay over $5.5 million in restitution to FTX creditors. Currently, Salame has been released after posting a $1 million bail.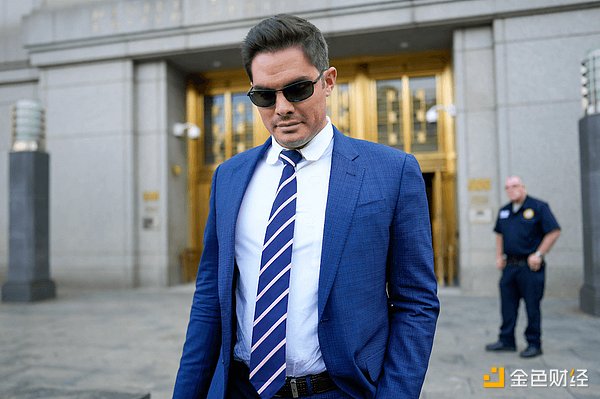 Salame leaving the Southern District Court of New York
Salame's Role at FTX
In the initial indictment by the U.S. Department of Justice against SBF, Salame was listed as an unnamed co-conspirator, accusing SBF of secretly making political donations through a straw donor scheme (Note: In the United States, it is illegal to make political donations in someone else's name, and it is also illegal to agree to become a designated donor with someone else's money. For example, a straw donor might make a donation to a political campaign before being reimbursed by another person, who uses that person as a channel to exceed the legal limits on campaign donations in a jurisdiction).
SBF publicly claimed to be a enthusiastic supporter of the Democratic Party – he provided the second-largest single donation to Joe Biden's 2020 presidential campaign, and SBF and his family actively participate in various left-leaning political activities. It is said that SBF used Salame to secretly please Republicans.
During his tenure at FTX, Salame donated over $24 million to Republican political candidates, making him the 11th largest individual political donor in the United States in 2022, according to data from OpenSecrets.org. Due to treaty obligations with the Bahamas, the Department of Justice dropped campaign finance charges against SBF in July, but later clarified that the FTX founder would still be "charged with executing an illegal campaign finance scheme".
Salame's testimony has potential significance, especially in relation to the illegal campaign funding charges against SBF. Although these charges have been temporarily removed from the trial scheduled for October due to extradition treaties, they are expected to be included in subsequent trials next year.
Four FTX executives have pleaded guilty in the case
Salame's guilty plea means that the Department of Justice now has four former FTX executives, including Salame, testifying against him. The other three individuals include FTX co-founder Gary Wang, former Alameda Research CEO Caroline Ellison, and former FTX executive Nishad Singh.
FTX co-founder Gary Wang was the first person to plead guilty. In December of last year, Gary Wang admitted to four charges, including telecom fraud and conspiracy to commit money laundering, which could result in a maximum sentence of 50 years in prison. Former FTX CEO Caroline Ellison pleaded guilty to seven charges, including money laundering and wire fraud, which could result in a maximum sentence of 110 years in prison. Both individuals have reached plea agreements and have been released on bail of $250,000 each. The two individuals have signed plea agreements. If the prosecutor believes that they have been helpful in the case and have not violated the agreement, it is possible to recommend lenient punishment.
In addition, former FTX Director of Engineering Nishad Singh pleaded guilty to six US criminal charges. Singh admitted to one count of wire fraud, three counts of conspiracy to commit fraud, one count of conspiracy to commit money laundering, and one count of violating campaign finance regulations. In 2020, Singh modified FTX's software so that if Alameda lost too much borrowed funds, it would not automatically sell assets. This exemption allowed Alameda to continue borrowing from FTX. In addition, Singh donated $8 million to the Democratic Party's campaign activities for the 2022 election cycle.
Like what you're reading? Subscribe to our top stories.
We will continue to update Gambling Chain; if you have any questions or suggestions, please contact us!