Author: MARTIN YOUNG, COINTELEGRAPH; Translation: Song Xue, LianGuai
Michael Egorov, the founder of Curve Finance, is trying to sell part of his DeFi position to alleviate his massive debt, but some people are concerned about the source of his liquidity.
On August 1st, Nansen research analyst Sandra Leow released a list of the liquidity sources for Egorov's Curve DAO (CRV) position.
Leow stated that Egorov sold approximately 50 million CRV tokens to several buyers off-market at a price of $0.40 per token, below the market price. This sale includes vesting agreements ranging from three to six months, which can also be sold at a price of $0.80.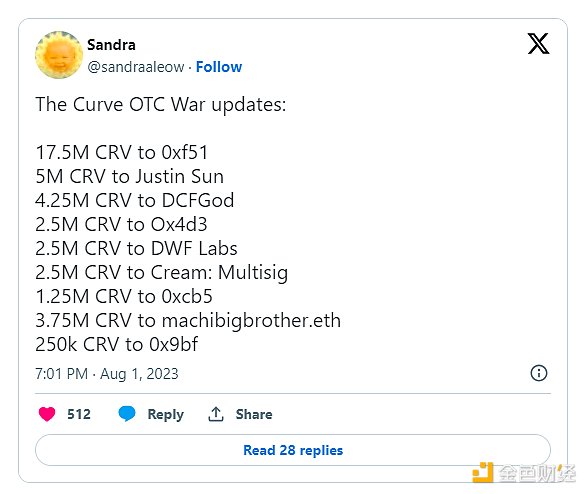 Other notable buyers include tech entrepreneur Jeffrey Huang, who has been accused by Twitter personality ZachXBT of misappropriating 22,000 Ethereum in multiple projects, currently valued at over $41 million. Huang has denied these allegations and filed a defamation suit against ZachXBT.
DWF Labs, an investment company engaged in market-making, also bought some discounted tokens.
Others include DeFi lending protocol Cream Finance, "DCFGod" who is listed as a team member of a non-fungible token (NFT) project, and three other crypto wallets.
Evgeny Gaevoy, CEO of Wintermute, stated that some of the people and entities Egorov is dealing with are "a bit suspicious," and added that Wintermute did not consider Egorov as a counterparty.
Curve's founder used his own CRV reserves as collateral to apply for a $100 million DeFi stablecoin loan. However, the protocol was exploited on July 30th, causing a 30% drop in the price of CRV.
As the price of CRV approaches the liquidation price (according to data from DeFiLlama, the price is $0.362), concerns about a DeFi black swan event are growing, as a large amount of CRV may flood into a market with limited liquidity.
However, due to some of the debt being repaid, the token has recovered in the past 24 hours and is trading at $0.597 at the time of writing this article.
According to Debank, Egorov has repaid over $17 million in stablecoin loans, slightly improving the health of the loans.
However, this DeFi founder still has a massive debt to repay, with $60 million in stablecoin loans on Aave, $12 million on Abracadabra, and approximately $8 million on Inverse.
He also has a $9 million loan on Frax, which has raised concerns due to its 85% interest rate.
Like what you're reading? Subscribe to our top stories.
We will continue to update Gambling Chain; if you have any questions or suggestions, please contact us!