By Mary Liu, BlockingBitpushNews
On the afternoon of June 20th New York time, Bitcoin broke through $28,000 for the first time since May 29th.
Blocking data shows that as of 4:05 PM New York time, Bitcoin rose to $28,016, a 5% increase in 24 hours. According to CoinGlass data, short sellers lost about $36.6 million in liquidation in the past 24 hours. This is the largest short position liquidation since May 28th.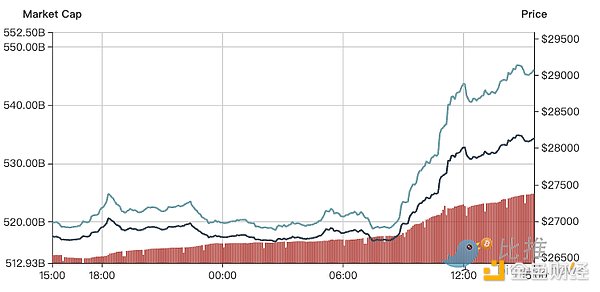 Institutions entering the market triggered a rebound in Bitcoin
After several large traditional financial institutions announced their crypto plans, market sentiment turned optimistic.
Banking giant Deutsche Bank said on Tuesday that it has applied for a digital asset custody license in Germany. Financial giants such as Charles Schwab Jiaxin Wealth Management, Citadel Securities, and Fidelity Digital Assets have invested in the cryptocurrency exchange EDX Markets, which has opened up BTC, Ethereum, Litecoin, and Bitcoin Cash (BCH) transactions.
Last week, investment management giant BlackRock submitted an application for a spot BTC exchange-traded fund (ETF), which surprised the market and also pushed up the price of Bitcoin. This move also affected other Bitcoin products, such as Grayscale's Bitcoin Investment Trust Fund (GBTC), which saw a 400% increase in trading volume.
Although BlackRock is not the first company to apply to the SEC for a Bitcoin ETF, it is currently the largest among all applicants. With assets under management of over $8.5 trillion, the company will also use Coinbase to custody Bitcoin in the trust. So far, the SEC has refused to approve spot Bitcoin ETFs, although companies including Cathie Wood's ARK and 21Shares have submitted three applications.
Brent Xu, CEO and co-founder of decentralized finance (DeFi) bond market platform Umee, told Coindesk: "Bitcoin's rise is definitely related to the news that all of these large traditional financial institutions want to seriously engage with the digital asset ecosystem. It is clear that the client base of BlackRock, Fidelity, and other companies want to invest in Bitcoin and other crypto assets through ETFs and other more traditional investment tools. This to some extent offsets the impact of the relatively pessimistic regulatory environment in the United States, and also seems to indicate that these large companies want a more clear and fair regulatory environment than currently exists."
According to data, Bitcoin's dominance has risen to its highest level in nearly two years, at 45.84%, after the US SEC filed lawsuits against cryptocurrency exchanges Binance and Coinbase and declared multiple tokens as unregistered securities. The last time such a level was seen was in July 2021, when it reached a peak of 46.77%.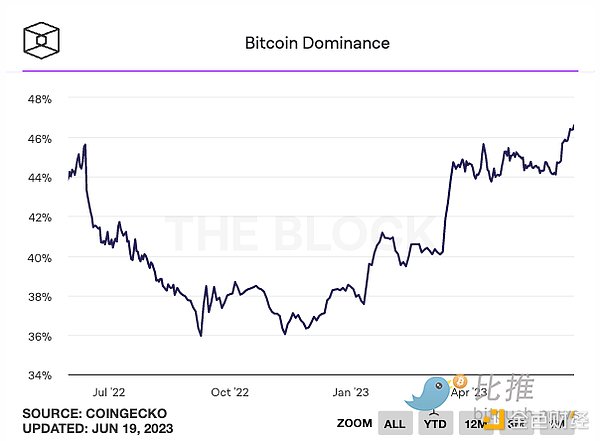 US dollar index cooling off and halving event good news
Another positive signal is the cooling off of the US dollar index (DXY). Historically, when the DXY index falls, sentiment for risk assets such as Bitcoin increases. As the US Federal Reserve paused interest rate hikes last week, some market participants believe that the US economy may grow and the dollar may continue to cool off. If that happens, Bitcoin may continue to rise along with the stock market. The better the macro environment, the more favorable it is for the price of Bitcoin.
The upcoming Bitcoin halving in April or May 2024 may also be a factor. The Bitcoin halving occurs approximately every four years, reducing the reward for mining new Bitcoin blocks by half, effectively reducing the rate of new Bitcoin production to control inflation and maintain Bitcoin's scarcity. The upcoming halving event will halve the block reward from 6.25 BTC to 3.125 BTC. JPMorgan analysts predicted last month that the upcoming halving could help Bitcoin reach a price of $45,000.
Bitcoin bull Michael Saylor, founder and chairman of MicroStrategy, said in an interview with Bloomberg earlier this week that he expects BTC to rise tenfold from around $25,000 and then rise tenfold again. He said: "The entire industry is destined to rationalize, leaving only Bitcoin and six to a dozen other proof-of-work (POW) tokens."
Like what you're reading? Subscribe to our top stories.
We will continue to update Gambling Chain; if you have any questions or suggestions, please contact us!