Author: Martin Young, BeinCrypto Compiled by: Shan Ou Ba, LianGuai
Abstract
In 2022, the total settlement amount of stablecoins on the blockchain exceeded $11 trillion, close to Visa's transaction volume of $116 trillion, posing a threat to payment giants.

These stable digital assets have the potential to provide global financial services to underserved customers.

Despite facing regulatory obstacles, Tether remains the dominant stablecoin with a circulation of $83 billion and a market share of 67%.
Payment giants like Visa and LianGuai may face threats to their business models due to the adoption of stablecoins such as Tether. Dollar-denominated blockchain assets offer several fundamental advantages over traditional payment methods.
According to a report from Barron's on August 23, dollar-pegged stablecoins "look like a threat" compared to companies like Visa and LianGuai.
The threat of stablecoins is increasing
It is reported that stablecoins are increasingly being used for payments in addition to serving as an entry point for cryptocurrency investments. By 2022, the settlement volume of stablecoins on the blockchain will exceed $11 trillion. This puts the transaction volume handled by LianGuai in the shade, approaching Visa's $11.6 trillion transaction volume.
In addition, over 25 million blockchain wallets hold stablecoins worth more than $1, with 80% holding $100 or less. The team at macro hedge fund Brevan Howard points out that, in comparison, a bank with 25 million accounts would be the fifth largest bank in the United States.
The company's analysts reflect:
"It is worth noting that within a few short years, a new global monetary flow railway can be comparable to some of the world's largest and most important payment systems."
The significant amount of small-dollar stablecoin holdings suggests that "stablecoins have the potential to provide global financial services to customers underserved by traditional financial institutions. LianGuai announced earlier this month the launch of its own stablecoin, but its stock price has fallen 18% since early August. The lack of enthusiasm may stem from the belief that dollar-pegged stablecoins are more popular outside the United States."
Brevan analysts said, "The adoption of stablecoins is fundamentally a global phenomenon." They added, "One of the main value propositions of stablecoins is that they can provide basic, dollar-based financial services to almost anyone with an internet connection." Stablecoins offer faster and cheaper transactions. In comparison, companies like LianGuai charge up to 10% fees and foreign exchange spreads for cross-border transactions.
Regulations and Ecosystem Outlook
On the other hand, stablecoins do face regulatory hurdles, especially in the United States, where there has been a war between the country and the cryptocurrency industry this year. Tether remains the dominant stablecoin in the industry, with a circulation of 83 billion US dollars and a market share of nearly 67%.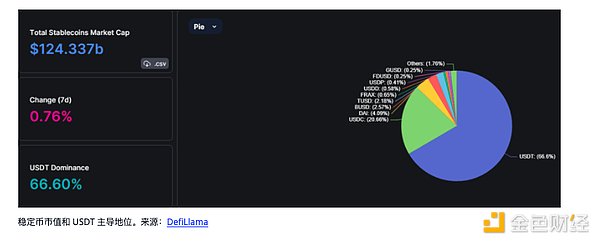 Since the beginning of this year, its closest competitor Circle has seen its supply decrease by over 40%. Currently, the circulating supply of USDC is 26 billion, with a stablecoin market share of 21%.
The third largest stablecoin is the decentralized DAI, with a supply of 3.9 billion and a market share slightly above 3%. US regulatory agencies have cracked down on Binance USD (BUSD), and since the beginning of 2023, the supply of BUSD has decreased by 80%.
Like what you're reading? Subscribe to our top stories.
We will continue to update Gambling Chain; if you have any questions or suggestions, please contact us!