With the hosting of various project Odyssey activities, the demand for testnet tokens is increasing. For example, Linea is very consuming of ETH test coins during the testing process of the testnet. Can't find the right faucet website to quickly get test coins?
Today's article will evaluate several existing faucet websites on the market to help you find the fastest and most convenient one.
Since Goerli testnet is the most commonly used, other chains such as Linea can be transferred through cross-chain, so this article mainly experiences the testnet faucet of the Goerli chain. The following are several common faucet websites.
Alchemy

Chaineye

Blockingradigm

Pik 910

Quicknode

Unitap

Coinbase

ENS

Layerzero
1. Alchemy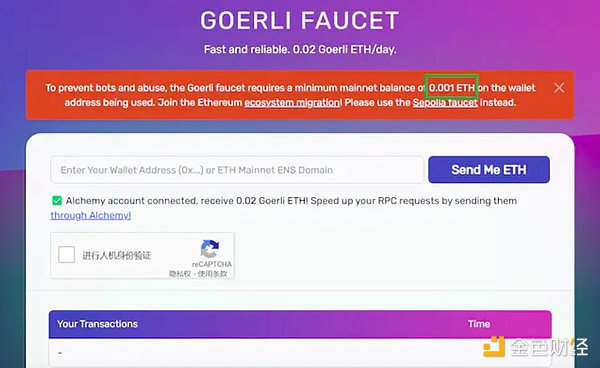 Alchemy is a Web3 infrastructure, commonly known as alchemy in the Chinese currency circle. As an infrastructure project, Alchemy also began to provide free ETH test coins very early. Currently, to receive test coins, you need to pass the reCAPTCHA human verification and the verification of the minimum 0.0001 ETH mainnet balance.
At the same time, logging in to the account is also a necessary operation. If you don't have an Alchemy account, you need to register an account to continue the operation.
Website: https://goerlifaucet.com

Quantity: 0.02 ETH

Interval: 24 H

Verification method: reCAPTCHA human verification, Alchemy account login, 0.0001 ETH mainnet balance
2. Chaineye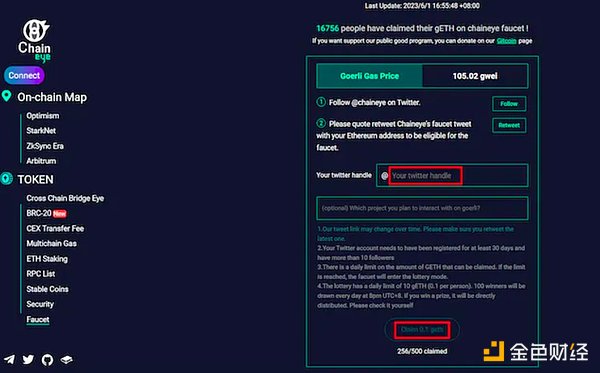 Chaineye is an open-source full-chain analysis tool incubated by Biteye, a leading Web3 research community in Asia. In addition to viewing on-chain data, Chaineye has also launched a testnet faucet.
Chaineye's faucet allows users to claim 0.1 ETH. Compared to the Alchemy faucet, Chaineye is more generous. To claim test coins, users need to follow Chaineye's Twitter account and retweet a tweet. Then, they need to enter their Twitter ID to receive the coins. Twitter accounts must have at least 10 followers and be active for over 30 days, or they will be considered invalid.
There is a daily limit of 500 claims. If more than 500 people claim, a lottery will be held, and the faucet will randomly select 100 users to receive 0.1 ETH each, which will be automatically sent to their wallets.
Website: https://chaineye.tools/faucet

Claim amount: 0.1 ETH

Claim interval: 24 hours

Verification method: Twitter verification
Blockingradigm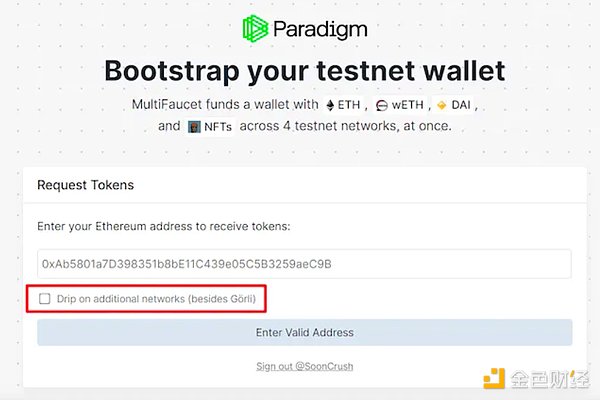 Blockingradigm is a cryptocurrency investment institution established in 2018. They also have their own faucet website, where users can input their wallet address to claim test coins. Users can also select other networks to sync test coins with one click.
The verification requirements are the same as Chaineye. Twitter accounts must have at least one tweet, 50 followers, and be active for more than one month. However, due to the large number of claimants, the Blockingradigm faucet often displays an error message that tells users they have already claimed within 24 hours, even if they have not. If users encounter this error, they will need to switch to another faucet.
Website: https://faucet.paradigm.xyz

Claim amount: 0.1 ETH

Claim interval: 24 hours

Verification method: Twitter verification
4. Pik 910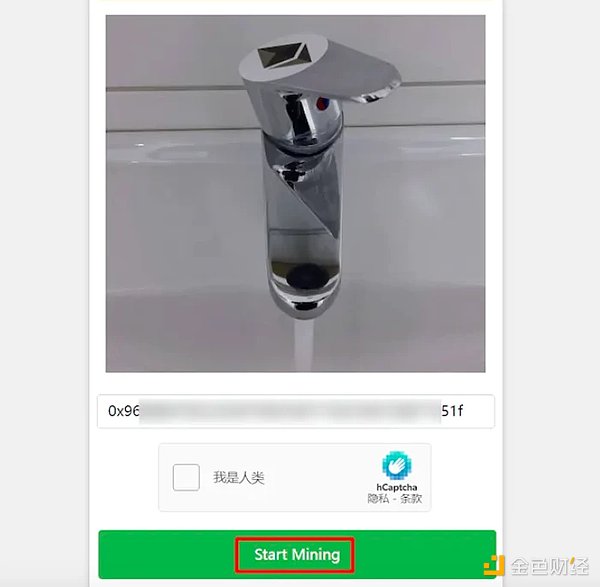 Pik 910 is an open-source faucet project. Unlike other faucets, after users input their wallet address, the button at the bottom says "Start Mining," not "Claim."
The longer you wait for mining, the more test coins you can get. It seems to stop at 0.75 E, but it is not clearly stated on the official website.
In addition, when you already have a lot of test coins in your wallet, you will be prompted with a warning that you are not allowed to claim more coins.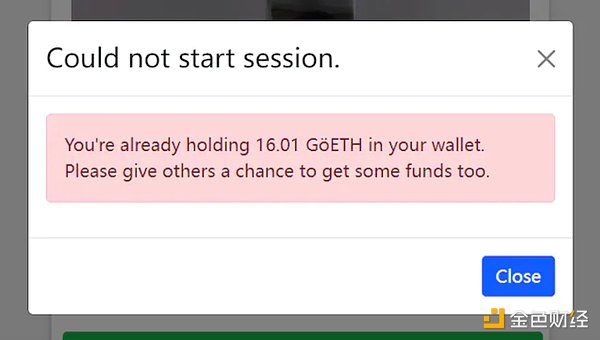 At the same time, it also limits your claim IP. For example, when a data center IP attempts to claim, it may prompt a limit. Since almost all VPNs are data center IPs, this is also a potential threshold.

Website: https://goerli-faucet.pk 910.de

Claim amount: 0.01-0.75 ETH

Claim interval: 24 H

Verification: hCAPTCHA, PoW verification
5. Quicknode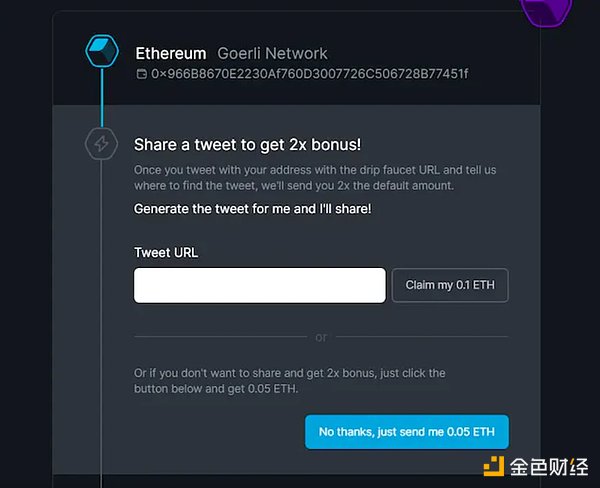 Quicknode is a top Web3 cloud platform dedicated to building blockchain-driven applications. Their faucet website is relatively simple, just enter your wallet address to claim. Verification of the mainnet balance is required to claim. If the balance is less than 0.001 E, you cannot claim.
If you send a tweet to help promote them while claiming, you can get double the amount of test coins. Of course, if you don't want to, just claim half.
The disadvantage is that the available amount of test coins is too small, and the arrival time is too long. According to the official announcement, the average arrival time is about 7 hours. As a result, it has an uncommon email notification feature to notify you when the coins arrive.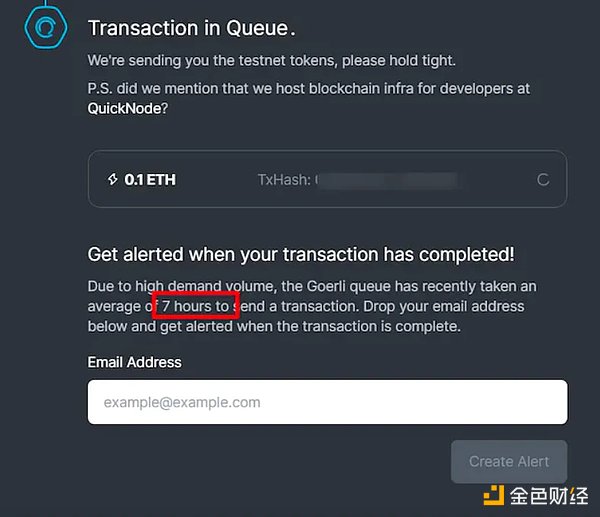 Website: https://faucet.quicknode.com/ethereum/goerli

Claim amount: 0.1 ETH

Claim interval: 12 H

Verification: 0.001 ETH mainnet balance
6. Unitap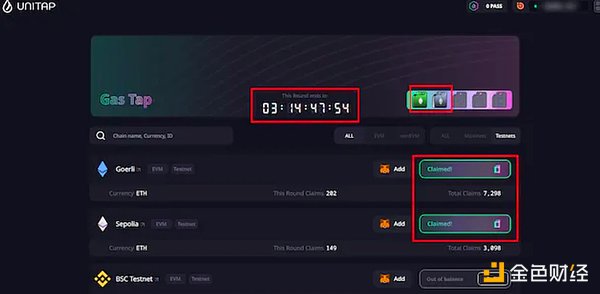 Unitap is a multi-chain gas collection tool. This website provides small amounts of GAS fees for some chains, but some of the mainnet tokens have already been claimed. Currently, only the testnet can be claimed stably.
Although this website supports many chains, there is a prerequisite: you must pass the Bright ID verification, which is an identity verification project. Users need to verify their real identity through a camera conference. Without Bright ID, this website is basically useless.
The time interval for claiming is uniform, that is, only after one round ends can you claim again. The countdown to the start of the next round will be displayed on the top of the website. Usually, it is relatively long. For example, after claiming here, you have to wait 3 days and 14 hours before you can claim in the next round.
Website: https://unitap.app/gas-tap

Claim amount: 0.1 ETH

Claim interval: Not fixed, usually a long time

Verification method: Bright ID
7. Coinbase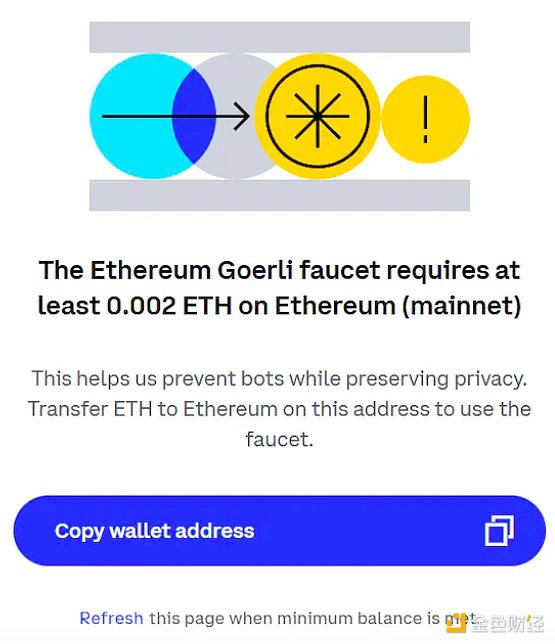 As a compliant exchange in the United States, Coinbase also provides test coin collection services to users. However, the Coinbase claiming process is more complicated.
First, it requires users to download the Coinbase wallet browser plugin. At the same time, when you claim, you also need to keep at least 0.002 ETH balance on your account on the mainnet, otherwise it will be considered a robot and cannot be claimed.
Therefore, in this claiming process, you need to import the mnemonic phrase into a new wallet. If the operation is not proper, there is also a risk of mnemonic phrase leakage.
Website: https://coinbase.com/faucets/ethereum-goerli-faucet

Claim amount: 0.1 ETH

Claim interval: 24 hours

Verification method: 0.002 ETH mainnet balance, Coinbase's own wallet
8. ENS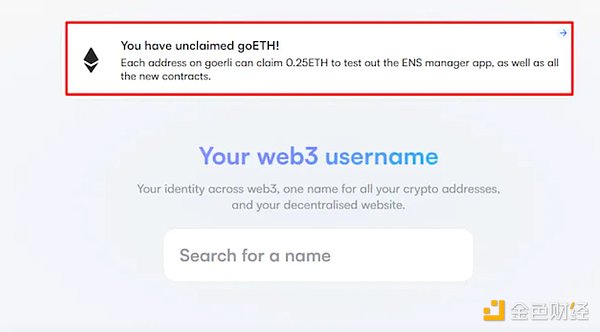 ENS is currently the most talked-about domain name service on Ethereum and a highly profitable project. In order to provide users with a better experience of their domain name management app, ENS has also launched a testnet token issuance service.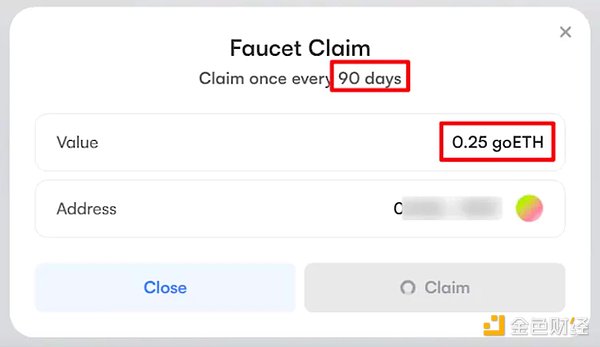 The ENS faucet can issue 0.25 ETH test coins per transaction, but after testing, if this address does not hold an ENS domain name, no notification will appear.
Also, its issuance interval is very long, requiring a wait of 3 months before it can be reissued. If there are too many test projects to interact with, the issuance frequency is completely insufficient.
https://app.ens.domains

Issuance amount: 0.25 ETH

Issuance interval: 90 days

Verification method: ENS domain name holder
9. Layerzero
If the above faucets do not meet your needs and you have plenty of money, Layerzero is worth trying.
Layerzero itself, as a cross-chain project, has opened up the first cross-chain bridge between the testnet and the mainnet, allowing users to directly use mainnet and L2 ETH to purchase testnet ETH.
Currently, a testnet ETH is about 0.11 U, and apart from the cost, the supply, arrival speed, and ease of use are impeccable.
Website: https://testnetbridge.com

Issuance amount: Unlimited

Issuance interval: Unlimited

Verification method: Payment purchase
7. Conclusion
The above are the main faucets for obtaining test coins at present, and finally give a rating ranking for each faucet.
1. Blockingradigm ★★★★★ – Large issuance amount, low threshold, occasional errors;
2. Chaineye ★★★★★ – Large issuance amount, with lottery mode, only need to verify Twitter;
3. Pik 910 ★★★★★ – Low issuance threshold, but need to wait for issuance, cannot arrive immediately;
4. Layerzero ★★★★☆—No restrictions, instant arrival, abundant tokens, but requires payment;
6. Coinbase ★★★☆☆—Large quantity, requires verification of mainnet balance, requires Coinbase wallet;
7. Alchemy ★★★☆☆—Small quantity, requires verification of mainnet balance, requires account registration;
7. Quicknode ★★★☆☆—Large quantity, requires verification of mainnet balance, slow arrival time;
8. Unitap ★★☆☆☆—Large quantity, requires Bright ID verification, long interval between claims;
9. ENS ★★☆☆☆—Very large quantity, requires ENS domain ownership verification, extremely long interval between claims;
Like what you're reading? Subscribe to our top stories.
We will continue to update Gambling Chain; if you have any questions or suggestions, please contact us!