Author: Daniel Kuhn, Deputy Editor-in-Chief of Consensus Magazine; Translation: Mary Liu, Bitpush News
After news broke that the US Securities and Exchange Commission (SEC) was suing the world's largest cryptocurrency exchange, Binance, CEO Changpeng Zhao (CZ) took a familiar strategy to fight back: tweeting. The first text CZ responded with was the number "4," while SEC Chairman Gary Gensler may have been busy giving media interviews at the same time.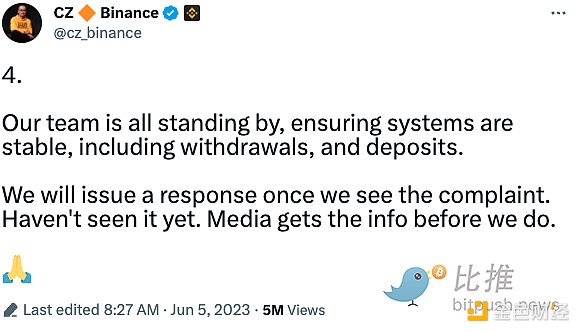 For most of us, this might be a headache. But for many of CZ's 8 million followers, the tweet is a message, a joke, and a familiar kind of comfort.
In CZ's own words, "4" means "ignore FUD, fake news, attacks, etc." FUD (fear, uncertainty and doubt) is a popular acronym in the crypto space. This indicates that regulatory enforcement attacks on cryptocurrencies have become so common that one of the most influential players in the industry is using it as a blunt response. In addition, CZ's tweet implies that the company's regulatory strategy will remain largely unchanged, even though it has now been sued by two of the top financial regulators in the United States.
In fact, that's mostly the case. In the days following the lawsuit (during which the SEC also sued rival US exchange Coinbase), Binance has stuck to its long-standing argument: that the SEC is wrong to regulate through enforcement; customer funds are always safe; and the exchange's previous "compliance" efforts were very hard despite SEC's unilateral non-cooperation.
Binance said, "While we take the SEC's allegations seriously, they should not be the subject of SEC enforcement action, let alone in emergency situations. We intend to vigorously defend the platform."
Of course, some things are different this time. For one thing, the company has appointed a new "Regional Market Manager," Richard Teng, who will oversee operations in Asia, Europe, the Middle East, and all markets outside the United States. Several crypto strategists say this is a good PR move strategically, as it may help Binance offset some of the "deafening" blows from the SEC.
Secondly, Binance US is the nominal independent US operation of the exchange, and its operational ability is facing very serious pressure due to the US Securities and Exchange Commission's "temporary restrictions" on its assets. It has already delisted a large number of tokens, which may reduce the genuine trading volume.
Therefore, the question is whether Binance can continue to operate as usual, and whether it can really continue to operate in the long run.
Considering the seriousness of the charges in the SEC lawsuit, at least from my limited perspective, this is a strange question. In addition to being accused of "not obtaining proper operating licenses" like Coinbase, Binance and CZ are also accused of misusing customer funds, secretly promoting wash trading on Binance.US, transferring customer funds without consent, and a host of other issues. In other words, Binance's legal issues go far beyond Coinbase, and these charges not only focus on whether its listing is an unregistered security issue, but also on whether it mishandles customer funds and secretly encourages US citizens to trade on non-US platforms.
Of course, Binance's reputation has already declined. Two months ago, the US Commodity Futures Trading Commission (CFTC) filed a lawsuit against the exchange for improper licensing and providing incorrect financial products to US consumers. Some internal documents and communications have been exposed, suggesting that Binance is occasionally an almost laughable do-nothing company, and occasionally an improper competitor that puts client funds at risk for expansion.
Industry experts are now very skeptical about whether Binance can survive. It is worth noting that the worst-case scenario has not yet ended. Binance is currently facing two civil lawsuits, but also facing pressure from the US Department of Justice (DOJ), which may launch a criminal investigation that could lead to one or two Binance executives going to jail.
When CoinDesk asked securities lawyer Brian Frye whether the SEC lawsuit could lead to Binance's closure, he said "it's a very real possibility."
If the SEC wins, it could impose huge fines on the exchange, disable or reduce Binance's key operational businesses, such as the internal BNB token, and strictly supervise it, and permanently ban CZ from operating his exchange or operating a financial company. Given the SEC's claim that Binance.US placed $2.2 billion in customer funds in "significant risk," if these funds are found to be related to illegal activities, they may be confiscated.
The SEC has considerable leeway to require companies to "cease and desist" certain activities and prevent them from engaging in securities business because Gensler believes that all cryptocurrencies (except Bitcoin) are securities.
What is worse, as Willkie Farr&Gallagher partner Michael Lewis suggested, the SEC's enforcement division seems to agree with Gensler's view. In its recent court filings, it specifically named all of the top 10 tokens except for Bitcoin (BTC) and Ethereum (ETH), which is bad news for any exchange hoping to offer trades for anything other than Bitcoin to US customers.
However, the purpose of this article is not to spread negativity. It is worth noting that a lot of money has already been withdrawn from Binance, and at least for now, it seems like we haven't experienced anything similar to what happened to FTX. As early as 2019, Binance's auditors may have warned the company not to mix funds, but even if the SEC is throwing mud, these funds appear to be at least safe. Binance publicly denies commingling customer deposits with company funds, and it is currently unclear what CZ-related shell companies such as Merit Blockingrk and Key Vision Development Limited have done with these funds.
On the "Unchained" podcast, Gauntlet CEO Tarun Chitra said that the outflow of funds has significantly decreased because global users, like retail investors in Chile or Abu Dhabi, simply don't care about what's happening with Binance and the SEC, and as far as cryptocurrency exchanges are concerned, Binance is the most trusted choice, which is why it has grown to become the largest cryptocurrency exchange by far. Yes, the SEC's charges against Binance and its CEO look serious, but that doesn't mean users will suddenly turn to trusting some smaller crypto platform.
Do ordinary crypto users care if Binance uses shady tactics to attract "crypto whales," or if it suggests that high-net-worth customers use VPNs to bypass firewalls to trade on the exchange? No, they might find it interesting. (Despite the CFTC finding evidence that suggests that much of Binance's revenue comes from US customers they shouldn't be serving, the company still has a huge global user base.)
I think it makes sense to resist if the charges against Binance are true. CZ is accused of enriching himself at the expense of users (at the peak of the recent bull market, someone provided irrefutable evidence that CZ's net worth had surpassed that of Elon Musk). But the trust metric in the crypto industry is different from that in other financial sectors, and if banks have to build sturdy, lavishly decorated headquarters to signal the "business long rainbow" to potential customers, then trust in the crypto industry is "fleeting." Binance has become stronger because it has the tokens people want to trade, and it seems to be able to resist hacking attacks.
CEO of Blockchain Association, Jake Chervinsky, stated that even if Coinbase loses the lawsuit against the Securities and Exchange Commission, it still has a way to avoid registering as a securities exchange by delisting tokens that are considered securities. Michael Lewis of Willkie Farr & Gallagher agrees, stating that "it is unlikely that the current legal or regulatory situation in the United States would effectively prohibit all cryptocurrencies."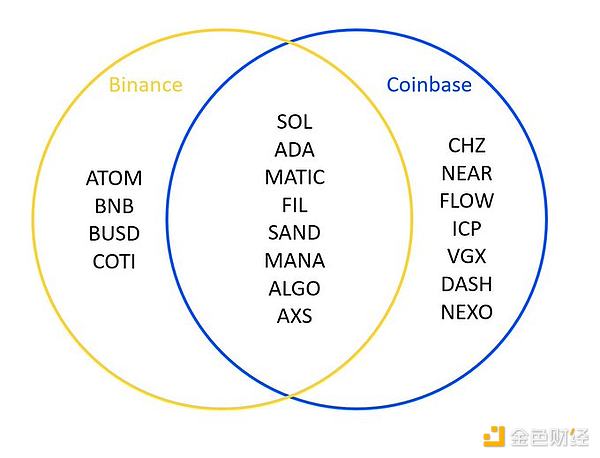 Binance may also ultimately delist tokens, resulting in reduced revenue and potentially losing its founder/CEO as a puppet and trusted spokesperson for the exchange (although he may still be a major shareholder). The exchange may be forced to implement costly controls, while also weeding out some potential users. Binance.US may be doomed to fail (although it doesn't seem like anyone is using it). Joint fines from the SEC and CFTC could bankrupt the company, and U.S. senators like Liz Warren (D.-MA) will call for the Justice Department to intervene.
To some extent, if the worst crime Binance has committed is to fake trading volume, I guess users will forgive it. Of course, it all depends on the users themselves. But Binance has now become a scapegoat for the SEC's anger, which arrogantly seeks to crack down on an exchange without headquarters within the scope of U.S. law, possibly forcing the company to "yield" to some law.
There is a large group of fans who support CZ's response and are willing to "ignore fake news, uncertainty, and doubt." I also have another thing to say: You can kill a body, but you can't destroy an idea.
Like what you're reading? Subscribe to our top stories.
We will continue to update Gambling Chain; if you have any questions or suggestions, please contact us!