Azuki's new series, Azuki Elemental Beans, has officially launched. Despite the high expectations from the community and investors, the results have been disappointing, and a series of actions have led to Azuki being heavily criticized. The price of Azuki's NFT series has also dropped, and many of Azuki's loyal holders have sold and left the community.
Among the top NFT projects, Azuki has attracted many fans with its unique anime style and exquisite art style. When Azuki was hit by FUD due to the background of its founding team last year, attention was also shifted to several NFT series with similar styles. Although the prices of some similar projects briefly rose, most had short lifecycles, while Azuki quickly rebounded and remained firmly in second place after BAYC outside blue chips.
Will there be alternatives to attract users who leave the community this time? Ether, founded in 2022 and scheduled to launch in two days, has a high level of discussion.
On June 30th, Ether will be officially launched with a public sale price of 0.65 ETH. Although it is less than Elementals, such a price is still relatively high in the bear market of NFTs. What is unique about this project?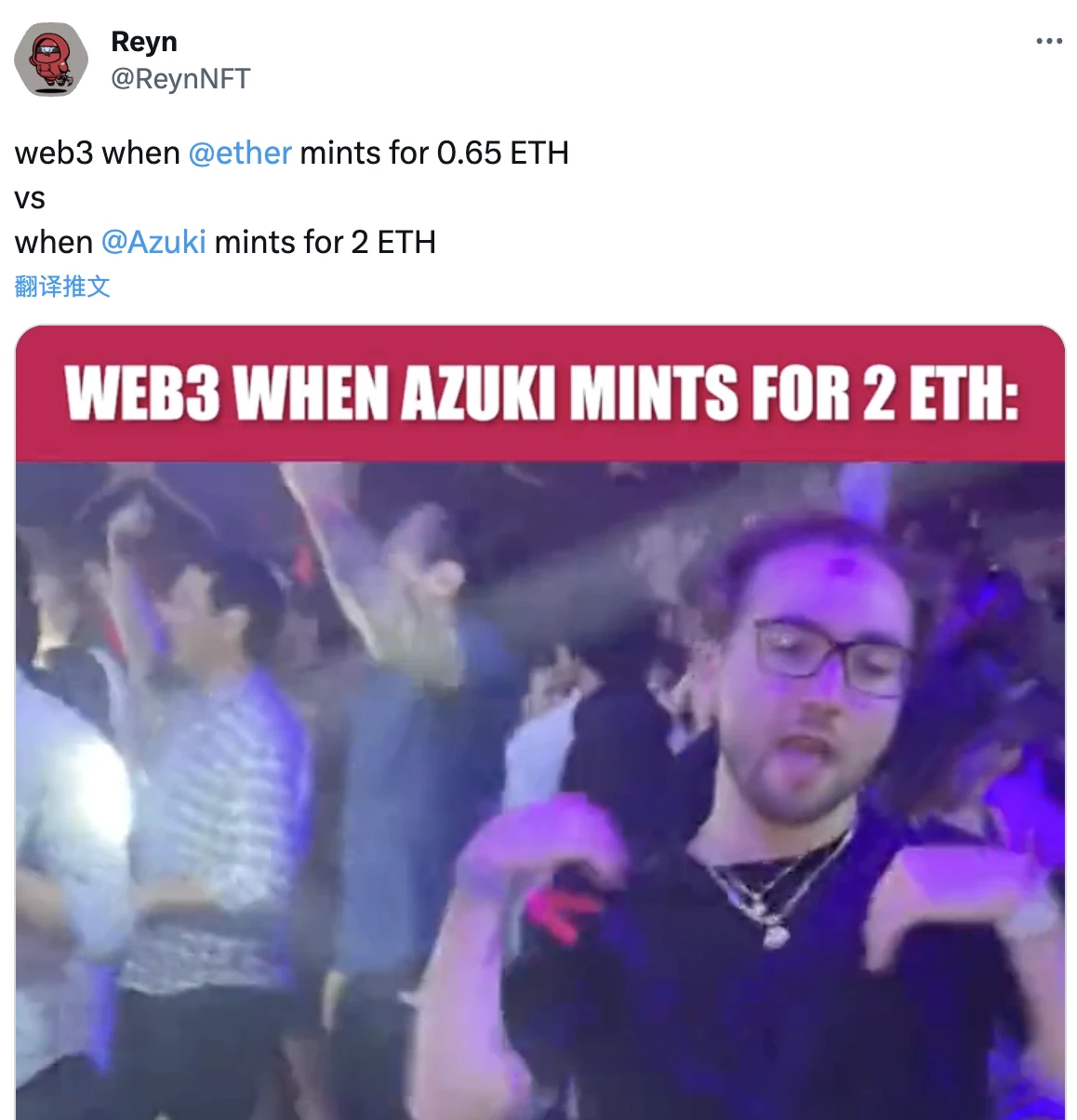 (Community members are making memes about this)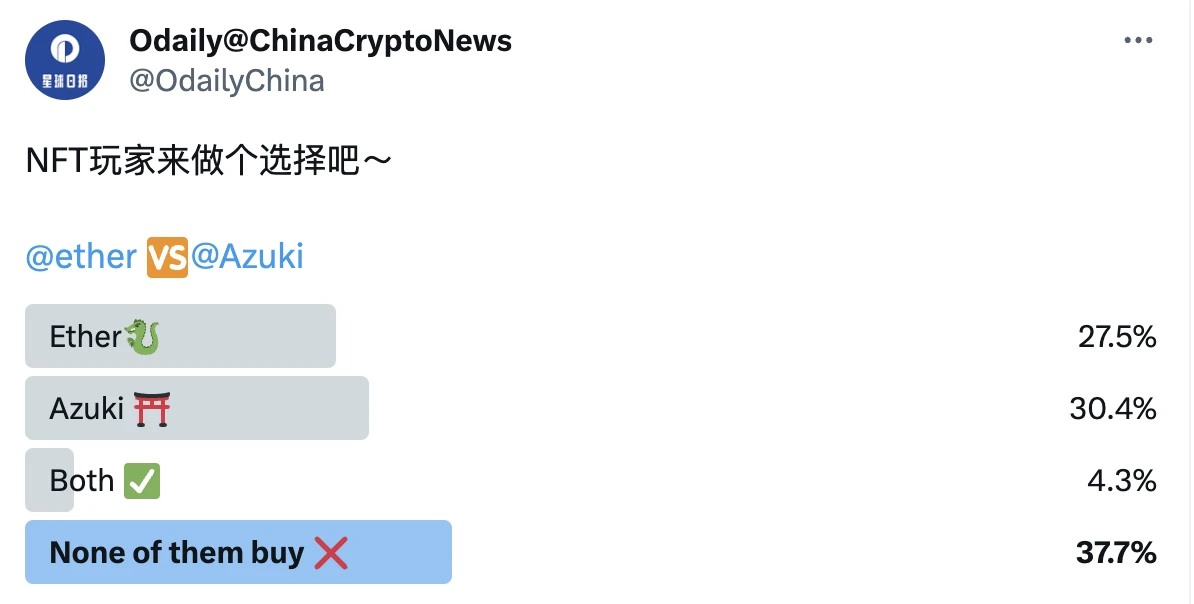 Ether is an anime-themed NFT project based on Ethereum. According to the project's description, the project "combines fashion, innovation, and storytelling." Unlike most standard PFP laces, this project also consists of 10,000 characters.
Of the 10,000 characters, 5,000 are male and female. As for the character's race, 50% of the characters are human, 30% are robots, 19% are vampires, and 0.95% are mutant characters.
In addition to regular characters, Ether also has five special 1/1 characters. The project team said that these five special characters play an extremely important role in the Ether universe. These works will have exclusive preview animations and high recognition.
The official believes that each character has the potential to develop a storyline that fits the Ether brand tone.
The creator of Ether is VIII. According to the official website, VIII is a digital artist who has rich experience in the entertainment and gaming industries, working for many brands and public figures, including Sony, Nike, and Epic Games. VIII expressed a long-term interest in fashion, storytelling, and collecting.
Long preheating and stale narrative
In July 2022, Ether's official Twitter account posted its first tweet. Currently, the project has undergone nearly a year of preheating.
In the rapidly changing and short-lived NFT market, Ether is undoubtedly a very "slow" project, without any sales activities for nearly a year.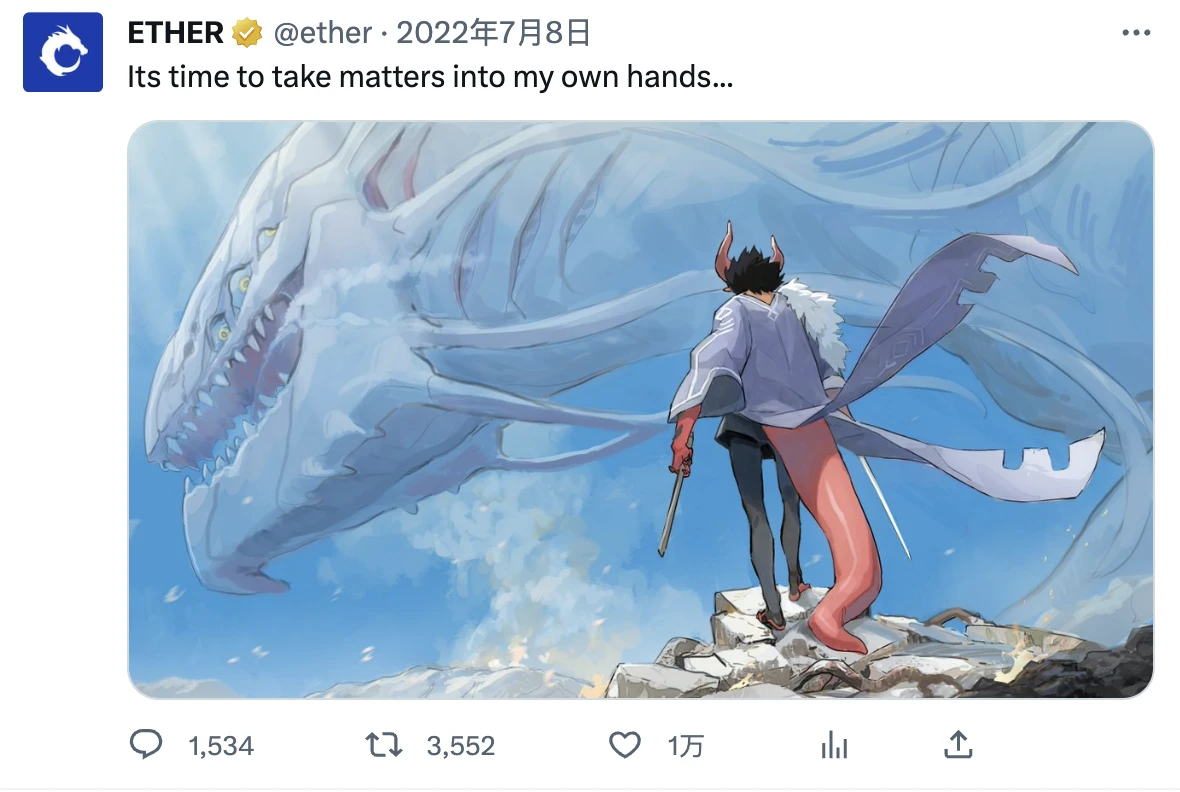 The information released on the official website shows that Ether aims to become one of the first luxury brands that use blockchain technology to create high-quality clothing and collectibles. Ether seeks to create a powerful brand and strives to create a "collaborative and immersive narrative style, breaking possible boundaries."
Currently, the time has progressed to the middle of 2023. The market has already moved from the bull market of 2021 to the deep bear market and is expected to usher in a turning point, but in terms of narrative, Ether is still limited to the most "conventional" PFP design during the last bull market, without any new gameplay.

When mentioning the motivation for creating Ether, the founder VIII explained that "after the concept of blockchain rights confirmation came into being, he tried to become one of the earliest artists to combine digital assets with physical commodities."
In a podcast, the team explained Ether's vision. They tried to build Ether into a brand and look forward to cooperating with well-known brands or IPs. In the future, they may have quarterly release activities or issue cooperative digital "skins." They also try to create an ideal digital identity for users through Ether.
Aside from the exquisite material design and long preparation time, Ether seems to have few highlights.
Azuki
The public sale price of Ether is 0.65 ETH, while those on the whitelist (WL) can obtain it at a discounted price of 0.35 ETH. Although it is lower than Azuki Elementals, this price is still quite high for the current market environment.

(Comparison of Azuki with Ether)
Previously, the release date of Azuki Elementals had not been confirmed for a long time. After Ether announced the release date, Azuki Elementals quickly confirmed its own release date. Many fans of Ether believe that Azuki chose this timing to aim at Ether, which has a similar art style, and take away their traffic.
However, this statement is not tenable, because Azuki Elementals was sold out during the presale period to Azuki and BEANZ holders, and there was no chance for public sale. Although the project is disappointing, the strength of the Azuki community is evident, and it is believed that this is also the crowd that Ether hopes to attract.
According to the official documentation, the funds sold by Mint will be used for the development of the Ether project, and are planned to be used to expand the team and execute the roadmap with the highest quality. 70% will be used for project financial management, 10% will be used for charity, and the remaining 20% will be used for team building.
Currently, there are only 2 days left until the Ether sale, can they make a splash in terms of content quality and ignite a spark in the cold NFT market? The Odaily Star Daily will continue to follow its performance.
Like what you're reading? Subscribe to our top stories.
We will continue to update Gambling Chain; if you have any questions or suggestions, please contact us!