In the latest narrative of head technology companies, enabling various industries with ToB is the key to the large model landing.
Following Tencent and Huawei, another latecomer to the large model has arrived.
On July 13th, at the 2023 JD Global Technology Explorer Conference and JD Cloud Summit, JD officially launched the large model "Yan Xi". The platform has now opened pre-registration and is expected to be officially launched in August.
Now, the large model products of the head Internet giants are all on the market: Baidu has Wenxin, Ali has Tongyi, Tencent wants to make industry large models, Huawei has Pangu, JD has Yan Xi, and ByteDance has Volcano Ark.
At present, there are hundreds of large models online around the world; more than 80 have been released in China alone.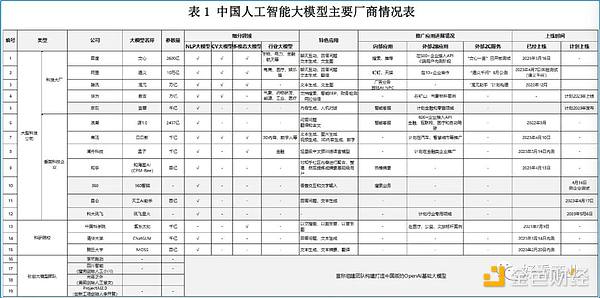 Image source: "Development Dynamics of China's Artificial Intelligence Large Models" released by China Mobile Research Institute
In the exhibition hall of the 2023 WAIC (World Artificial Intelligence Conference) held a few days ago, more than 30 large models were spread throughout. In addition to the first batch of general large models such as Baidu Wenxin, Ali Tongyi, iFLYTEK Xinghuo, and Shangtang Ririxin, there are also a bunch of industry large models. It seems that everyone is talking about large models.
However, compared with the enthusiasm when ChatGPT was popular, people have become relatively calm now, thinking and exploring more practical issues such as "what can large models do?" "How can large models be implemented?" BAT, Huawei, JD and other technology giants have made their choices on key issues such as "ToC or ToB" and how to land. In their latest narrative, facing the B-end, empowering thousands of industries is the key to large model.
This is also easy to understand. Technology companies have been chasing AI for many years, and solving problems is more suitable for the present than poetry and distance.
The large model path of technology giants
JD clearly stated at the press conference on July 13 that "JD wants to do industrial large models instead of general large models." Xu Rong, CEO of JD Group, said, "The real value of large models is definitely in industrial applications."
This means that JD's "Yan Xi" large model is not ToC, focusing on ToB and focusing on solving industrial problems.
Recently, Tencent and Huawei have also clearly chosen the ToB direction. On July 7th, Huawei released the Pan Gu large model 3.0 version. Huawei Cloud CEO Zhang Ping'an first clarified the positioning of the Pan Gu large model-"born for the industry", focusing on B-end industry customers.
Although Tencent has more than 1 billion social users and has also reserved the Hunyuan large model, unexpectedly, Tencent did not launch a universal large model for the ToC end, but directly faced the B-end and focused on the industry's large model.
Tencent's logic is that the universal large model can solve 70-80% of problems in 100 scenes, but it may not be able to meet the needs of a certain scene of an enterprise 100%, so it is better for the enterprise to build its own exclusive model based on the industry large model.
ByteDance is a player with extraordinary AI technology strength in the technology giants. How does ByteDance do large models?
On June 28th, ByteDance unveiled the mystery: its own volcano engine released the large model service platform "Volcano Ark".
Volcano Ark is to build an aggregation third-party manufacturer's large model "store", which provides model fine-tuning, evaluation, reasoning and other services for enterprises. Unlike the self-developed large models of BAT, ByteDance has chosen a lower-cost and faster way to enter.
In short, Tencent, Huawei, JD.com, and ByteDance have said no to making "Chinese version of ChatGPT".
Earlier, Baidu and Alibaba, which launched large language models, insist on "unbiased" and both want ToC and ToB, both have universal large models and exclusive large models.
In March of this year, Baidu launched an important member of the Wenxin large model-the knowledge-enhanced large language model Wenxin Yiyin, which became the first existence in the global Internet giant to target ChatGPT.
Baidu started research and development of artificial intelligence in 2010, started research and development of pre-training large models in 2019, and launched the Wenxin large model 1.0 version. Baidu's investment in AI has exceeded 100 billion yuan so far. For more than ten years, Baidu has been exploring the landing and commercialization of AI.
The popularity of large models has made Baidu excited with "finally waiting for you", and therefore showed a domineering attitude of "whoever I am". From technology strength to scene landing and ecosystem development, Baidu seems to want to be an "all-around player" and wants to be the first in everything.
On July 7th, at the World Artificial Intelligence Conference, Baidu CTO Wang Haifeng revealed the latest progress of the Wenxin large model 3.5 version in terms of effect, function, and performance, including: a 50% improvement in model effect, a 2-fold increase in training speed, and a 30-fold increase in inference speed.
It is not difficult to see that one of the messages that Baidu wants to emphasize externally is: to make large models, technology is still the key. In addition, the latest keywords in Baidu's discourse also include "empowerment" and "ecology".
In March of this year, Baidu launched a one-stop enterprise-level large model platform "Wenxin Qianfan". Wenxin Qianfan mainly provides two services: based on Wenxin Yiyu as the core, it provides large model services to help customers transform products and production processes. Enterprises can develop their own exclusive large models based on any open source or closed source large models on Wenxin Qianfan.
So far, more than 300 Baidu Intelligent Cloud ecological partners have participated in the internal testing of the "Wenxin Qianfan large model platform".
This means that Baidu's large models not only need to be ToC, but also need to achieve scene landing through bottom-level technology iteration and platform ecological openness, and empower thousands of industries in ToB.
In addition, in May, Baidu also established a 1 billion yuan Wenxin Investment Fund, the purpose of which is to promote the prosperity of the large model ecosystem.
Alibaba Cloud released the "Tongyi" large model series in September last year. In April of this year, its large language model "Tongyi Qianwen" was officially launched. Alibaba is the second major factory in China to release ChatGPT-like products.
On June 1st and July 7th, Alibaba Cloud respectively launched large model application products focusing on audio and video content "Tongyi Tingwu" and AI painting creation large model "Tongyi Wanxiang".
In three months, Alibaba Cloud has launched three different large model products, extending the mode of large models from text and voice to images, and further approaching multimodal models.
Alibaba Cloud believes that a universal model is difficult to solve all problems. Therefore, in its three-layer service architecture (IaaS+BlockingaS+MaaS), the MaaS layer includes both basic large models/Tongyi large models and enterprise-exclusive large models.
Alibaba Cloud CTO Zhou Jingren emphasized in his speech on July 7th that the logic of Alibaba Cloud's large model is "not to compete with other large models." He said that Alibaba Cloud's large models are to serve enterprises and ISVs on the cloud, and Alibaba Cloud also wants to serve innovators and model developers of self-developed models, providing them with tools and ecology.
Zhuo Jingren emphasized that promoting the prosperity of China's large-scale ecology is Aliyun's top priority.
Moda Community is an important carrier for Aliyun to build a large-scale ecology. Moda Community has now gathered 1.8 million AI developers and more than 900 high-quality AI models contributed by more than 20 top artificial intelligence institutions.
Aliyun's goal is to cultivate Moda Community into China's largest "large model free market."
The key to realizing large-scale models in ToB
In May of this year, the China Mobile Research Institute mentioned in its "Development Trend of China's Artificial Intelligence Large Models" that from the perspective of large model application direction, most domestic companies focus on internal applications in the early stage, and later mainly expand services to B-end enterprises, and a few companies are expected to form a scale in the C-end market.
From the current path choices of domestic technology giants, ToB has become the focus of large-scale model landing.
This is different from the market expectations when ChatGPT just became popular.
ChatGPT attracted 120 million users in less than three months after its launch, and it can be regarded as the fastest-growing APP in history. It is supported by generative AI and amazes everyone with its powerful ability to answer questions.
Microsoft CEO Nadella believes that ChatGPT will reshape all software categories, and the first to be subverted may be search engines. Therefore, Microsoft fired the first shot of ChatGPT products-releasing a new version of Bing search engine embedded with ChatGPT. Microsoft even regards this as a new era of reshaping the search engine pattern.
The initial explosion of ChatGPT also made the world's two major search giants Baidu and Google nervous and anxious. Baidu founder Li Yanhong set the key task of Q1 this year as "leading the intergenerational change of search experience". Google was also in a panic, and the two founders returned urgently to lead the company's counterattack.
After half a year of soaring, ChatGPT not only did not subvert the search engine, but also showed a decline in traffic.
According to data from SimilarWeb, in June of this year, ChatGPT's global traffic decreased by 9.7% compared to the previous month. In June, ChatGPT's downloads on the US iOS platform decreased by 38%, and Bing's downloads also decreased by 38%.
At the same time, Google's search engine market share has risen year-on-year, and it has now exceeded 92%; Bing's market share has decreased by 0.4% year-on-year, to about 2.8%.
Regarding the profit model, ChatGPT launched ChatGPTPlus for consumers in February this year, with a monthly subscription fee of $20. In April of this year, OpenAI disclosed on its official website that it will launch ChatGPT Business for enterprises in the next few months, and the revenue model for B-end is still paid subscriptions.
However, compared with ChatGPT's high R&D and operation costs, current subscription income is almost negligible. According to data from research company SemiAnalysis, OpenAI pays up to $700,000 a day to maintain its powerful infrastructure.
However, Microsoft Azure has tasted the soup of incremental market share in cloud services using large models.
In January of this year, Microsoft's management revealed in a conference call after the financial report that Microsoft is using AI models to innovate the computing platform, and Azure ML (machine learning platform) revenue has grown at a rate of more than 100% for four consecutive quarters. This growth rate is higher than that of intelligent cloud and enterprise software business.
In China, large models also bring new growth momentum to cloud services. Taking Baidu as an example, after the launch of Wenxin Yiyuan, more than 300 ecological partners have achieved test results in more than 400 specific scenarios. Baidu Intelligent Cloud sales leads increased by more than 400% year-on-year in March.
Looking globally, cloud service providers hope to become the first beneficiaries of the era of large models. The large models of technology giants are mostly led by the cloud business department or deeply bound to the cloud business department.
In China, from Baidu and Alibaba to Tencent, Huawei, JD, and ByteDance, large models are all led by cloud services.
In 2022, the global cloud service market is in a downturn, and cloud service giants have fallen one after another, and the growth rate of performance has slowed down. In Q1 2023, the cloud service market grew by 19% year-on-year, and the sluggish state is still continuing.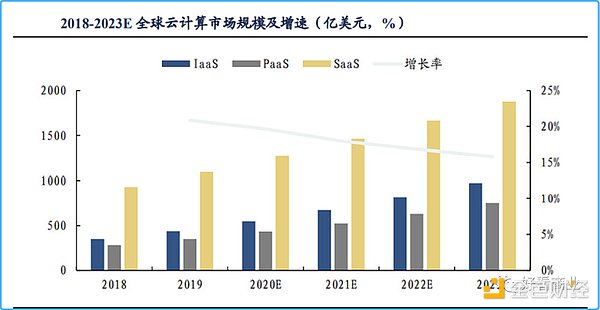 Image source: Gartner
When the era of large models comes, the mainstream business model of cloud computing will change from IaaS (infrastructure as a service) to MaaS (model as a service). All industries, applications, software, and services are worth redoing based on new AI technologies such as large models and AIGC. This means that large models will bring new growth momentum to cloud services.
In today's environment of scarce growth and normalization of uncertainty, for technology giants, it is more urgent to sell cloud products as soon as possible and achieve commercial realization than to write poetry.
Like what you're reading? Subscribe to our top stories.
We will continue to update Gambling Chain; if you have any questions or suggestions, please contact us!