Author: LianGuaicryptonaitive
Throughout history, the script for running away has remained largely the same. The latest example is the Meme token BALD on the Base Chain.
BALD, a Meme token on the Base Chain under Coinbase, skyrocketed within two days, reaching a peak increase of nearly a thousand times. The wealth effect triggered FOMO, leading many investors to enter the Base Chain and participate in speculation around BALD, which also drove up the Base Chain's TVL.
However, on the evening of July 31st, the deployer of BALD removed almost all liquidity for BALD/ETH, causing BALD to drop to zero. Subsequently, the deployer transferred 9,385 ETH to Base. At the end of the game, the deployer held 12,433 ETH, earning 3,048 ETH (5.7 million USD) in just 2 days.
After BALD ran away, the crypto community conducted in-depth analysis of the related on-chain addresses and various clues. Now, many people believe that there is a close relationship between the BALD project and SBF.
Let's take a look at the evidence:
Igor Igamberdiev, Director of Wintermute Research: BALD definitely comes from Alameda, but not necessarily SBF
A wallet address (0x000f7f) related to BALD was not very active last summer, but was very active in protocols such as Oasis DEX, 0x v2.1, dYdX v2, and Set Protocol in 2019/2020. Not everyone has such time, substantial funds, and technical capabilities.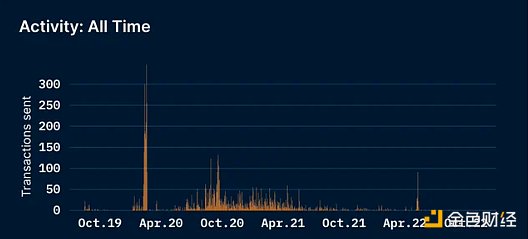 The address also:
Is related to 0xF3ad7b, which is a top trader on dYdX v3 (again, few people have the ability to do this)

Voted in support of the first proposal for SushiSwap

Received POAP from Yearn releases

Participated in liquidity mining with millions of dollars in COMP, SUSHI, BDP, SWRV, CREAM, and STG
Why is it not necessarily SBF? How did SBF transfer more than 40 million USD through Coinbase?
Nansen Analyst: Close connection between BALD addresses and Alameda Research
Nansen analyst Andrew T tweeted that after investigating the ETH address of the BALD deployer, it was discovered that the 0x6663 starting Binance deposit address and the 0x000f starting active address were both interacted with by Andrew Keys and Alameda Research.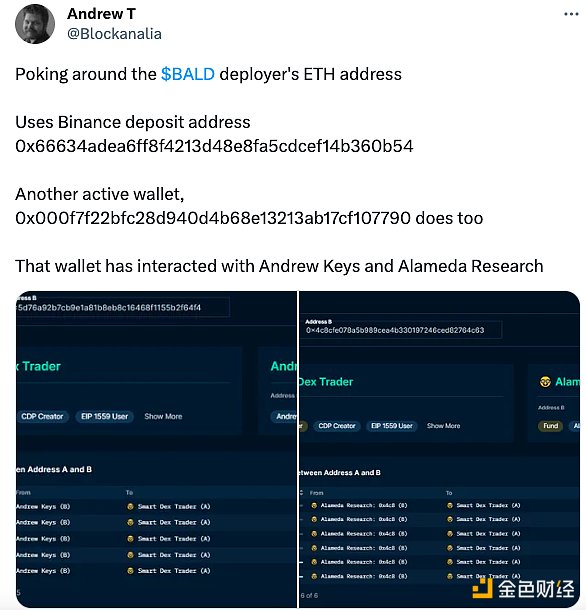 These addresses have interacted on every major exchange, so at some point, we will know who these potentially criminal deployers are. These addresses are definitely closely connected to Alameda Research and have conducted 400 transactions with blacklisted addresses, currently searching for which addresses, which have also used Wintermute OTC in the past.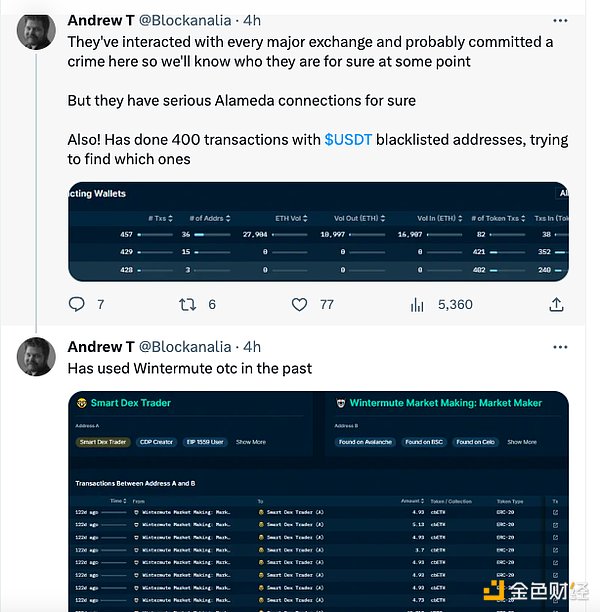 Rekt_Tekashi: SBF's Serum Twitter account was renamed to 0xLukaeth and was the first to advocate for bald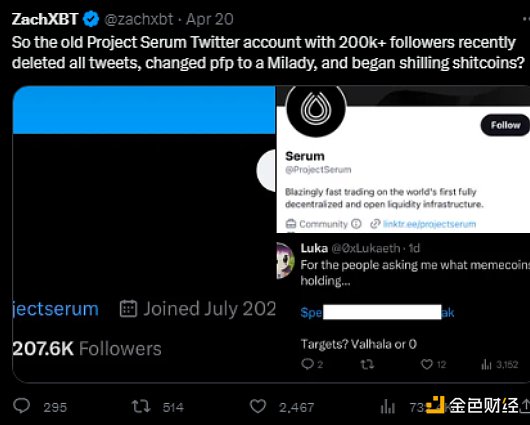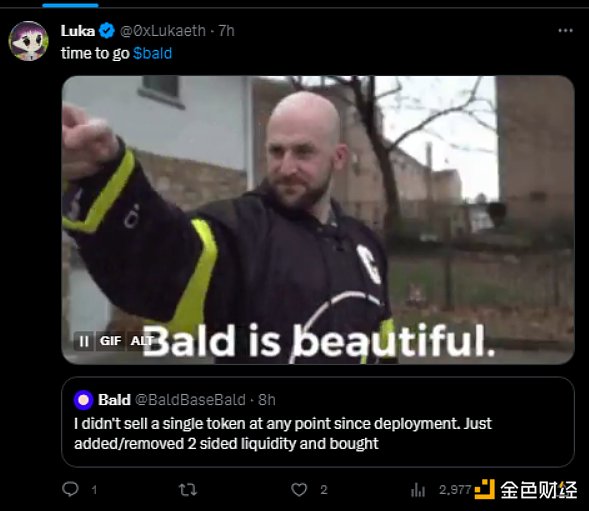 Brain: Bald Deployers and UST Decoupling Address Association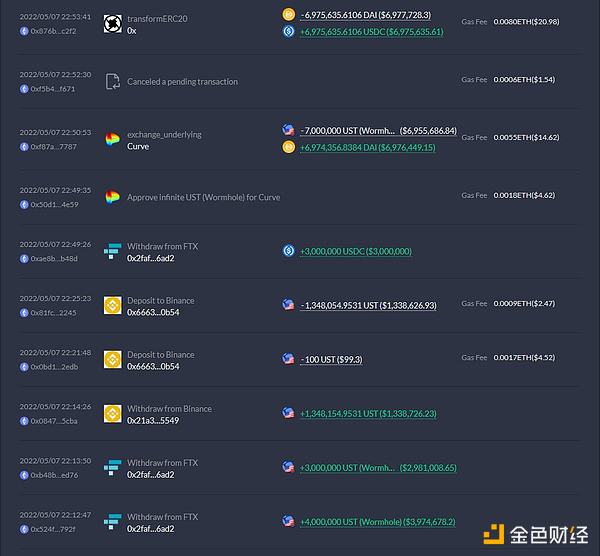 The address frequently deposited into the Bald deployers Binance wallet appears to be one of the wallets that help trigger UST decoupling.
Wallet: 0x000f7f22bfC28D940d4B68e13213aB17cf107790
Binance deposit: 0x66634ADEA6Ff8f4213D48E8Fa5CdceF14b360b54
Hype_eth: Bald Deployers' Behaviors Align with SBF
There have been thousands of ETH transfers between FTX and Bald, Bald deployers are the first voters for all sushi proposals, Bald deployers are the largest participants in DYDX liquidity mining, Bald deployers' DYDX posts sound like SBF, on-chain activities coincide with court dates/bail, SBF has recently been operating via VPN.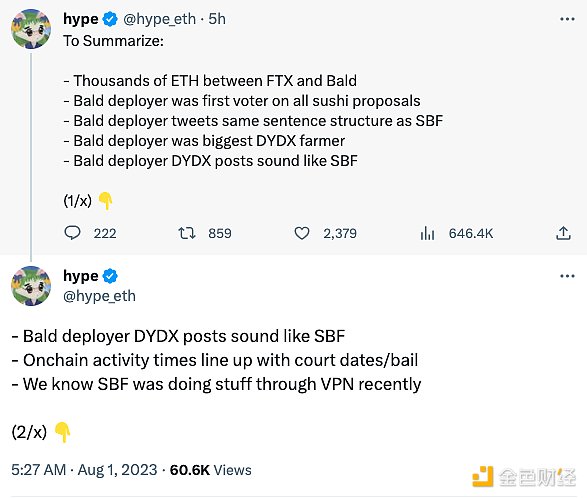 Bald Deployers' Tweets Use the Same Language as SBF
nassim: they all reply with the word "correct"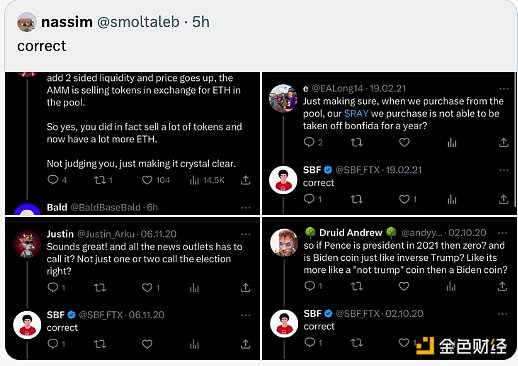 sins: they all use "Nor"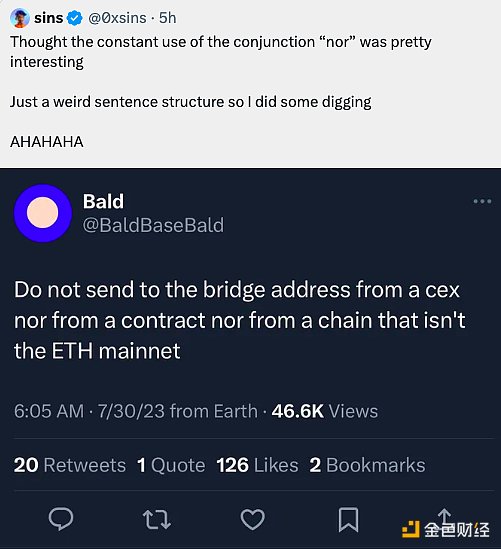 end0xill: they all use "quite well"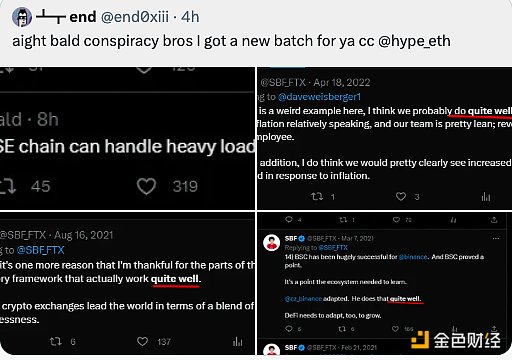 WSBChairman:
SBF, the head of FTX, one of the largest fraud cases in history, was accused this morning of creating and selling a worthless coin (BALD) with a market value of $100 million while under house arrest in his parents' basement.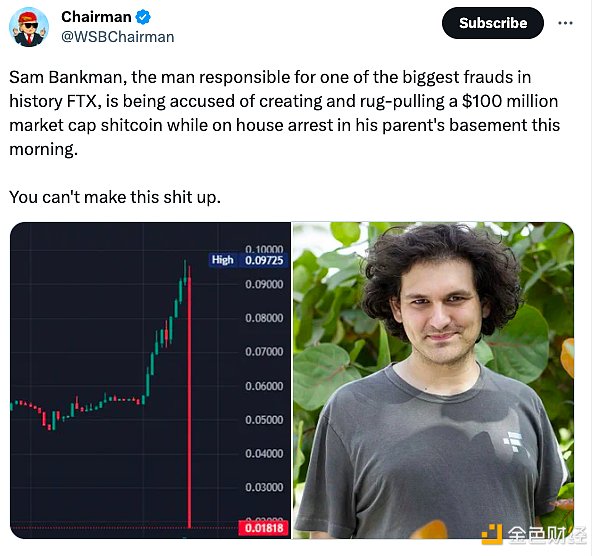 1conformation NTmoney: Why aren't these people locked up?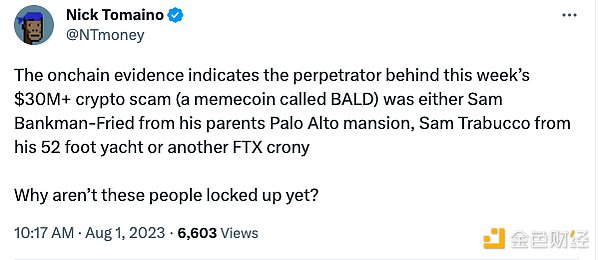 On-chain evidence indicates that the perpetrator behind the crypto scam (a meme coin called BALD) worth over $30 million this week is either Sam Bankman-Fried, who resides in his parents' LianGuailo Alto mansion, or Sam Trabucco, another co-CEO of FTX who owns a 52-foot yacht. Why aren't these people locked up?
Like what you're reading? Subscribe to our top stories.
We will continue to update Gambling Chain; if you have any questions or suggestions, please contact us!