From | Crypto KOL Splin Teron
Compilation | BlockingNews
The creator of the memecoin PSYOP and BEN token, Ben.eth, has recently attracted widespread attention in the crypto community. Mike Kanovitz, a partner at the law firm Loevy & Loevy, believes that the PSYOP project is involved in wire fraud, and that Ben.eth has issues with misleading token buyers, reneging on promises, and creating an improperly structured liquidity pool. Currently, 90% of the PSYOP tokens allocated to investors have yet to be released, and these actions could potentially result in Ben.eth having to pay up to $21 million in damages. If Ben.eth does not refund the funds to investors, it may face a brutal class action lawsuit.
Against this background, this article will conduct an in-depth study of Ben.eth's personality and related token projects. However, it should be noted that this article will not provide any value judgments, but only share the information currently collected.
Ben.eth is a typical NFT "influencer". When he first entered the crypto industry, he had about 13,000 subscribers, but everything changed when he launched the iconic meme token "BEN".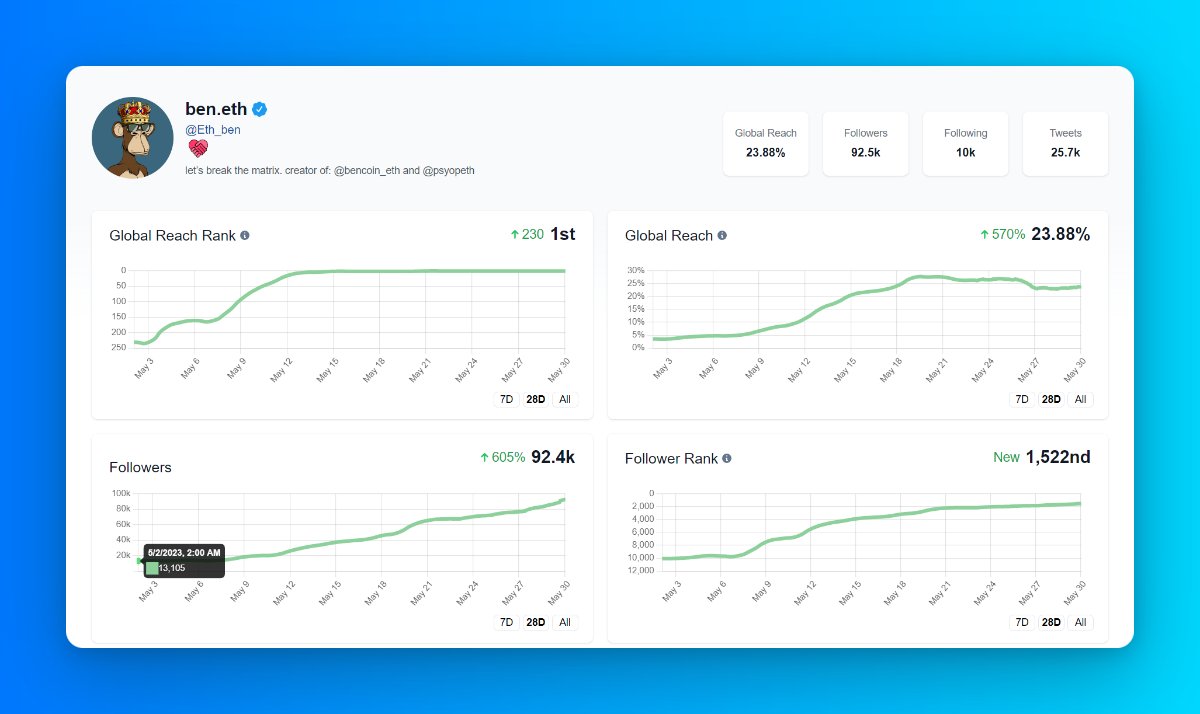 Initially, the BEN token was not popular, but how to make it popular? The answer is: it needs a more influential and larger audience influencer. Soon, another "influencer" Ben Armstrong (@Bitboy_Crypto) emerged. He told Ben.eth that he was willing to help and began to promote the "BEN" token in his tweets.
In fact, one of the main reasons why Ben Armstrong was willing to help was also due to his "self-interest", because his name also contains a "Ben", and he was undoubtedly ecstatic when he saw a token with his name on the market – of course, participating in it and gaining some personal benefits also seems reasonable. Ben Armstrong began to actively promote the BEN token to other crypto influencers.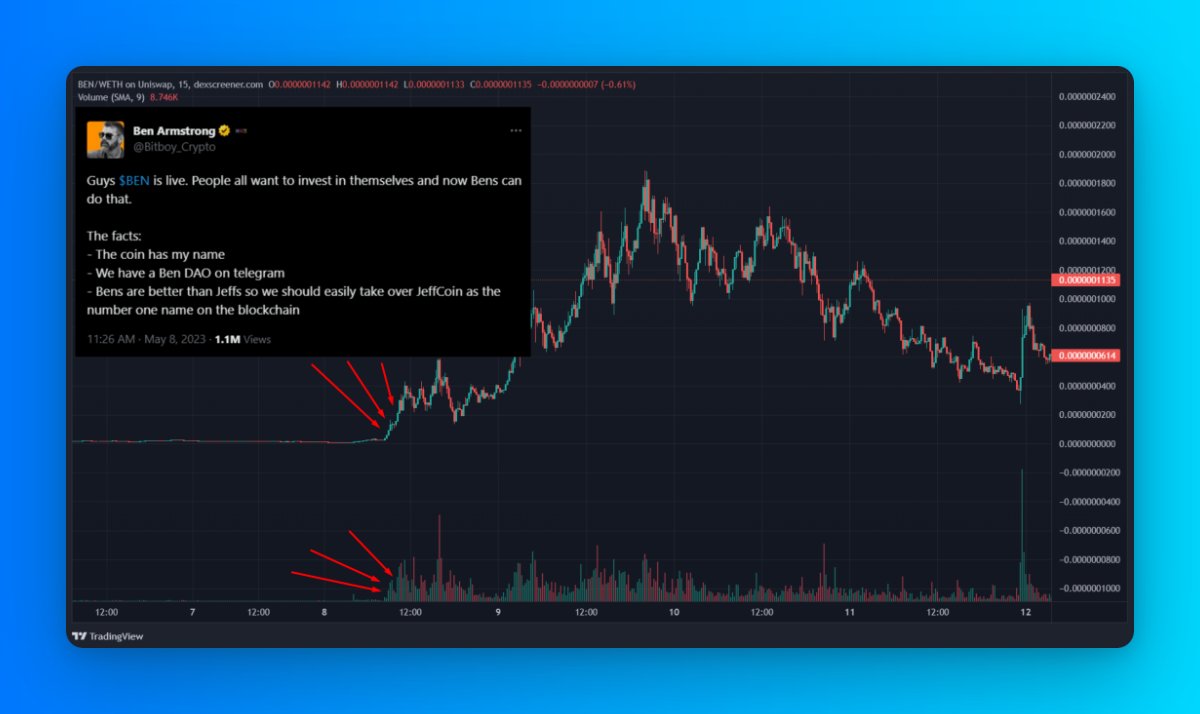 At the same time, as the exposure of the BEN token in the crypto community continued to increase, discussions about the token also began to increase. Ben.eth's Twitter account @eth_ben saw a significant increase in subscribers and is still growing (from 13,000 to nearly 100,000).
Meanwhile, Ben Armstrong is still actively promoting the BEN token on social media, during which some people questioned him for promoting a Rug Pull project but were strongly refuted by Ben Armstrong, who said he had been working in the crypto industry for a long time and did not care about the token price. He promised not to sell BEN tokens for six months, and even disclosed his Ethereum wallet address.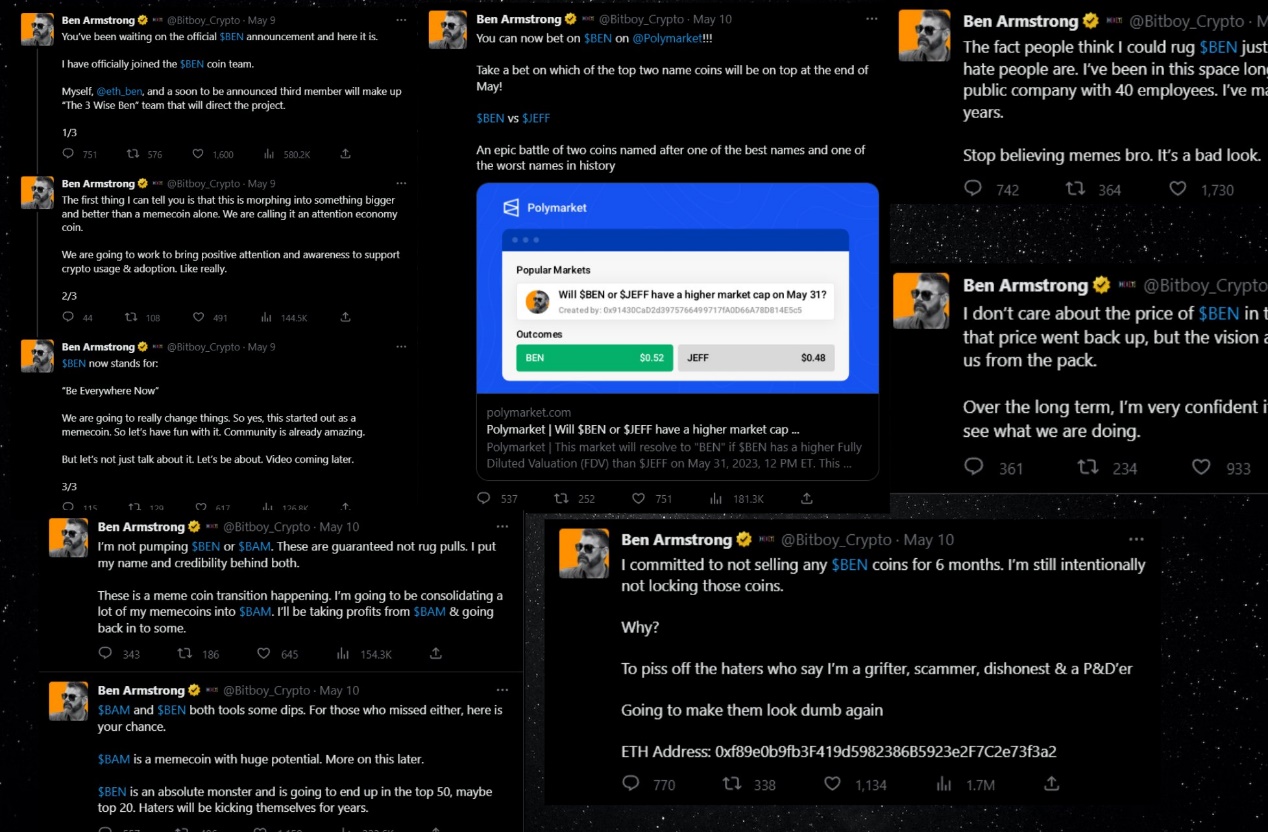 About two weeks ago, Ben.eth launched a new token called "PSYOP". In the crypto industry, new tokens are often presold before listing, so Ben.eth shared the presale address on social media and instructed participants to send ETH to that address. However, soon, a developer named "vydamo" suddenly appeared on social media and claimed that Ben.eth did not intend to launch the "PSYOP" token project fairly.
Meanwhile, another crypto community "celebrity" Andrew Tate posted a video on social media claiming that he had nothing to do with the PSYOP token, but this operation backfired and the crypto community's interest in the PSYOP token increased. However, the development of the situation afterwards was confusing. Ben.eth suddenly stopped the presale of the PSYOP token project and announced that the funds would be refunded to the previous investors in the future, and claimed that compensation would be made to people who had sent money to his wallet after the presale ended. Unfortunately, this promise was not fulfilled at all.
People who lost their funds began to riot, and they had to hire lawyers to initiate a class action lawsuit in an attempt to recover their money. Surprisingly, despite the negative news, Ben.eth still successfully raised about 4,000 ETH through the presale of the PSYOP token project.
While Ben.eth made a lot of money, those who participated in the PSYOP token project had to face the embarrassing situation of huge losses. Looksonchain, a chain analysis analyst, listed three investor cases, including:
The investor with the address starting with "0xac34" sent 29 ETH to Ben.eth and received 5,095,139 PSYOP tokens, but can only get 3 ETH if all PSYOP tokens are sold now;
veg.eth sent 21 ETH to Ben.eth and received 3,724,258 PSYOP tokens (can only get 2.15 ETH if sold now);
hot.izebel.eth sent 20 ETH to Ben.eth and received 3,546,912 PSYOP tokens (can only get 2.05 ETH if sold now).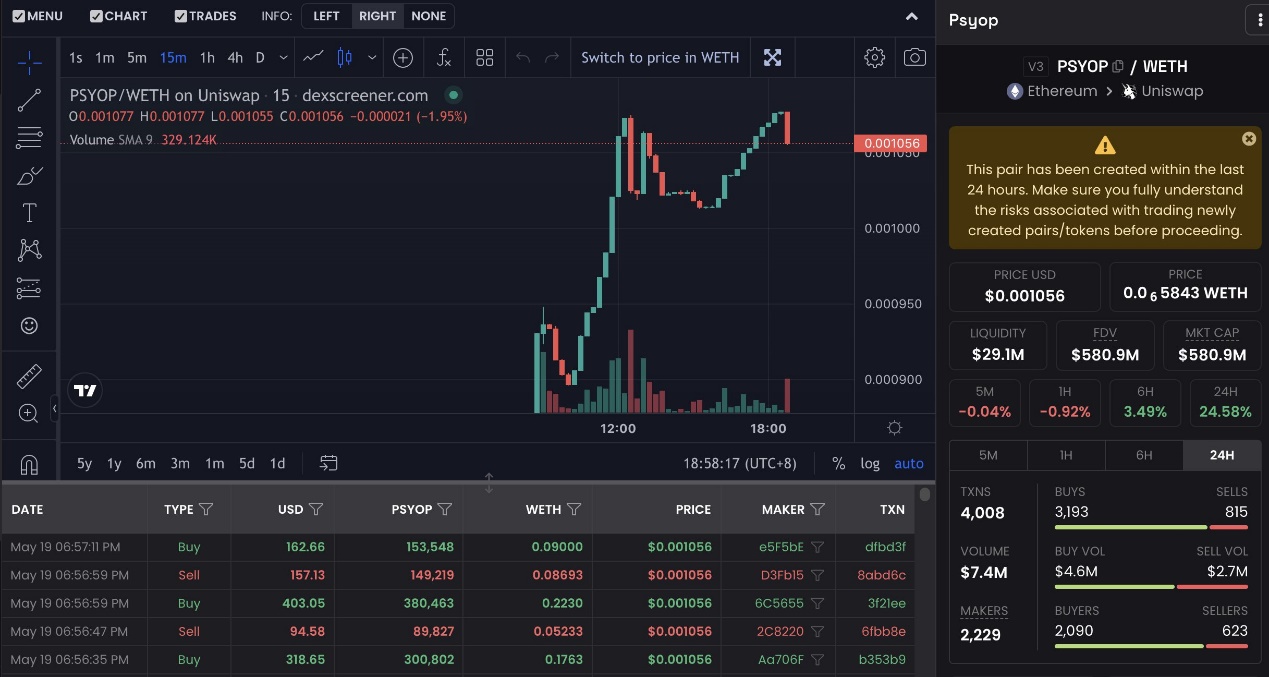 In addition, the reason why PSYOP tokens have attracted a lot of investor attention is actually closely related to another whale, cryptopolitan.eth. Chain data shows that cryptopolitan.eth spent 233 ETH (worth about $428,616) to purchase 251.8 million PSYOP tokens, with an average purchase price of $0.001702. With this transaction, the whale has become the 7th largest holder of PSYOP tokens.
Looking back at Ben.eth, he is actually a very low-key person, as can be seen from the tweets he has posted.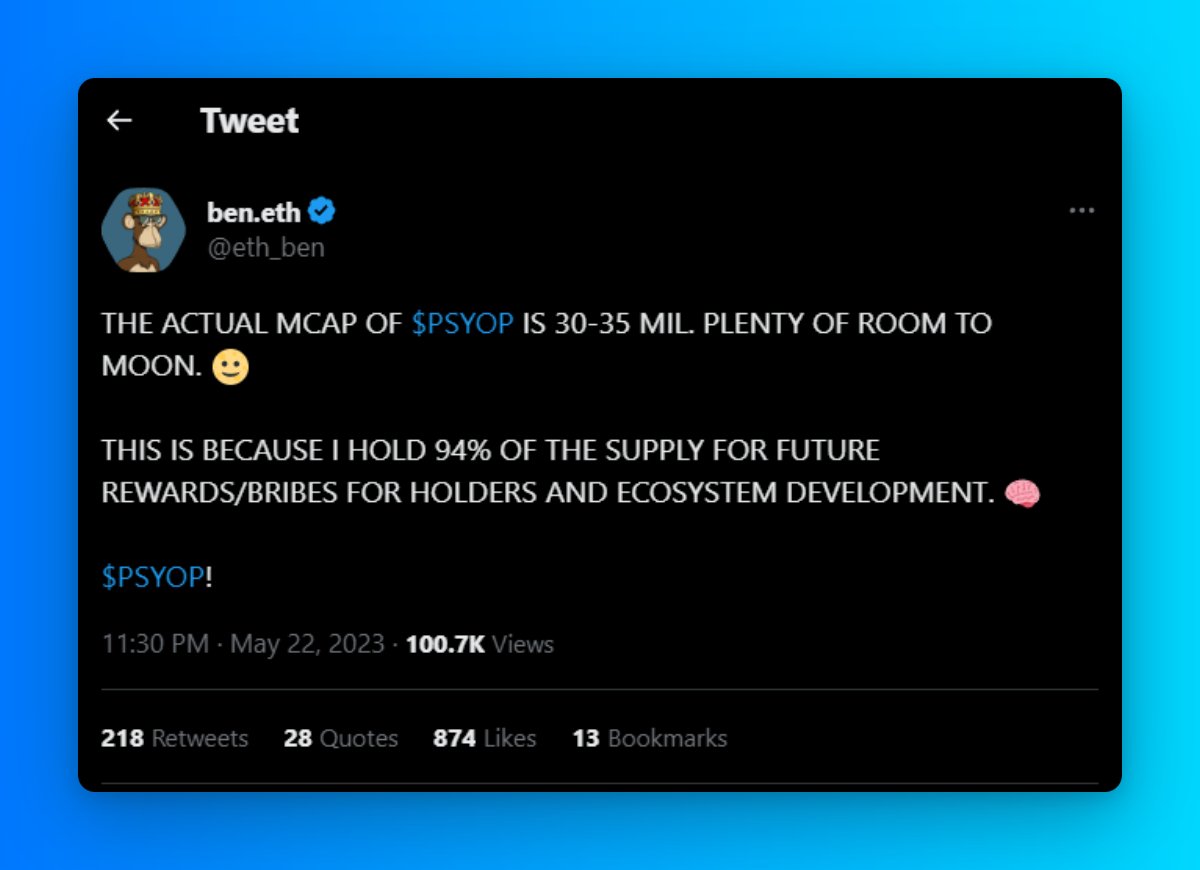 However, just as the PSYOP token incident was making waves, Uniswap suddenly stopped trading services for BEN tokens without any announcement (perhaps due to concerns about potential risks). However, Ben Armstrong claimed that the temporary suspension was due to the need to change the BEN token project's logo.

However, what happened next is really hard to evaluate. Usually, if your token project is considered to be involved in fraud, the issuer will often be more cautious. Unexpectedly, Ben.eth did the opposite by announcing the launch of another new token called "LOYAL". At the time of writing this article, the project has attracted more than 11,000 ETH, and funds are still pouring in.
According to "on-chain detective" @zachxbt, as of now, 112 people have sent funds directly from the exchange to the LOYAL token wallet address. It can be imagined that these funds will very likely end up in Ben.eth's own pockets.
Not only that, but from the content of the screenshot of Ben.eth's tweet below, it can be seen that he has no intention of stopping there.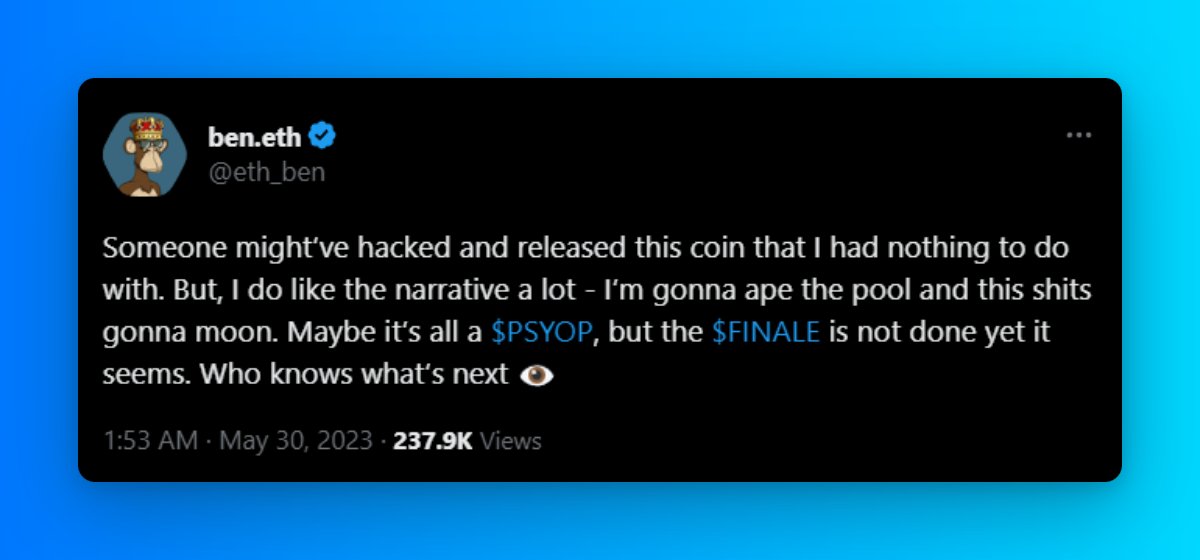 The above is the information collected so far about the Ben.eth token project. Sometimes you have to wonder if cryptocurrency community users are really "stupid and rich"? In any case, before you see this kind of crypto activity and try to send funds to participate, please be sure to carefully consider it.
Like what you're reading? Subscribe to our top stories.
We will continue to update Gambling Chain; if you have any questions or suggestions, please contact us!